The use of Internet on mobile devices in the Philippines is still behind other ASEAN countries, as smartphone penetration is low. However it is picking up very quickly, and with a population of more than 100 M people and very social habits, the Philippines is already becoming a digital and social media powerhouse in the region.
The latest figures available on the use of digital technologies in the Philippines analyzes its large population across different online activities: use of Internet, mobile devices and social media.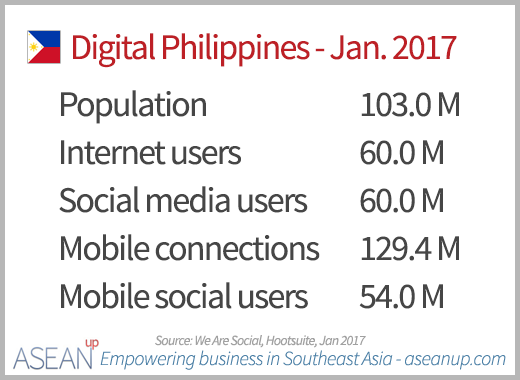 Going into further details, this interesting side deck by On Device Research presents some trends on the use, brands and technologies of the Philippine market.
Key points on mobile and Internet industries in the Philippines
40% of Filipinos prefer using mobile Internet in English, 60% in Filipino (Tagalog)
39% of Internet penetration in the Philippine population of 97 million. 101% mobile penetration, 96% of Internet users also social media users
Note: the Philippine population is considered to have recently grown beyond 100 million people.
15% smartphone penetration, one of the lowest in Southeast Asia, but growing very rapidly. Smartphone penetration estimated to reach 50% in 2015.
Local, cheaper brands are expected to drive smartphone growth: CherryMobile, StarMobile, MyPhone.
Samsung is the market leader of smartphones with 43% market share as of June 2014, Huawei aims at taking a big share.
On the 28 million phones sold in the Philippines in 2013, 22.9 million were feature phones (82%) and 5.1 million were smartphones (18%)
Mobile phones users are 56% men, 44% women – a bit more women than the Southeast Asian average of 37% (against 63%). Most users (88%) are below 34 years old.
Tablets are more common than laptops (30% against 25% penetration), and desktops (23%)
85% plan to buy electronic devices in the next 6 months: laptops 29%, smartphone 24%, tablet 22%
Leading mobile carriers are Smart (54% market share) and Globe (29%), before Sun Cellular, Talk'N Text, Touch Mobile, ABS-CBN
44% spend less than 499 Pesos per month (12 USD) on their mobile plan, 32% between 500 and 1800 Pesos (41 USD)
The Philippine network speed is one of the slowest in the world, yet mobile users are generally rather satisfied. Filipinos prefer unlimited packages.
The use of phones is important, with 40% users spending more than 5 hours on their phone per day
Filipinos are big users of social media with almost all (94%) internet users also use Facebook, 42% of total Internet time spent on social media.
The most popular communication apps are Facebook messenger (82% of users), Viber and Skype (27%)
Smatphones users are avid users of apps, with 32% downloading 6+ apps per month. They frequently use paying apps and in-app payments, for games, music, videos, stickers, etc.
Being very exposed to natural disasters and trying to prevent natural hazards as much as possible, apps are created for disaster warning but not very used. Since June 2014 it is now the legal duty of mobile carriers to prevent people in the way of typhoons.
As 73% of Filipinos do not have bank accounts and only 3% have credit cards, alternative mobile payments flourish, especially e-wallets from Smart and Globe.
More than 50% mobile users are using of music streaming services.
Presentation published in July 2014 by On Device Research, realized with the data from 900 mobile Internet users and other publicly available