With its dynamic economy and developed infrastructures for digital technologies, Malaysia is a very attractive market for e-commerce in Southeast Asia. Several websites and digital applications are already present in the Malaysian e-commerce landscape, with some global, regional and national players grabbing their shares.
Well-established as one of the most dynamic digital ecosystems in Southeast Asia, the Malaysian e-commerce market is growing fast in terms of sales volumes and numbers of online shoppers, as well as in terms of categories of products being bought online. Leading actors are already in place but new national and foreign companies are pushing their way into this attractive market.
Top 10 e-commerce websites in Malaysia
Global, regional and national e-commerce websites have already taken the lion's share of the Malaysian market. Yet, with fast-growing volumes, current actors and newcomers can still change the forces in presence.
Note that this post is part of a series on top e-commerce sites in Southeast Asia:
To give you more perspective on the leaders of Malaysian e-commerce, here are the current top 10 leaders of e-commerce websites in 2017 and their estimated monthly traffic from SimilarWeb.
Lazada Malaysia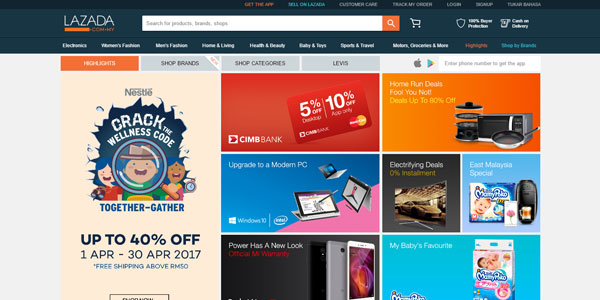 Monthly Traffic Estimate (Jun 2017): 30,300,000
The leader of e-commerce in Malaysia, also present in Indonesia, the Philippines, Singapore, Thailand and Vietnam, Lazada is an online department store and marketplace for retailers to sell their own products. Founded in 2011 by Rocket Internet, the Chinese e-commerce giant Alibaba acquired a controlling stake in Lazada and its operations in Southeast Asia in 2016.
11street Malaysia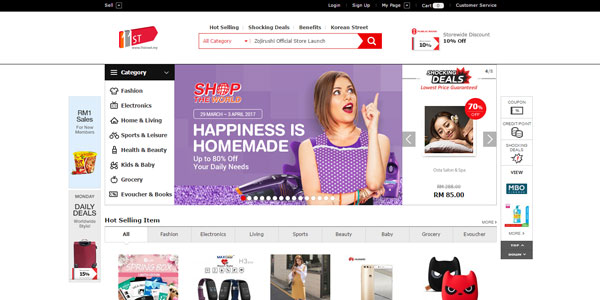 Monthly Traffic Estimate (Jun 2017): 10,200,000
One of the two main challengers of Lazada, 11street is also an online department store providing a marketplace for retailers to sell their products online. Created in 2014, 11street Malaysia is a joint venture between the Malaysian mobile telecommunications group Celcom Axiata and SK Planet, owner of the original 11street site from South Korea.
Lelong.my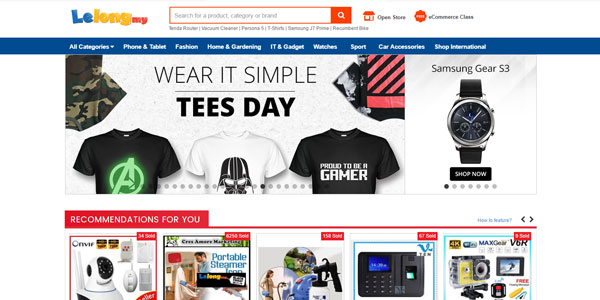 Monthly Traffic Estimate (Jun 2017): 6,200,000
Closely following in terms of estimated traffic, Lazada's other challenger, Lelong.my is an e-commerce marketplace both for Consumer-to-Consumer and Business-to-Consumer transactions. Operated by the Malaysian company Interbase Resources Sdn Bhd, Lelong was founded in 1998 as an auction website and has since expanded to become a general marketplace.
Shopee Malaysia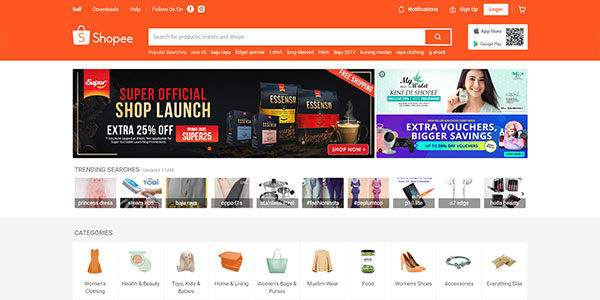 Monthly Traffic Estimate (Jun 2017): 2,750,000
An important player in the region, especially in "mobile-first" countries, Shopee is a primarily mobile, diversified online shop also providing a regular web shopping experience. A leading platform throughout Southeast Asia, Shopee is also present in Singapore, the Philippines, Thailand, Indonesia, Vietnam, as well as in Taiwan.
Zalora Malaysia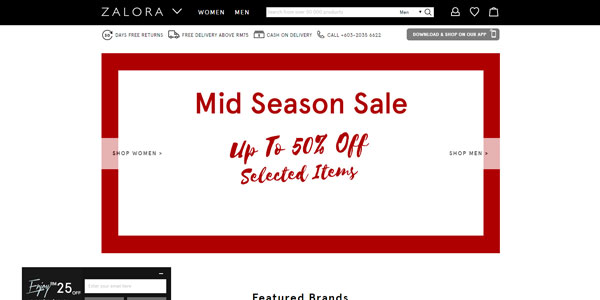 Monthly Traffic Estimate (Jun 2017): 2,450,000
Leading the followers' pack, Zalora is the largest and fastest growing e-commerce site in Southeast Asia specialized in fashion. Enabling fashion brands to sell their products to the site's visitors, Zalora was founded in 2012 by Rocket Internet. It is present in Singapore, Indonesia, Malaysia and Brunei, the Philippines, Thailand, Vietnam, Hong Kong and has recently launched in Taiwan.
Hermo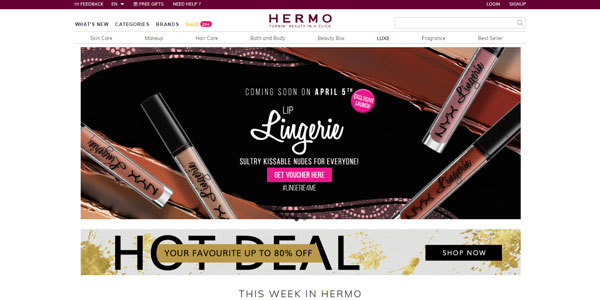 Monthly Traffic Estimate (Jun 2017): 1,650,000
Another specialized e-commerce store, Hermo.my is a leader in beauty and cosmetics online retail in Malaysia. Enabling brands to sell directly through its marketplace since 2012, Hermo MY is a Malaysian company operating from Johor Bahru.
eBay Malaysia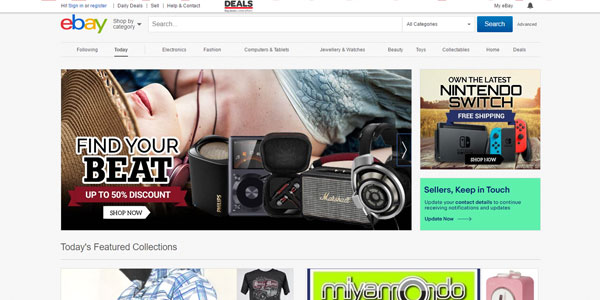 Monthly Traffic Estimate (Jun 2017): 1,200,000
The Malaysian local site from the American e-commerce giant, eBay was originally created for consumer-to-consumer sales. Having expanded since into business-to-consumer products and special deals, eBay Malaysia caters to all general products categories.
Fave
Monthly Traffic Estimate (Jun 2017): 1,200,000
Fave is an e-commerce website specialized in coupons and deals gathering promotions for restaurants, beauty, wellness, gyms, studios, hotels, holidays, leisure, entertainment and professional services. A re-branded website following the acquisition of Groupon Malaysia, Fave is operated by the fitness startup Kfit Malaysia.
EZBuy Malaysia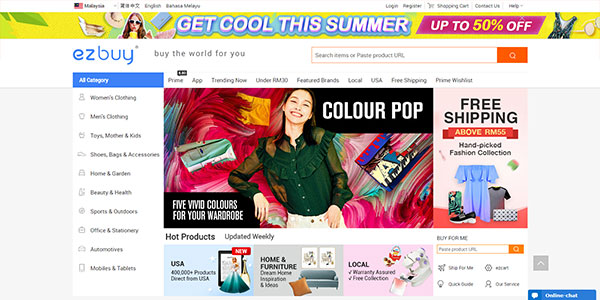 Monthly Traffic Estimate (Jun 2017): 1,050,000
EZbuy is an online shopping platform primarily involved in clothing, family, home, beauty, sports, automotive and electronics. It is especially focused on Korean, Taiwanese and American products and promotes affordable products throughout the site. EZbuy is also present in Singapore, Thailand and Indonesia.
Qoo10 Malaysia
Monthly Traffic Estimate (Jun 2017): 900,000
Qoo10 is an online marketplace especially developed in women and fashion with a large portfolio of Korean products. Operated by a joint venture with eBay following the acquisition of the South Korean site Gmarket, which rebranded to Qoo10 in 2012, it is present in other Asian market, especially in Singapore and Japan, and aims at expanding to other Asian countries.
Top e-commerce mobile applications in Malaysia
In addition to their web versions, most of the top 10 e-commerce websites presented above also have mobile applications available on the various platforms to enable e-commerce through mobile devices.
Besides, some other websites that are not in the Top 10 have a powerful presence on mobile in Malaysia, such as the primarily mobile commerce player Carousell, but also imSold, TaoBao, GoShop or AliExpress.
Malaysia's top e-commerce websites compared by estimated traffic
The estimated monthly traffic from the top 10 e-commerce websites shows the strong domination of Lazada over the Malaysian market with an estimated 30 million visitors per month. 11street and Lelong come second and third at 10 million and 6 million respectively, way ahead of the rest of the pack below 3 million visitors per month.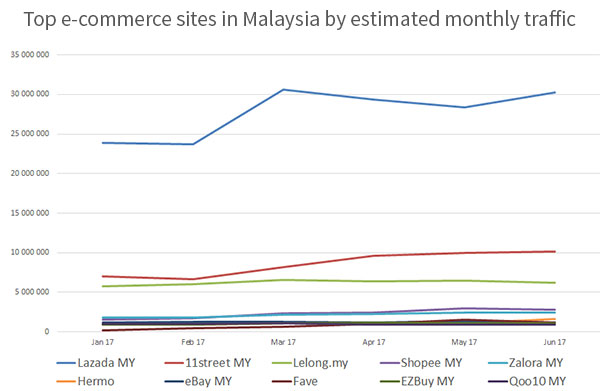 Though generalist or industry specific websites make up for the bulk of Malaysian e-commerce, some specific brands are also picking up some traction, notably Tesco and MBO cinemas who respectively lead the market of groceries and movies tickets.
The leader of peer-to-peer classifieds in Malaysia with more than 10 million visitors per month, Mudah.my can also be highlighted for its potential. Though it's not a pure e-commerce player, it allows buyers to pay online in some products categories.