One of the most dynamic countries online in Southeast Asia, Malaysia is a very attractive market for e-commerce. A middle-income country with a digital population of more than 20 million people, Malaysia attracts appetites both from local and global companies interested in grabbing a share of its e-commerce market.
E-commerce is growing quickly in Southeast Asia, now representing about 2% of all sales in Malaysia but expected to grow to double digits in the coming years. And the Malaysian market is one of the most attractive of the region, as e-commerce in Malaysia is more mature than in the other ASEAN countries, except Singapore.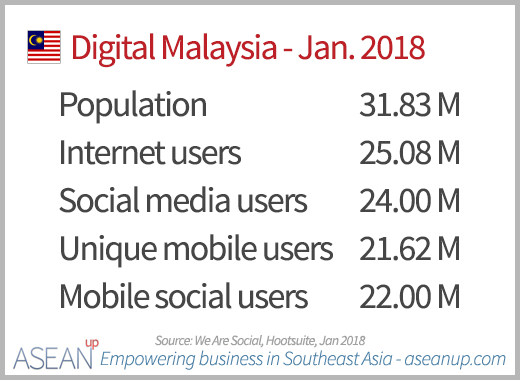 With data on users' profiles and behaviors, hot products and categories, pricing and product delivery, the information detailed hereafter provides extensive background for the people interested in e-commerce in Malaysia. Through infographics on the market and videos with tips for companies involved in the industry, many aspects of the online Malaysian shopping market are covered.
Highlights of the Malaysian e-commerce market
Overview of the Malaysian e-commerce actors
This first graphic shows the different actors in each category of e-commerce in Malaysia. Though the landscape is dominated by just a few players, as detailed in the top e-commerce sites of Malaysia, here is a detailed list of most platforms as well as services providers in the Malaysian e-commerce market, created by ecommerceiq.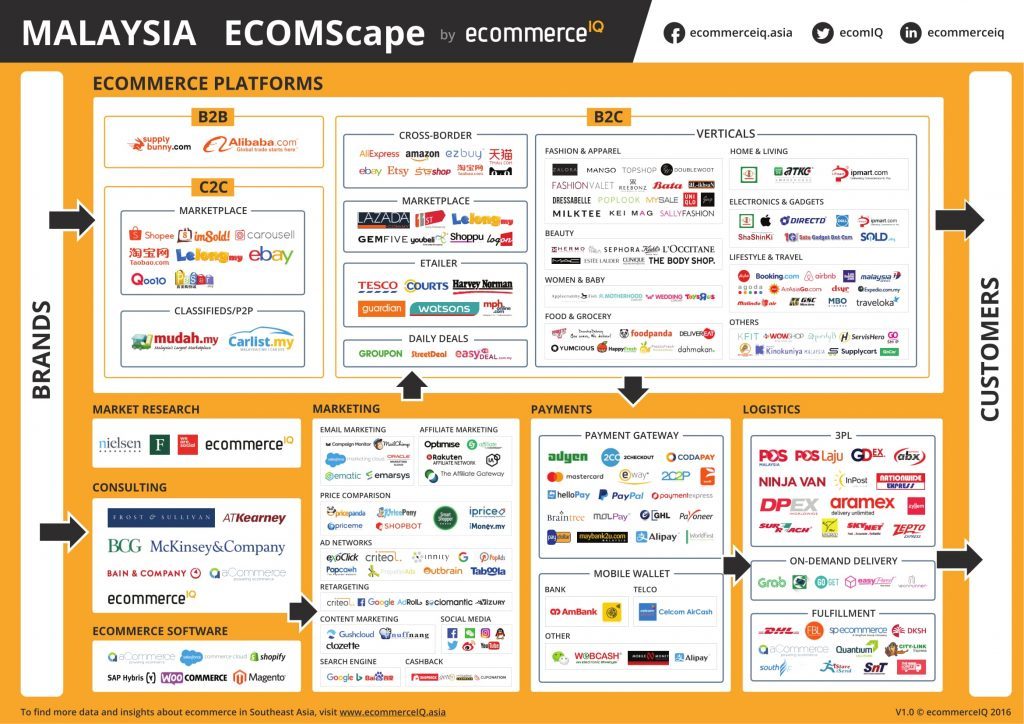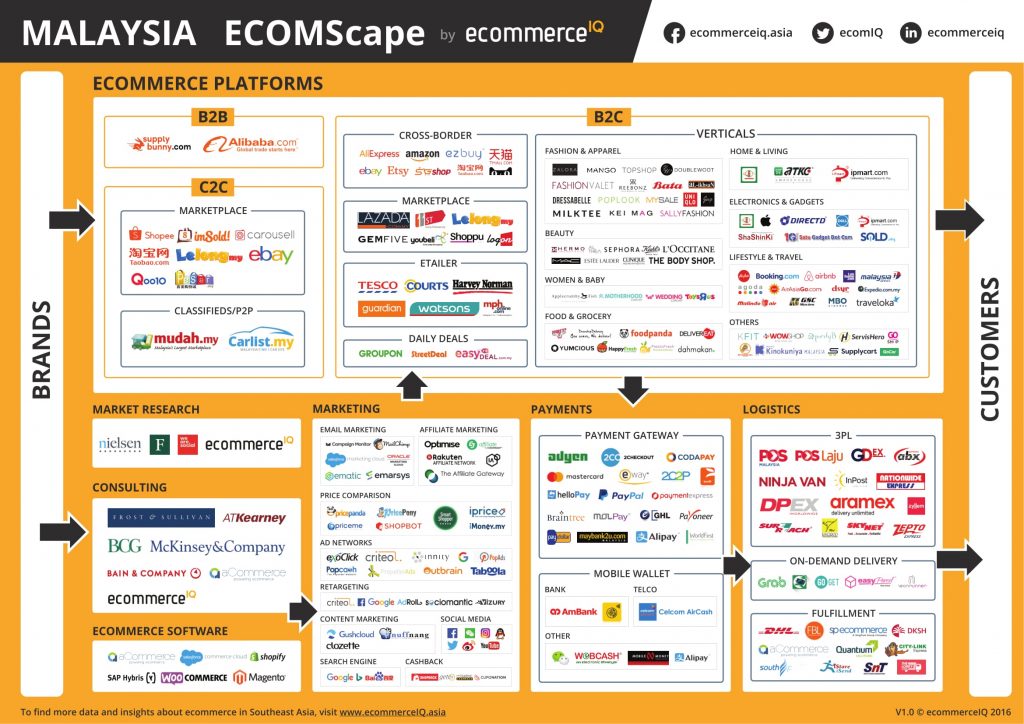 To provide further information on consumer behaviors in e-commerce in Malaysia, the online shopping website 11street has compiled a series of useful numbers, insights, and trends in a series of beautiful infographics. Here are some highlights from these infographics.
Malaysian online shoppers' profiles
Men tend to shop online more than women
East Malaysians are 2.6 times more likely to shop online than Peninsular Malaysians
The majority of non-online shoppers are willing to give it a try in 2017
59% of online shoppers shop at least once a month
80% shop on their smartphones
48% of fashionistas are young and single women
For 1 purchase of electronics in East Malaysia, there are 5 in Peninsular Malaysia
The main factor that Malaysians consider when shopping online is the price
Products purchased online in Malaysia
Most purchased categories of products
Fashion and beauty
Electronics
Sports and hobbies
Categories of products likely to expand in 2017
Home décor and furniture
Household and groceries
Health and supplements
Payment and delivery in Malaysia
More than 95% of Malaysians are satisfied with their online shopping experience
Online money transfers are the preferred payment method
90% of Malaysians expect their purchase to be delivered within one week, 46% within 3 days.
A majority of online shoppers are willing to pay more for quick delivery, 63% of women are willing to wait up to 4 weeks.
5 trends of the Malaysian e-commerce market in 2017
Online shopping is poised to keep on growing
Payment methods will become more digital
Customers are willing to shop in new products categories
Express delivery will become the norm
Customers will look beyond price.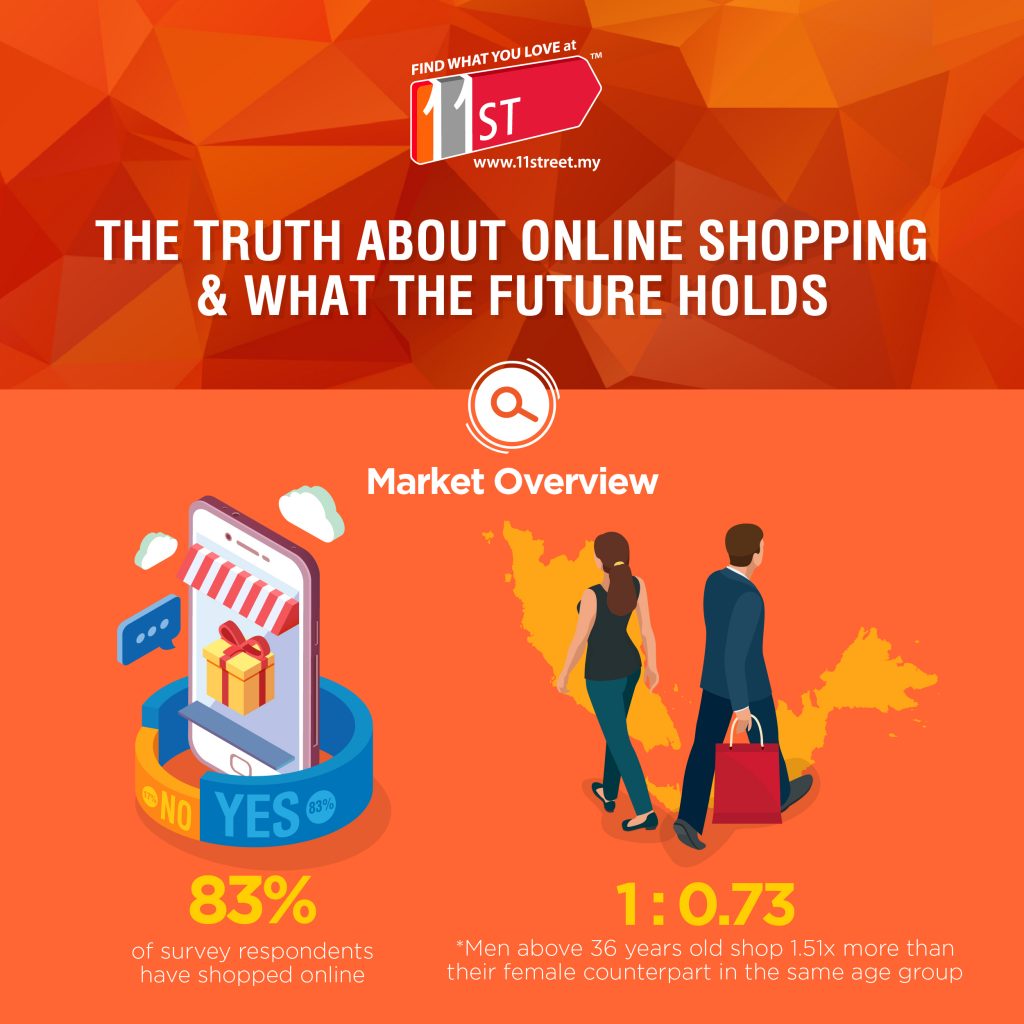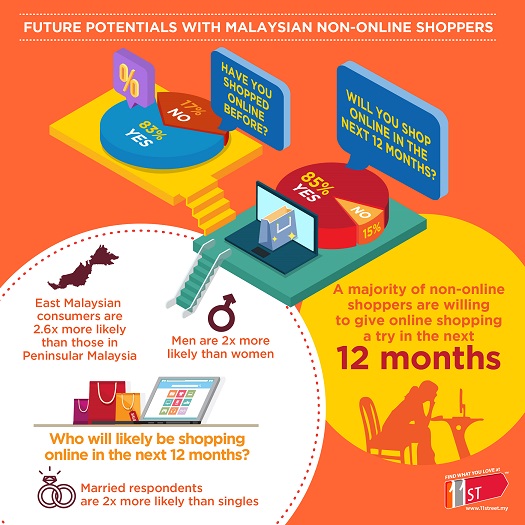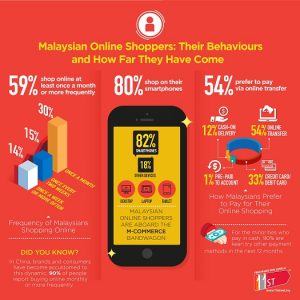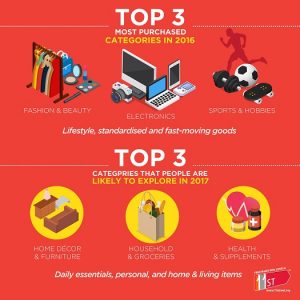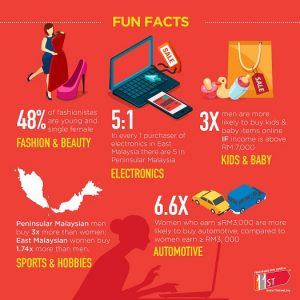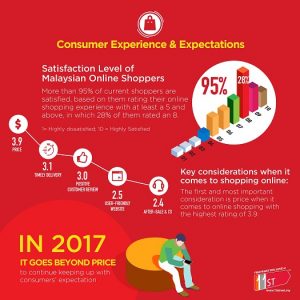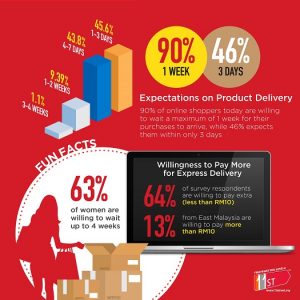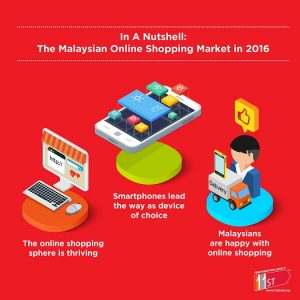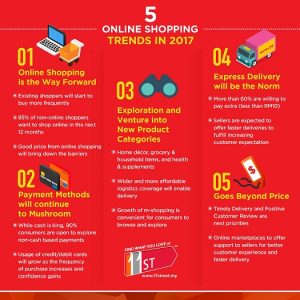 Insights from Lazada, leader of e-commerce in Malaysia
Controlled by Alibaba since 2016, the first general e-commerce website in Malaysia, Lazada is also trailblazing e-commerce in Southeast Asia. With products ranging across many categories, Lazada is both pulling the market and benefiting from its expansion.
Lazada Malaysia's CEO, Hans-Pieter Ressel shares some insights on the Malaysian market and the approach of his company. For him, Malaysia is an easier place to do e-commerce in ASEAN thanks to its only two major parts, Peninsular Malaysia and East Malaysia, compared to the many islands of the Philippines or Indonesia, where delivery is more difficult and logistics costs are therefore higher.
He confirms the shifting trends in products and shoppers profile, as the maturing Malaysian e-commerce market evolves from younger men buying electronics to 30-35 years old men and women buying lifestyle, baby care, and home products.
Lazada's tips for success in e-commerce in Malaysia
Having the right assortment and right products online
Great fulfillment operation to complete the delivery of goods properly and timely
Winning on mobile devices as people use m-commerce more and more
In its quest for rapid growth, Lazada is primarily trying to expand across product categories to develop its assortment and become the online shopping mall for everything.
Tips for people and startups involved in e-commerce in Malaysia
For the people engaged in growing their e-commerce activities in Malaysia, Hans-Pieter Ressel shares more details on Lazada's growth and how to develop an online shopping startup in the country. He stresses the shifts in demand and the necessary agility required to seize these changes, as well as the passion and hard work needed to stay in the game.
Ressel underlines that Lazada is the fastest-growing company in the fastest growing industry, in the fastest-growing region in the world. E-commerce nevertheless remains a business, and like any business, it is based upon the strong relationships in the team.
Videos by The Edge TV from November 2016 and Entrepreneurs Insights from September 2016