With the world's third-largest population and a comparatively low, but growing, Internet connectivity, Southeast Asia is an upcoming market of interest for e-commerce. Still in its infancy, the ASEAN e-commerce market presents many growth opportunities for businesses ready to face its challenges.
The e-commerce market in ASEAN
Southeast Asia is currently a very attractive market for companies involved globally in the e-commerce sector and smaller local players. At a turning point in terms of Internet and mobile penetration, the population of Southeast Asia is quickly adapting its behaviors to take advantage of new opportunities available in purchasing products and services online.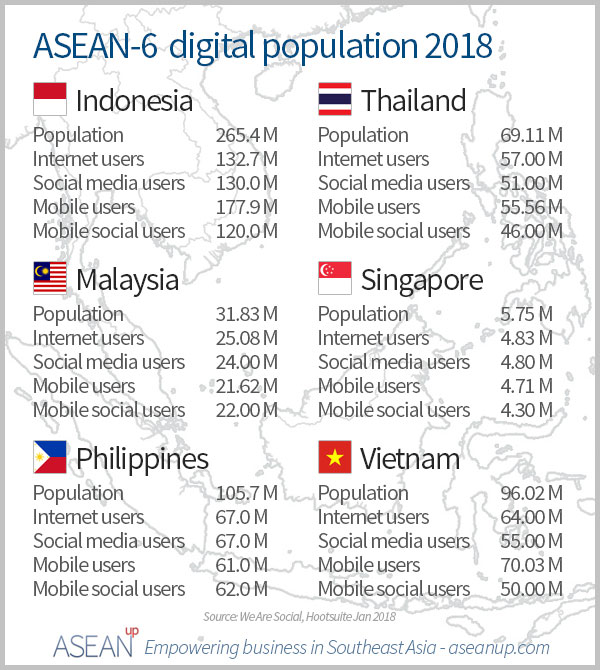 The number of Internet users in Southeast Asia, and particularly in the 6 largest ASEAN countries, add up to create a largely untapped market. Though the Singaporean e-commerce market is more mature and the Malaysian market is more dynamic, in Indonesia, Thailand, the Philippines, and Vietnam, e-commerce is still at a very early stage and remains an important reservoir of growth for ASEAN.
In these countries,  the rapid development of technological infrastructures and growing levels of income ensure that the market's expansion provides room for growth of existing players or newcomers, be they local or foreign companies.
For more information on each market's potential, the state of the competition between online players and a detailed presentation of the leaders of e-commerce in each country, check the following resources:
You can also find information about the leaders of e-commerce in other countries on Disfold, notably in the US, UK, Canada, Australia, and India.
Trends for e-commerce in Southeast Asia
The following slide deck provides a general overview of the most interesting trends in e-commerce in Southeast Asia: a large, addressable and maturing market that is particularly well versed in the use of mobile devices and social media.
With details on the latest developments of start-ups, companies, and investors until 2015, this presentation lists the key players of the region and how the business is evolving in the US and other more mature markets.
Key trends and major players of e-commerce in Southeast Asia
Southeast Asia's population – slide 10
A young population, 67% under 35 years old – slide 12
…and becoming richer – slide 13
Structural shift in the use of Internet in Southeast Asia – slide 14
Comparing Southeast Asia's online landscape – slide 15
More time spent on Internet in Southeast Asia than in East Asia – slide 16
Internet has surpassed TV – slide 17
50%+ use mobile while watching TV – slide 18
A high mobile penetration rate – slide 19
Room for growth – slide 20
More affordable smartphones – slide 21
Mobile operating systems market share – slide 22
Social media drives internet penetration in Southeast Asia – slide 23
LINE, some interesting stats – slide 24
Facebook, some interesting stats from Thailand – slide 25
Mobile-first behavior – slide 26
Southeast Asia has a very low e-commerce penetration – slide 27
…relative to population and GDP – slide 28
ASEAN's market potential is massive – slide 29
ASEAN at an inflection for e-commerce – slide 30
In only 5 years – slide 31
Digital development in a global perspective – slide 32
Major activities of listed players in Southeast Asia – slide 33
Thailand – listed players are paving the way – slide 34
Challenges for offline retailers – slide 35
Governments' initiative to support – slide 36
Southeast Asia tech funding at an inflection point – slide 37
Closer look into the unicorns – slide 38
Most funds flow in Southeast Asia to e-commerce and marketplace – slide 39
Southeast Asia's recent sizable e-commerce deals – slide 40
Southeast Asia's companies recently raised over $ 100 M – slide 41
Several notable exits in Southeast Asia – slide 42
What's coming next for e-commerce in Southeast Asia until 2020 – slide 43
Summary – slide 44
Theme's shaping e-commerce in Southeast Asia until 2020 – slide 46
Asian messaging apps monetization – slide 47
2015 largest deal goes into mobile commerce – slide 48
Social and mobile commerce in Southeast Asia – slide 49
Trends happening in the US – slide 50
Rising on-demand in Southeast Asia – slide 51
Public internet companies capitalization 1995-2015 – slide 52
Facts and figures of e-commerce in ASEAN-6
This second slideshow provides a lot of detailed information, facts and figures on e-commerce in Southeast Asia in general, as well as its major markets: Singapore, Thailand, Malaysia, Indonesia, the Philippines, and Vietnam.
For a more comfortable reading, it is quite suggested to open the report in full screen!
Key facts and figures of e-commerce in Southeast Asia
Key factors of development – slide 5
Rise of Middle Class
Greater mobile/Internet penetration
More supply of new e-Commerce players
Increasing logistic options
Alternative Payment Methods
Key challenges – slide 6
Lack of a robust ecosystem
Management of customer expectations and perception

High customer service needs for small purchases
Trust in online payments
Securing the supply chain

Cross border commerce issues

Inconsistent duties
Logistics, taxes, customs clearance, payment methods
Corruption

Lack of reliable, low-cost logistics infrastructure

Local contracts, deals, localization for each ASEAN country
Fulfillment infrastructure not built to serve the scale of e-commerce scale

Foreign Ownership Regulations
See below for more details on the challenges of e-commerce in Southeast Asia.
Tables, figures, and comparisons
ASEAN e-commerce landscape – slide 7
ASEAN shopping websites traffic comparison – slide 8
Rise of the middle class – slide 9
Greater Internet penetration: ASEAN 2011-2016 – slide 10
Increasing supply of e-commerce & logistics players – slide 11
E-commerce market size (2013) and potential – slide 12
E-commerce value chain – slide 13
Platform architecture – slide 14
Framework for competitive analysis – slide 15
Foreign ownership regulation for e-commerce – slide 16
Status of e-commerce law in ASEAN – slide 17
Impacts of customs in ASEAN – slide 18
Status of transport network in ASEAN – slide 19
Country differences – slide 20
Country similarities – slide 21
Appendix
E-commerce market size – ASEAN 7 Billion USD in 2013 – slide 23
A huge growth opportunity – slide 24
E-commerce potential in ASEAN – slide 25
Indonesia
Indonesia middle class – slide 27
Indonesia online shoppers – slide 28
Preferred e-commerce channels in Indonesia – slide 29
Preferred e-commerce payment methods (2013) – slide 30
Innovative Indonesian payment methods (2013) – slide 31
Indonesia Top Shopping websites by monthly traffic (March 2014) – slide 32
Popular categories (2013) – slide 33
Timeline – slide 34
Philippines
Philippines middle class – slide 36
Philippines Top Shopping websites by monthly traffic (March 2014) – slide 37
Timeline – slide 38
Thailand
Thailand Top Shopping websites by monthly traffic (March 2014) – slide 40
Timeline – slide 41
Example of US import tax calculation in Thailand – slide 42
Malaysia
Malaysia Top Shopping websites by monthly traffic (March 2014) – slide 44
Timeline – slide 45
Challenges in SME adoption – slide 46
Vietnam
Financials
E-commerce valuations – slide 50
Zalora financials H1 2014 – slide 51
Lazada financials H1 2014 – slide 52
Listed logistics companies – slide 53
Challenges of e-commerce in ASEAN
ATKearney has recently published a report to help understand the challenges faced by e-commerce companies in Southeast Asia and how to pass these obstacles. It is summarized in 5 key guidelines to help companies and authorities develop the e-commerce business in Southeast Asia.
Increase broadband access
Support the emergence of local players
Reinforce online security
Promote e-payment
Improve logistics and trade efficiency
Answering to Bloomberg TV Malaysia's Sophie Kamaruddin, Olivier Gergele, Principal at ATKerney, explains how the offering of online shops is critical for success in the region while presenting the findings of the report. In this video, he also highlights the report's main points and how the market could grow by 25% a year.
The case of Zalora: a leader in fashion e-commerce in Southeast Asia
Zalora Group, a pioneering company in Southeast Asia's online fashion retail, has been moving fast to grab a big portion of the fashion e-commerce market in ASEAN. Launched in late 2011 by the German startup incubator Rocket Internet, Zalora is based in Singapore and regroups more than 2000 staff across Southeast Asia and beyond.
Michele Ferrario, Zalora's managing director, shares some insights and perspectives on growing an online fashion retailer across the region.
A promising market
People in secondary cities of countries like Indonesia, the Philippines, Vietnam or Thailand do not have the same access to fashion as in the larger and more connected cities like Singapore.
Rocket Internet, therefore, seized the opportunity to develop Zalora and strengthen its position in e-commerce in Southeast Asia which is expected to skyrocket in the coming years.
Some challenges
However, Zalora faces fierce competition from global heavyweights like Amazon, ASOS, Alibaba, and Rakuten. It also needs to address local infrastructure challenges for effective cash collection and merchandise delivery in each country.
Zalora has therefore developed its own infrastructure to satisfy its customers' needs. They have created warehouses in each country and partnered with local delivery companies in every country to ensure fast delivery. Zalora focuses on delivering great customer experience, while also learning about the local markets and habits and sharing global best practices.
The first-mover strategy
To reach its present size, Zalora has moved very fast: they opened in six markets in the first six months, with warehouses in each country, and hired 1000 staff. The critical elements to conquering the Southeast Asian market have been scale, speed and customer satisfaction. To ensure customer satisfaction, Zalora has hired a dedicated team to implement best practices and learn from negative feedback.
A fashion startup culture
Zalora's core team was built in the first year of existence and it has stood together since then. They have hired new talents as the company developed later on, but the company does not face a big staff turnover problem, as Zalora employees share a common company culture.
Employees share the vision that they are involved in the same team with a similar lifestyle and work experience. It also helps that the average age of employees is below 30 years old, with many of these young people holding important responsibilities.
A "glocal" supply chain
In order to cope with different fashion tastes across the region, Zalora customizes certain areas of its business while other parts are standardized. This creates important needs for sourcing and logistics management in a mixed supply chain: some products are sourced in each country from local manufacturers while global brands are managed by the Singapore team and dispatched across the region.
Key figures of the online fashion market in Southeast Asia and Zalora's appetite
The fashion market in Southeast Asia is expected to reach 100 Billion USD by 2018
About 20% of fashion retailing is now done online in the US and Europe, while a fraction of this is currently happening in Southeast Asia
Zalora hopes to capture close to 50% of the online fashion market of Southeast Asia
ASEAN e-commerce growth perspectives
In some countries, consumers still face difficulties to reach traditional shops. Potential customers are therefore even more eager to buy online the goods they cannot obtain locally. These retailing challenges are however transferred to the sellers who need to find new solutions to collect payments and deliver products.
Despite these difficulties, big and small companies are rushing to move and sell online, as many analysts expect the market to boom in the coming years. With less than 1% of the total retail market currently happening online (except in Singapore), if it were to reach 5% of total retail, the Southeast Asian e-commerce market could be worth more than 20 Billion USD.
Presentations respectively from November 2015 by Dr. Adrian Vanzyl and from March 2015 by Nittin Mittal. Youtube videos from September 2015 by Blomberg TV Malaysia and January 2015 by CNBC International