Southeast Asia is experiencing a rapid growth of Internet, digital, social media and mobile activity. With more than 320 million Internet users in January 2017 and double-digit growth in most segments and most countries of the region, the digital sector is booming and attracting a lot of interests.
Digital, Social and Mobile in Southeast Asia
Key figures for ASEAN-6 countries
To recapitulate the numbers for the 6 largest countries in one glance, here is a summary of the numbers gathered for ASEAN-6 countries, with total population, Internet users, social media users, mobile connections and mobile social users for Indonesia, Thailand, Malaysia, Singapore, the Philippines and Vietnam.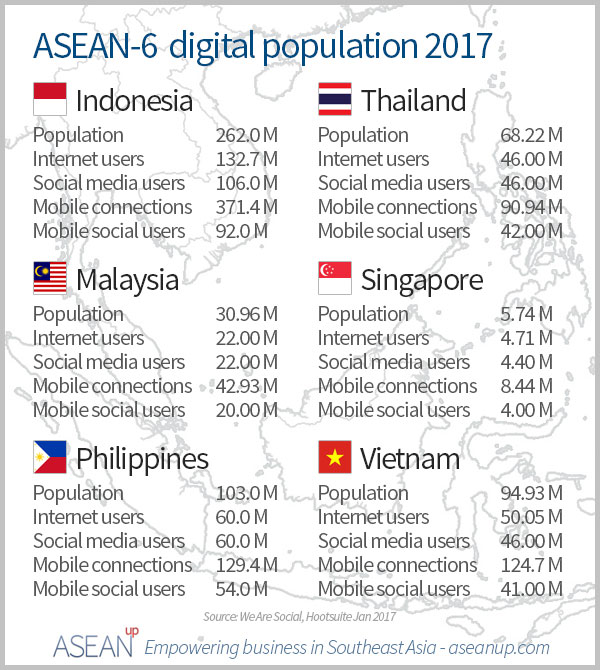 Highlights of the Southeast Asian digital landscape 2015
Taken as a single bloc, Southeast Asia regroups a large population of digital users that take it to levels where it can stand the comparison with the leading global markets (US, EU, China…) for all of digital activities: Internet, social media, mobile and mobile social.
But it is the region's growth numbers that are even more impressive, with high double digit growth in all segments. This growth has primarily been enabled in 2017 through the expansion of technological infrastructures that support Internet and mobile connections.
Such growth should continue on a similar trend for some more years to come. The large and growing digital population should help sustain digital business expansion and keep on attracting more and more businesses online, providing new ways for marketing in ASEAN and enhancing the fast-growing Souhteast Asia's e-commerce sector.
Details of Digital, Social and Mobile in Southeast Asia, November 2017
Global overview – slide 6
Global digital snapshot – slide 7
Annual growth – slide 8
Digital users distribution by region – slide 9
Global Internet use and penetration – slide 10
Share of web traffic by device – slide 11
Social media use – slide 12
Active users of key global social platforms – slide 13
Mobile connections by device – slide 14
Global e-commerce revenues – slide 15
Hootsuite's perspective: 2017 trends – slide 16
Digital in 2017: We are social's analysis – slide 17
Country profiles – slide 19
Brunei  – slide 20
Cambodia  – slide 26
Indonesia  – slide 32
Laos – slide 55
Malaysia – slide 61
Myanmar – slide 84
Philippines – slide 90
Singapore – slide 113
Thailand – slide 136
Timor Leste – slide 159
Vietnam – slide 165
Presentation from January 2017 by We Are Social Singapore