The Philippines is an interesting place for tech startups: a large population, a growing economy and a vast base of Internet users who are very involved in social media. These factors make the Philippines more and more attractive as it develops an eco-system to accompany the launch, development and maturation of startups.
Here a the latest numbers of the digital population in the Philippines, Internet, social media and mobile users.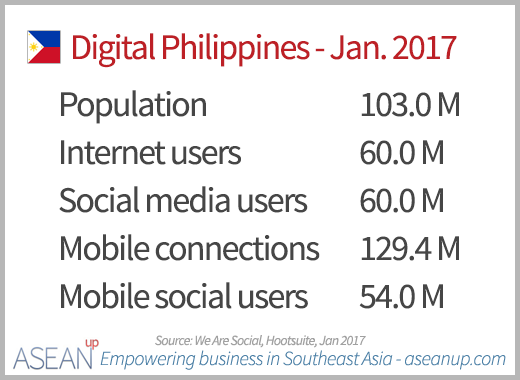 The presentation from 2013 gives some data about the Internet, social media and e-commerce usage in the Philippines together with a good overview of the Philippine startup landscape. For more data, digital trends and habits from 2014, check this other resource on mobile Internet in the Philippines.
Philippine startup ecosystem – summary
Demographic, economic and Internet usage data – slide 4
Philippines economy and demography compared to the USA – slide 5
Web and mobile data – slide 6
Social media data – slide 8
Most visited global and local websites – slide 9
Startups in the Philippines – slide 10
Startups to know – slide 11
Angels, incubators, VCs – slide 12
Media and events – slide 13
Founders profiles – slide 14
State of e-commerce – slide 17
Rocket Internet profile – slide 19
Philippinnes opportunity map – slide 20
Local innovations – slide 21
Doing business in the Philippines – slide 22
Business ecosystem and policies – slide 23
Infrastructure – slide 24
Education and talent – slide 25
Labor costs – slide 26
Quality of life – slide 27
Philippines surprises – slides 28, 29, 31
Ecosystem ratings – slide 30
Advice for entrepreneurs – slide 32
Advice for investors – slide 33
Conclusion – slide 34
For more information on Philippine e-commerce, check Integrating Philippine e-commerce in ASEAN.
Presentation from July 2013 by Ron Hose