With a young population showing a highly entrepreneurial spirit, Vietnam is home to a growing startup ecosystem. Well-versed in programming and hungry for success in the growing Vietnamese middle-class, a new generation leads Vietnam to become a regional hot spot for tech entrepreneurship.
This quick overview of Internet, social media and mobile users sums up the latest numbers of the digital landscape in Vietnam.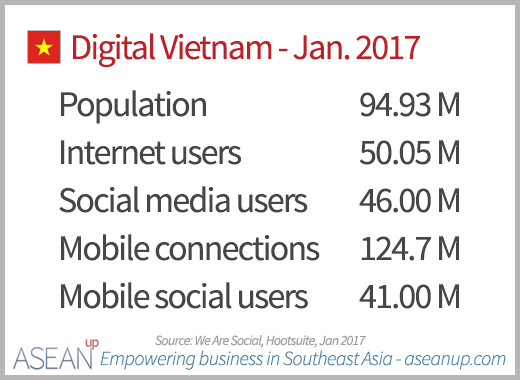 With a large population that is relatively active on Internet, social media and mobile, and a national enthusiasm for technology, engineering and entrepreneurship, Vietnam is rapidly growing its burgeoning startup ecosystem, both In Ho Chi Minh City and Hanoi. The following slide deck goes through the various actors in this dynamic landscape.
The Vietnam startup scene
Why the Vietnam startup scene is hot? – slide 3
Flappy Bird – slide 4
VG Corporation – slide 5
Two startup centers: Hanoi and Ho Chi Minh City  – slide 6
Vietnam: Internet usage – slide 7
Vietnam: smartphone usage – slide 8
Overview – The innovation scene: what does it look like? – slide 9
Startup investment 2012 – slide 10
Startup investment 2013 – slide 12
Startup investment 2014 – slide 14
Notable hi-tech companies – slide 15
Outstanding startups – slide 16
Movement: startup trend – slide 18
Meet-up / event – slide 19
Key people – slide 20
Constraints – slide 21
What are some myths from the scene? – slide 22
Resources – What is available in the startup ecosystem? – slide 25
Investment funds – slide 26
Accelerator / Incubator – slide 27
Coworking spaces – slide 28
Key media – slide 30
Government – slide 31

See below for more information

Universities – slide 32
Bonus: why bootstrap in Vietnam? – slide 33
Government support for startups in Vietnam
The Vietnamese government shows a lot of interest for startups as a means to stimulate the economy, it launched a "Silicon Valley Vietnam" project to support them. This next video shows how both entrepreneurs and government aspire to grow the ecosystem in Vietnam and benefit from the enthusiasm for startups and entrepreneurship in the country.
Through the "Silicon Valley Vietnam" project and a USD 110 million fund that will probably go through 2 accelerators, the Vietnamese government  hopes to stimulate the Vietnamese start-up scene and economy
Chris Harvey, foreign IT entrepreneur in Vietnam, reminds that his main problems are obtaining licences, paying taxes and paperwork
Vietnam has great advantage with a young, large population of 90 million people that is quite well connected to the Internet and used to mobile phones
IT is a very interesting industry to develop for Vietnam:

little capital to start
no need of factories
IT work does not pollute
IT jobs are highly paid
the global trend for information technology is increasing

Vietnamese people are very enthusiastic to work in tech start-ups
For more information about the Vietnamese government support program and how to apply for grants, check the dedicated website.
Presentation from October 2014 by Hatch! Program and video from November 2013 by Asia Calling.