The Philippines is an attractive market of 100 million people with little e-commerce penetration and an optimistic perspective on the ASEAN integration. Nevertheless, the Philippines presents certain peculiarities and challenges for local and foreign companies to tackle if they want to tap into the country's great potential.
Here is a quick overview of the latest numbers of digital and mobile technologies adoption in the Philippines population.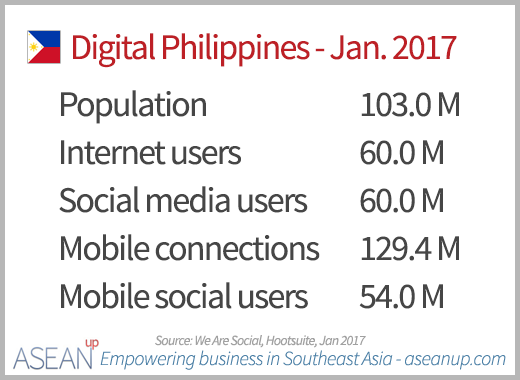 In this environment the following presentation reviews the uses and habits of Filipinos online and how to make the most of the current digital landscape for e-commerce in the Philippines.
For a more comfortable reading, it is quite suggested to open the report in full screen!
The Philippine e-commerce industry and the ASEAN integration 2015 – summary
Introduction – slide 2
Is the Philippine market ready for e-commerce under the ASEAN 2015 integration? – slide 3
Objectives – slide 4
Areas of considerations and assumptions – slide 5
ASEAN 2015 – slide 6
Growth – slide 8
Reduced costs – slide 9
E-governance is weak – slide 10
Learn + More jobs – slide 11
For more information on e-commerce in the ASEAN region, check "Overview of e-commerce in Southeast Asia"
A major disconnect to the Philippine market – slide 12
Big spenders – slide 13
We are not there… yet – slide 14
Philippine culture issue: credit cards – slide 15
Cash-on-delivery: an online store's way-in – slide 18
Absence of physical cash – slide 19
Theoretical framework – slide 20
Alternative courses of action and recommendations – slide 22
Education campaigns from credit cards & online store brands – slide 23
Increase the confidence in the digital transactions by luring the Philippine market with free gifts – slide 24
Credit card brands need to develop a strong partnership with online-exclusive stores like Apple, Amazon PH and Ebay PH – slide 25
Cash-on-delivery mode of payment – slide 26
E-commerce, a threat for physical store-only brands – slide 27
Conclusion – slide 28
For more information on the use of mobile devices and Internet in the Philippines, check "Mobile Internet in the Philippines"
Presentation from January 2015 by Joses Sacilioc