The second most populous country in Southeast Asia after Indonesia, the Philippines consistently has one of the fastest economic growth in the region and the world. With a high level of proficiency in English and a population eager to work abroad or with foreigners, the Philippines' economy is also rapidly advancing in global services and trade.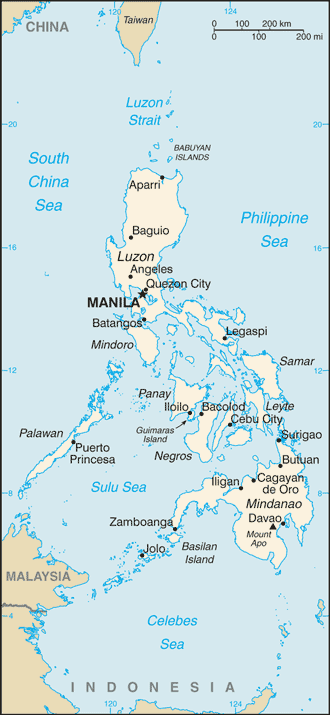 Official country name: Republic of the Philippines
Capital: Manila
Total Area: 300,000 km²
Government: Unitary presidential constitutional republic
Currency: Peso, ₱ – PHP (Filipino: piso)
Drives on the: right
Calling Code: +63
Internet TLD: .ph
Demographics
Population: 100,981,437 (2015 Census)
Population Density: 336.60/km²
Official Languages: Filipino, English
HDI: 0.682 (medium)
Ethnic Groups: (2010)

33.8% Visayan
27.7% Tagalog
9.8% Ilocano
6.8% Bicolano
5.1% Moro
3.1% Kapampangan
1.7% Igorot
1.4% Pangasinense
1.2% Chinese
1.1% Zamboangueño
6.8% others
The Philippine business environment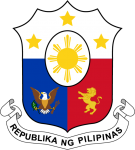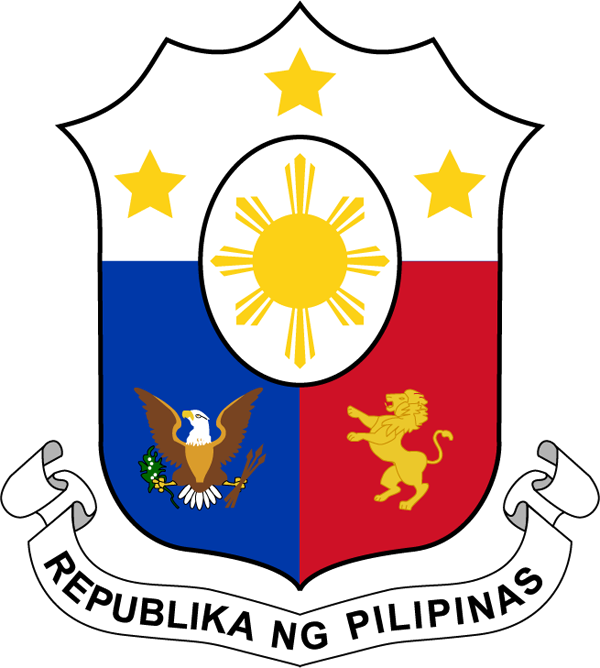 After decades of political difficulties and isolation, the Philippines has taken a turn for the better and undertaken a complete transformation of its politics and economy. Having capitalized on its population's proficiency with English language and overseas workers, and led by its largest companies, the Philippines has now become one of the world's most dynamic emerging market.
In support of the economic environment, taxes in the Philippines are relatively low compared to the rest of the world, though not as low as other countries of Southeast Asia.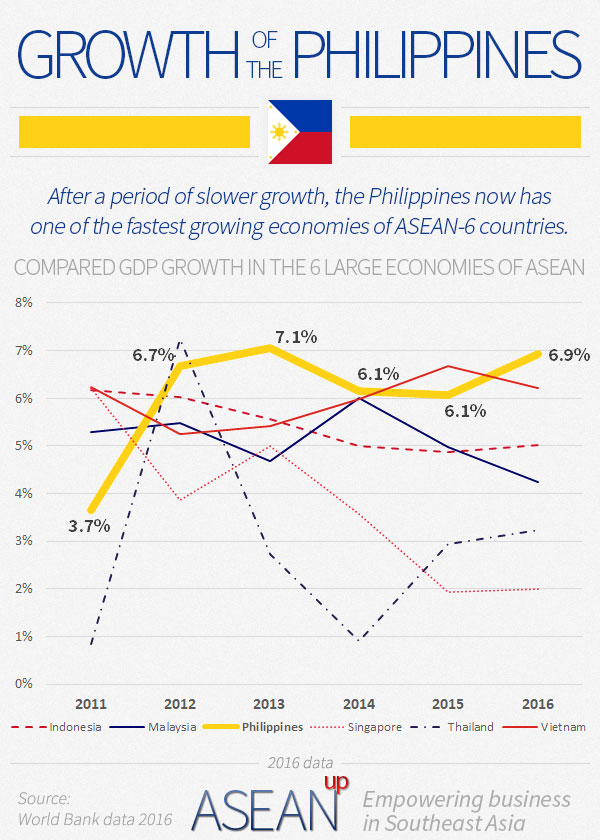 Key economic data of the Philippines
GDP (PPP): USD 873.966 Billion (2017 Estimate)
GDP per Capita (PPP): USD 8,223
GDP (Nominal): USD 348.593 Billion (2017 Estimate)
GDP per Capita (Nominal): USD 3,280
GDP Growth: 6.9% (2016)
GDP by sector: (2015)

agriculture: 9.49%
industry: 33.48%
services: 57.03%

Labor force: 64.80 Million (April 2015)
Labor force by occupation: (2012 Estimate)

services: 53%
agriculture: 32%
industry: 15%

Unemployment: 4.7% (October 2016)
Inflation: 3.4% (April 2017)
Key sectors of the Philippines
The English proficiency of Filipinos has enabled the country to become a global leader for the Business Process Outsourcing - BPO - sector, even surpassing India. A key to the Philippines' economic growth, BPO brings large revenues and investments from abroad in the Philippines.
Besides, to cope with the country's particular sensitivity to disasters and environmental issues, the Philippines has resolutely engaged towards sustainability. Profiting from its natural subterranean resource, the Philippines has notably become a global leader in geothermal energy.
A relatively small industry, tourism is nonetheless on the rise thanks to smart ways to promote the Philippines, enabling a growing amount of visitors to explore Manila, Boracay or the Philippine UNESCO world heritage sites.
Main industries of the Philippines
electronics assembly
aerospace
business process outsourcing
food manufacturing
shipbuilding
chemicals
textiles
garments
metals
petroleum refining
fishing
rice
The Philippines' large and active digital population
With the second largest population in Southeast Asia behind Indonesia, the Philippines has one of the most active population on social media. Its large digital community and penetration of mobile devices provide a new medium to revolutionize underdeveloped industries like financial services and overseas Filipino workers remittances through new FinTech startups.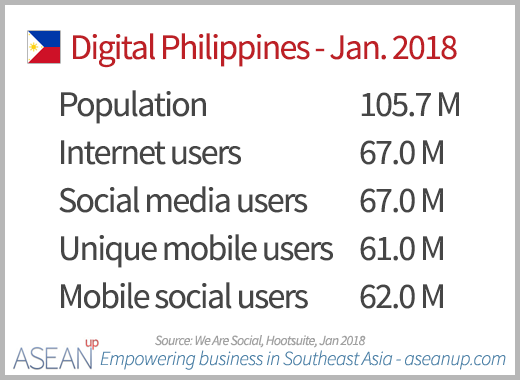 The Philippines for professionals and work
With its tropical climate and friendly population, the Philippines provides a great environment for foreigners willing to work in the country. Salaries are not as high as in other countries of the region, but the authorities are committed to not only improve the country's economy but also to develop more sustainable cities, especially in Manila.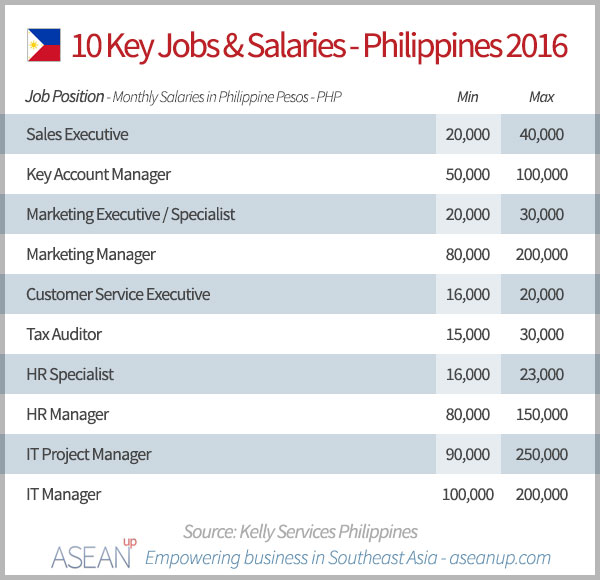 Philippines trade data
Though it is impacted by revenues from the Business Process Outsourcing sector, the Philippines' export rely a lot on commodities, but also on manufactures goods for the electronics, transport and garments sectors.
Exports: USD 58.827 Billion (2015 Estimate)
Export Goods:
semiconductors and electronic products
transport equipment
garments
copper products
petroleum products
coconut oil
fruits
Main Export Partners: (2013 Estimate)
Japan 21.3%
United States 14.7%
China 12.4%
Hong Kong 8.0%
Singapore 7.3%
South Korea 6.0%
Germany 4.1%
Taiwan 3.5%
Thailand 3.4%
Indonesia 3.1%
Imports: USD 71.067 Billion (2015 Estimate)
Import Goods:
electronic products
mineral fuels
machinery and transport equipment
iron and steel
textile fabrics
grains
chemicals
plastic
Main Import Partners: (2013 Estimate)
China 12.9%
United States 11.2%
Japan 8.4%
Taiwan 7.8%
South Korea 7.7%
Singapore 6.8%
Thailand 5.4%
Saudi Arabia 4.5%
Indonesia 4.5%
Germany 3.8%
Recent Resources
The second most populated country in Southeast Asia, the Philippines is a large and rapidly developing market for e-commerce. With a low income but a high growth, the Philippines has a digital population of more than 67 million people which attracts both local and regional companies who compete against a dominant player.