Human resources professionals looking for candidates to hire or executives looking for their next career opportunities both need to know about the job market. This guide will greatly help all those who need to evaluate the salaries compensating for experience and qualifications of particular job position in the Philippines.
Recruitment consultancies and temporary work agencies often compile their jobs data to provide information to potential customers, companies looking for new employees. Through their useful database of employers and applicants, they assist human resources specialists and professionals in search of a new job to find and evaluate the salaries given for certain skills and experience.
As for this guide on the Philippines, salary guides and resources are also published for various ASEAN countries:
Evaluating the costs of human resources in the Philippines
With the second fastest growing economy in Asia – 7.2% in 2015 – and a population of more than 100 million people, the Philippines is a very interesting country with a pro-business environment. Some of the most dynamic industries in the Philippines include:
Offshoring and outsourcing
Information technology
Financial services
Manufacturing
Retail and consumer goods
Healthcare
Tourism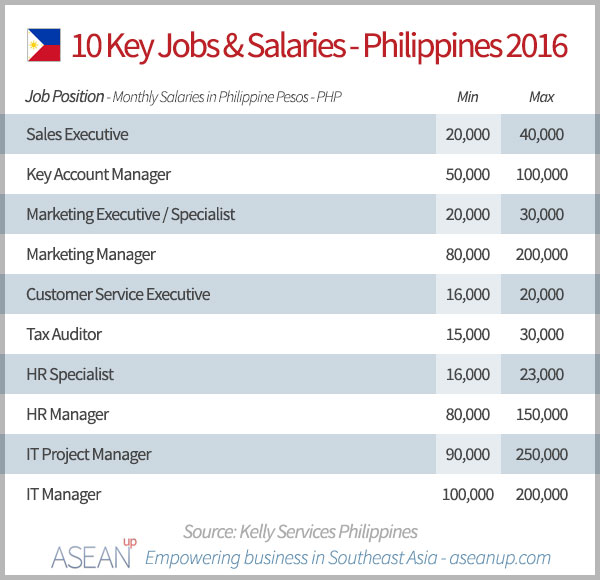 The recruitment company Kelly Services Philippines published a free review of the jobs market in the Philippines, going over various industries, levels of experience and positions. It notably covers positions in business administration and management, sales and IT, professional and technical jobs and human resources.
Philippines Salary Guide 2016-2017 – report summary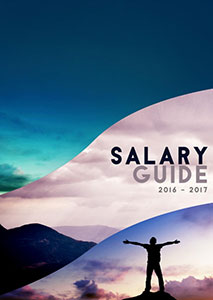 Including the complete details corresponding to each job title with descriptions, qualifications and years of experience, the report provides minimum and maximum salaries for several business areas and economic sectors from entry positions to the most advanced chief operating roles.
Executive overview – page 3
Audit, tax, credit and risk management – page 7
Engineering – page 8
Healthcare and scientific – page 9
Human resources – page 10
IT – page 11
Sales, marketing and advertising – page 14
Office support – page 16