Singapore is one of the most modern and developed countries in Asia, with a vibrant economy of high value-added services and industries. For companies looking for new personnel or professionals on the move, knowing the local salaries compensating for certain skills and experience is a must to make the right HR decisions.
Recruitment agencies and temporary work companies in Singapore often compile their databases of jobs applications and candidates to create some useful reports on the average salaries granted for certain work positions. In the same manner, several other guides are also available for other ASEAN countries:
Grasping the value of talent in Singapore
Though the Singaporean economy is already well-developed and therefore not growing as fast as its neighbors, unemployment remains low at 2.9% in 2015. High value added industries continue to flourish in the country and keep the demand for talent high for talented individuals.
Traditionally leading in Singapore, banking and financial services remain in the top paying industries. Yet, the rise of new technologies and startups, and the growing concerns and innovation in healthcare services bring new opportunities for professionals in these sectors.
On average well above the median monthly income of 3,798 SGD, the top 5 best paying industries, according to Kelly Services Singapore, are:
Information technology
Accounting
Sales and marketing
Banking and finance
Healthcare and life sciences
Accounting, Healthcare and life sciences, Information technology and Procurement, supply chain and compliance are however expecting stronger growth than other industries in 2016. Many of the most wanted jobs prove the dynamism of these industries.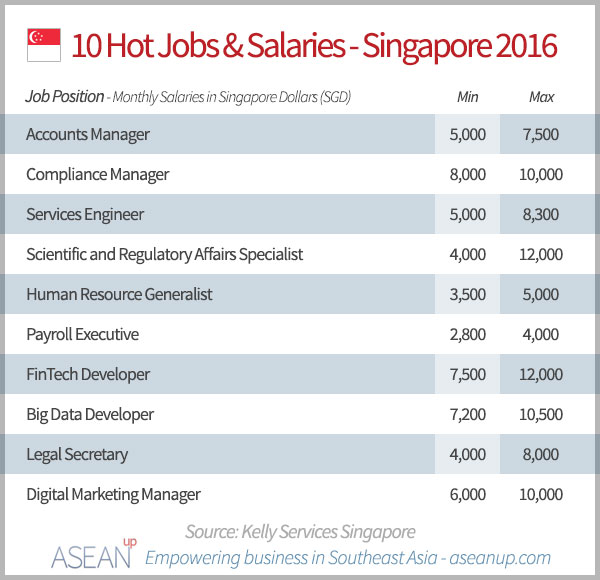 Singapore remain a major business hub in Southeast Asia, with a resilient economy and numerous job opportunities, especially for the most talented professionals. To summarize the state of the high value job market of Singapore, Kelly Services Singapore presents detailed salary figures through various industries with the corresponding levels of experience and salaries.
Singapore Salary Guide 2016: Jobs categories summary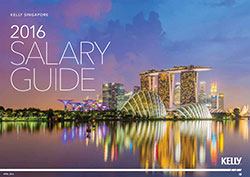 Executive Overview – page 4
2016 Salary and Hiring Outlook – page 6
Being an attractive organization for employees – page 7
Salaries
Accounting – page 8
Banking and Finance – page 10
Call Centre – page 12
Engineering and Technical – page 14
Healthcare and Life Services – page 18
Human Resources – page 20
Information Technology – page 22
Office Support – page 26
Procurement, Supply Chain & Logistics – page 28
Sales, Marketing & Advertising – page 30
More information on salaries in Singapore
Other recruitment agencies, temporary work or human resources companies engaged in recruitment and staffing services in Singapore also publish their salary surveys. Among them the Hudson Singapore salary guide 2016 and the Robert Walters Singapore salary survey 2016 stand out as detailed and up-to date reports for jobs in Singapore in 2016.