For a human resources specialist in search of staff to hire or a professional in transition to a new job, knowing about the Malaysian job market and what salaries to expect for certain levels of qualification and diplomas will come in handy. Here are some details about what compensation correspond to a large range of jobs in Malaysia.
Recruitment, jobs portals and human resources agencies often compile the data from their jobs offers and applications matching to inform the actors of the jobs markets they operate in. With useful data both for companies and jobs applicants, they help the staffing needs of businesses and professionals in search of the right compensation for their skills.
The jobs and recruitment agency Michael Page published a free comprehensive review on the jobs market of Malaysia through several industries, experience and positions. The salaries level provided in Malaysia can also be helpful for HR professionals and business owners to assess salaries in the rest of Malaysia.
As for this guide on Malaysia, salary guides and resources are published for various ASEAN countries:
Assessing the costs of human resources in Malaysia
Though it has seen more enthusiastic periods, Malaysia still consistently sees solid growth. The imposition of a new tax, the Goods and Services Tax, has weighed upon business, but the growing healthcare, technology and e-commerce sectors also bring a new breath to the Malaysian economy.
Companies in traditional industries, such as oil and gas, manufacturing, property and construction, and banking remain cautious, but the movement towards technologies and digital drives several other segments of the economy, such as the marketing and shared services industries / outsourcing.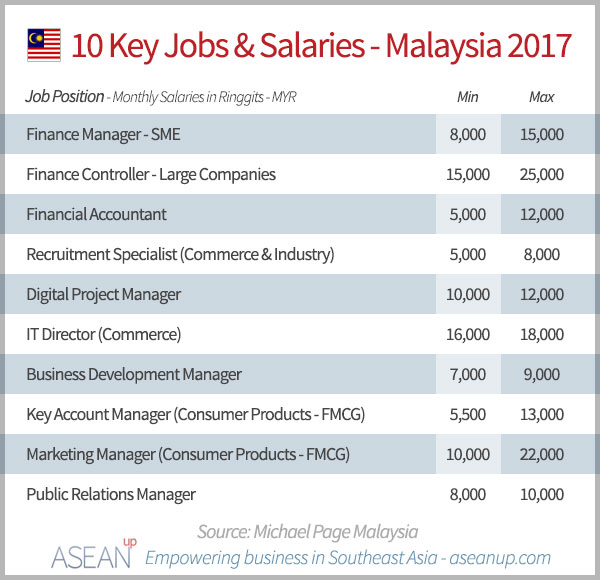 Therefore, according to Michael Page Malaysia, 47% of companies are expected to increase headcount in 2017, primarily driven by the technology sector. Conditions seems to be even more favorable for technology companies involved in financial services – FinTech, application development and e-commerce.
To attract and retain talent, Michael Page advises HR professionals and businesses to focus on providing opportunities for professional and career development, increasing salaries and providing flexibility in the workplace.
Including various trends and evolution since 2016, the report goes in details in the following business areas/sectors from entry positions to the most advanced direction: Digital, Engineering & Manufacturing, Finance & Accounting, Human Resources, Legal, Marketing, Procurement & Supply Chain, Property & Construction, Sales, Shared Services, Technology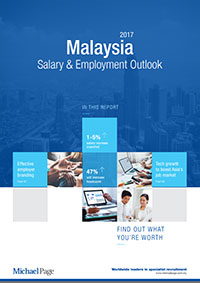 Malaysia Salary & Employment Outlook 2017 – report summary
Seizing New Opportunities – page 4
Key Trends

Made in Asia: Rise of Domestic Brands – page 5
Tech Growth to Boost Asia's Job Market – page 6
Strong Employer Branding: A Key to Success – page 7

Numbers at a Glance – page 8
Malaysia Overview – page 10
Insights & Salary Benchmarks

Digital – page 11
Engineering & Manufacturing – page 13
Finance & Accounting – page 16
Human Resources – page 20
Legal – page 22
Marketing – page 24
Procurement & Supply Chain – page 28
Property & Construction – page 31
Sales – page 34
Shared Services – page 38
Technology – page 41
Salary differences within Malaysian regions
Various other salary surveys have been created by companies involved in human resources in Malaysia. Among them Jobstreet Malaysia provides an interesting set of data that details the salary differences between the different regions of Malaysia:
Northern Region: Perlis, Kedah, Penang, Perak
Central Region: Selangor, Kuala Lumpur, Putrajaya
Southern Region: Melaka, Johor, Negeri Sembilan
East Coast: Kelantan, Pahang, Terengganu
East Malaysia: Sabah, Sarawak, Labuan
Though this second report does go into details about each job title, it does provide very specific information for a very large array of industries by job seniority, which can greatly help in the evaluation of your particular job search or job offer.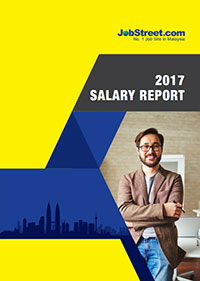 For each level, Senior Manager, Manager, Junior Executive, Senior Executive, Entry Level, the report presents salaries by industry in the following job segments: Accounting / Finance, Admin / HR, Arts / Media / Comm, Building / Construction, Computer / IT, Education / Training, Engineering, Healthcare, Hotel / Restaurant, Manufacturing, Sales / Marketing, Sciences, Services.
Malaysia Salary Report 2017 – summary
Senior Manager – page 1
Manager – page 23
Junior Executive – page 57
Senior Executive – page 94
Entry Level – page 142