For a human resources specialist in search of staff to hire or a professional in transition to a new job, knowing about the Malaysian job market and what salaries to expect for certain levels of qualification and diplomas will come in handy. Here are some details about what compensation correspond to a large range of jobs in Malaysia.
Recruitment and human resources agencies often compile the data from their jobs offers and applications matching to inform the actors of the jobs markets they operate in. With useful data both for companies and jobs applicants, they help the staffing needs of businesses and professionals in search of the right compensation for their skills.
The recruitment consultancy Robert Walters published a free comprehensive review on the jobs market of Kuala Lumpur through several industries, experience and positions. The salaries level provided in Kuala Lumpur can also be helpful for HR professionals and business owners to assess salaries in the rest of Malaysia.
As for this guide on Malaysia, salary guides and resources are published for various ASEAN countries:
Assessing the costs of human resources in Kuala Lumpur and in Malaysia
Though still in a relatively positive economic cycle globally, Malaysia has recently seen a more moderate growth than in the previous years. The fall of oil and commodities prices, together with the creation of a new tax, the Goods and Services Tax, have weighed upon the economy and, consequently, made businesses and recruiters more cautious in 2015.
However, these trends have not weighed upon Malaysia in the services and offshoring industries which remained at a strong level regionally throughout recent years and is expected to continue so. The movement towards digital technologies has also been a driver of the marketing industry in Malaysia.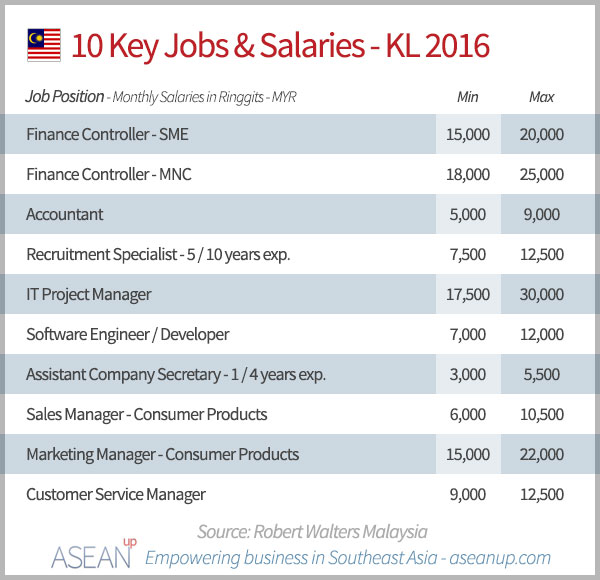 Therefore, according to Robert Walters Malaysia, the total number jobs has continued to grow in 2015 (+3%), with a particular increase in the numbers of accounting and finance jobs and marketing jobs.
To attract and retain talent, Robert Walters advises HR professionals and businesses to focus on monetary compensations for lower-level positions while providing opportunities for professional and career development in the most senior and managerial roles. Thus, the salaries presented in the report highlight the relatively strong compensation awarded for entry-level and "lower" jobs.
Including various trends and evolution since 2015, the report goes in details in the following business areas/sectors from entry positions to the most advanced direction: Accounting & Finance, Banking & Financial Services, Human Resources, Information Technology, Legal & Compliance, Sales & Marketing, Supply Chain, Procurement & Engineering.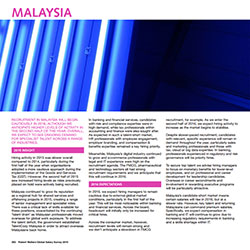 Kuala Lumpur Salary Guide 2016 – report summary
2015 insights and 2016 expectations –page 303
Key Findings – page 304
Malaysia overview – page 305
Accounting & Finance – page 309
Banking & Financial Services – Front office – page 310
Banking & Financial Services – Middle & back office – page 311
Human Resources – page 312
Technical Healthcare – page 312
Information Technology – page 313
Legal & Compliance – page 314
Sales & Marketing – page 315
Supply Chain, Procurement & Engineering –page 316
More salary surveys for Malaysia
Various salary surveys have been created by recruitment, temporary work and human resources companies. Among them the Hays Asia Salary Guide stands out as an up-to date report: though it is not focused exclusively on Malaysia it includes the 2016 data and allows for comparisons with salaries in China, Japan, Hong Kong and Singapore.
Though not yet updated for the currrent year as of June 2016, other salary guide of reference include the Adecco Malaysia 2015 guide and the Kelly service Malaysia guide 2014/2015.