The most populous country of Southeast Asia, Indonesia has a large workforce, a fast-growing economy and a dynamic and varied business environment with many work opportunities. Potential candidates and hiring companies must be aware of salaries and compensations for the right skills and experience.
Various recruitment and temporary jobs companies publish information on the markets they intend to tackle. They aim at helping both companies and applicants know about the price of the skills and experience they bring or search.
This overview of salaries in Indonesia can help people looking for next job and HR professional to assess the cost of human resources through several industries, levels of experience and job, positions just like in other ASEAN countries:
Costs of Human Resources in Indonesia
Indonesia has been going through important changes since the power shift in the nation's political leadership. Though growth estimates of 5-6% per year for the coming years are somewhat milder than in the previous period, the political inflection brings new effects on the country's economy, energy, natural resources and business in general.
These changes have resulted in some moves in the salaries of industries and positions most impacted, like IT and infrastructure, though traditional economic heavyweights also keep on paying more than others. According to Kelly Services Indonesia, the best paying industries in Indonesia are:
Oil and gas
Financial services
Hi-Tech
E-commerce
Infrastructure
Furthermore, some industries seem to be more dynamic than others in the pace of salaries' growth: infrastructure, manufacture, agriculture and hi-tech are all expected to be the leaders in financial growth. These trends drive the job market and several of the most wanted jobs reflect the interest of leading sectors and emerging new ones.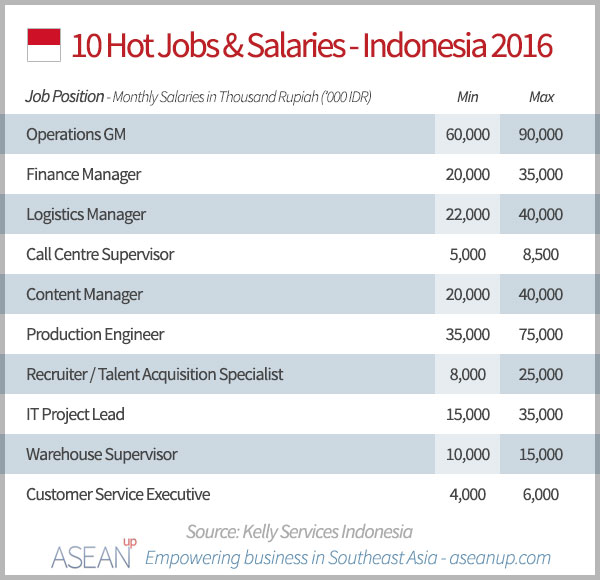 Nevertheless, the entire Indonesian business environment keeps a strong outlook for the coming years, with lots of of new jobs opportunities and work created in most sectors. To summarize the state of this dynamic job market of Jakarta, Kelly Services Indonesia presents detailed salary figures through various domains and industries, together with corresponding experience and salaries.
Indonesia Salary Guide 2016: Jobs categories summary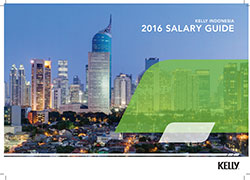 Executive Overview – page 4
2016 Salary and Hiring Outlook – page 5
Salaries
Call Centre – page 7
FMCG – page 8
Human Resources – page 9
Office Support – page 10
Retail – page 11
Procurement, Supply Chain & Logistics – page 12
Sales, Marketing & Advertising – page 14
Telecommunication – page 15
Banking and finance industry – page 16
Accounting & Finance – page 17
Banking & Insurance – page 19
Engineering industry – page 22
Construction & Property – page 23
Engineering, Procurement & Construction – page 24
Engineering & Technical (Manufacturing) – page 25
Mining – page 26
Oil And Gas – page 27
IT industry – page 28
E-Commerce – page 29
Information Technology – page 30
Life sciences – page 32
Chemical – page 33
Life Sciences & Medical Devices – page34
More information on salaries in Indonesia and Jakarta
Other companies involved in human resources in Indonesia publish salary surveys: recruitment agencies, temporary work and human resources companies. Among them the Robert Walters Indonesia salary survey stands out as an up-to date report for jobs in Jakarta in 2016.