With the region's largest population and largest economy, Indonesia is the giant of Southeast Asia and one of the world's most populous democracy. Representing about 40% of the economy and the population of ASEAN, Indonesia is the region's only member of the G20. Its size and remarkable economic growth also attracts many investors.
Official country name: Republic of Indonesia
Capital: Jakarta
Total Area: 1,904,569 km²
Government: Unitary presidential constitutional republic
Currency: Rupiah, Rp – IDR
Drives on the: left
Calling Code: +62
Internet TLD: .id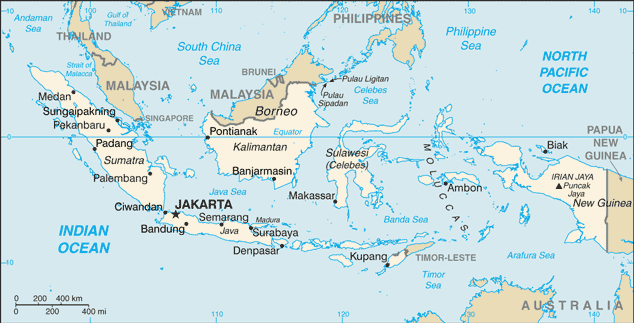 Demographics
Population: 263,510,000 (2017 Estimate)
Population Density: 124.66/km²
Official Languages: Indonesian
HDI: 0.689 (medium)
Main ethnic Groups: (2010 census)

Javanese 40.22%
Sundanese 15.5%
Batak 3.58%
Other Sulawesi ethnic groups 3.22%
Madurese 3.03%
Betawi 2.88%
Minangkabau 2.73%
Buginese 2.69%
Malay 2.27%
Other South Sumatran ethnic groups 2.16%
Bantenese 1.97%
The Indonesian business environment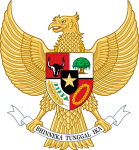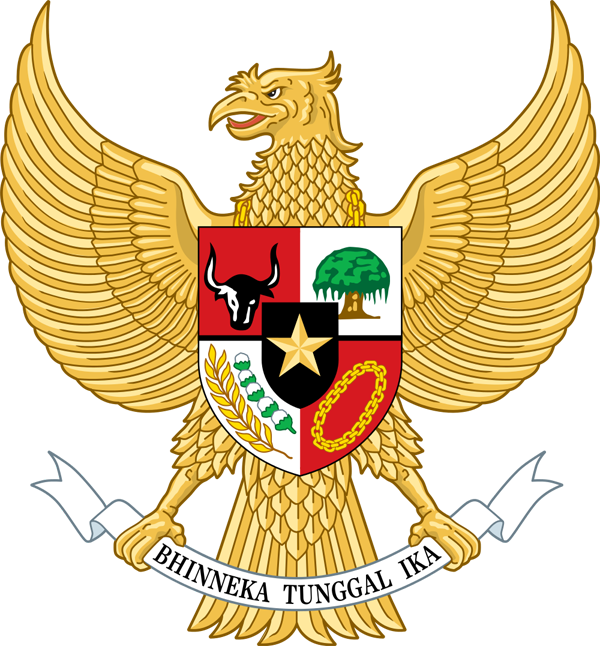 With its population of more than 260 million and growing middle-class and a nominal GDP of about 1 trillion USD, Indonesia now attracts all eyes of investors interested in grabbing a share of its massive and rapidly growing market. In transition towards a modern, industrial and service economy, Indonesia is growing away from its dependence on exports of raw materials.
Though submitted to political changes inherent to its democracy, Indonesia shows a strong economic resilience. Its government aims at ambitious growth plans and tackling the challenges of connecting a country made up of more than 17,000 islands. With policies aiming at the development of new infrastructures, the Indonesian government targets long-term, sustainable growth and attractiveness through a business-friendly taxes that helps both small and large companies.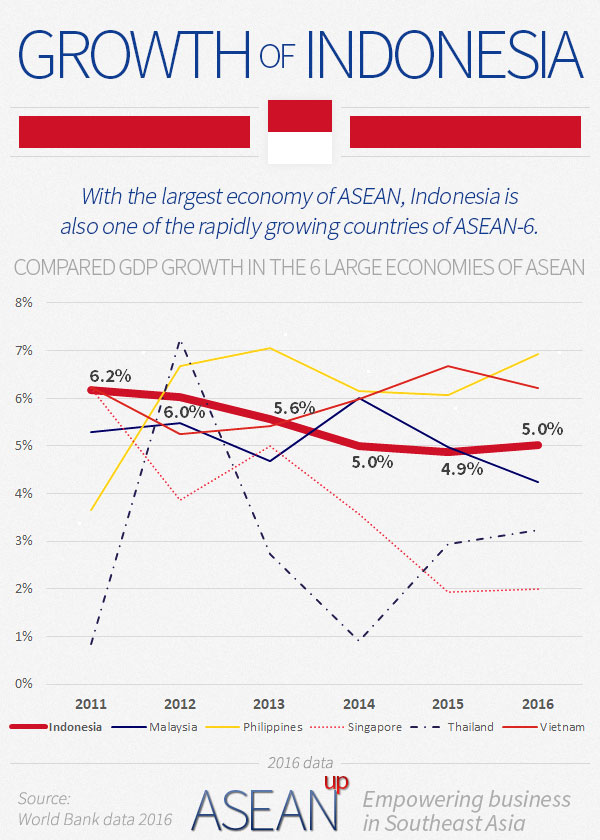 Key economic data of Indonesia
GDP (PPP): USD 3.027 Trillion (2016 Estimate)
GDP per Capita (PPP): USD 11,699
GDP (Nominal): USD 940.953 Billion (2016 Estimate)
GDP per Capita (Nominal): USD 3,635
GDP Growth: 5.0% (2016)
GDP by sector: (2014 Estimate)

agriculture: 13.7%
industry: 42.9%
services: 43.3%

Labor force: 123.7 million (2016 Estimate)
Labor force by occupation: (2012 Estimate)

agriculture: 38.9%
industry: 22.2%
services: 47.9%

Unemployment: 6.3% (2016)
Inflation: 3.02% (October 2016)
Key sectors of Indonesia
With its large land area and tropical climate, Indonesia is rich in natural resources such as oil and minerals, timber and raw of semi-transformed agricultural products.
However, to limit the country's dependence on commodities, increase the value added to the economy and develop the country that is still one of the least developed in Southeast Asia, the authorities are aiming at growing the economy away from the export of natural resources.
Indonesia's large workforce make the country and ideal hub for industrial production. The country's large cities are transforming into specialized industrial and service hubs to help the modernization of its economy, notably through the industries of machinery, electronics, automotive and auto-parts.
With its size, diversity and rich cultural heritage, Indonesia is also aiming at boosting its tourism and hospitality sector. Upon these strengths which notably include several UNESCO world heritage sites, the authorities rightfully promote tourism in the country as "Wonderful Indonesia".
Main industries of Indonesia
petroleum and natural gas
textiles
apparel
footwear
mining
cement
chemical fertilizers
machinery
electronics
hardware
software
telecommunications
plywood
rubber
food
tourism
Indonesia digital
Indonesia's large population is also one of the most active on social media in the region. This very large and active digital community, and the growing penetration of mobile devices help the revolution of several underdeveloped industries like financial services through new FinTech startups.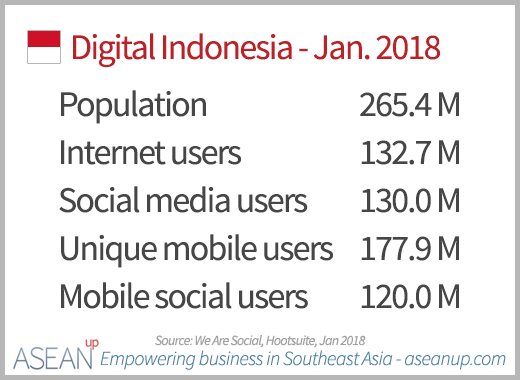 Indonesia for professionals and work
Indonesia provides a very diverse environment for foreigners willing to work in the country, depending on their situation: large cities like Jakarta, touristic destinations like Bali, or remote islands and countrysides.
Salaries are lower than in other countries of the region, since the country is one of the least developed, but there are large differences between certain regions attracting foreigners such as Jakarta, Bali or Batam islands and the rest of the country.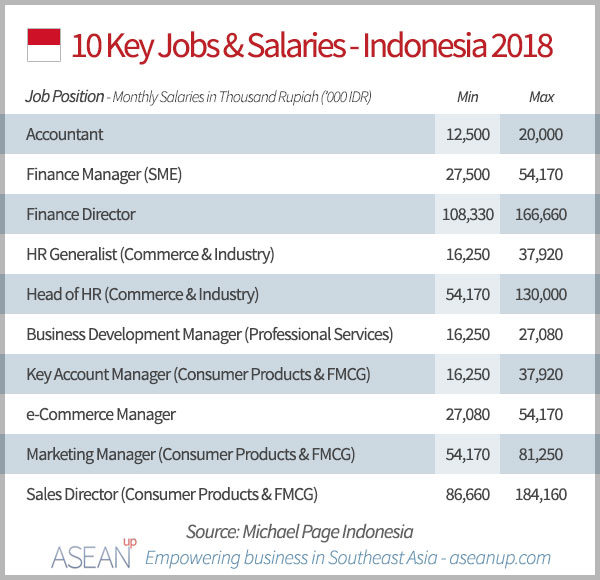 Indonesia trade data
Though it is diversifying with industrial exports, Indonesia's trade is still heavily reliant upon raw materials and semi-transformed products.
Exports: USD 144.4 Billion (2016)
Export Goods:
oil and gas
cement
food
electrical appliances
construction
plywood
textiles
rubber
Main Export Partners: (2014 Estimate)
Japan 13.1%
China 10%
Singapore 9.5%
United States 9.4%
India 7%
South Korea 6%
Hong Kong 5.8%
Malaysia 5.5%
Imports: USD 135.6 Billion (2016)
Import Goods:
machinery and equipment
chemicals
fuels
foodstuffs
Main Import Partners: (2014 Estimate)
China 17.2%
Singapore 14.1%
Japan 9.6%
South Korea 6.7%
Malaysia 6.1%
Thailand 5.5%
United States 4.6%
Recent Resources
The most populous country in Southeast Asia by far, Indonesia is still in an early stage of development when it comes to internet, mobile and digital technologies. It is, therefore, one of the most sought-after markets globally for e-commerce, with large local players and global heavyweights fighting for this enormous growing market.

Using beautiful pictures is critical for marketing collateral to present a professional and appealing message to potential customers. These 40 free, high-definition stock pictures of Indonesia will be very helpful for you to create websites and brochures, especially for businesses in tourism and travel, real estate, food, luxury…

Some quality maps of Indonesia can come in handy to illustrate ideas or projects for your website or blog, or to create your own maps. Here is a collection of copyright or royalty free, labelled and blank maps of Indonesia to be used directly as is, or to be elaborated upon to create beautiful modern …

With the largest population and economy by far, not only is Indonesia the heavyweight of Southeast Asia but it also has an enormous potential for growth. This series of infographics illustrates key demographic and economic data on Indonesia, as well as comparisons with other ASEAN and world-leading countries.

Indonesia has the largest population in Southeast Asia, by far, and an e-commerce penetration that is still very low, making it one of the hottest e-commerce markets in the world. Attracting both global and local companies' interests, Indonesia now has a fast-growing e-commerce scene poised to become a global powerhouse.

The 45 largest public listed companies of Indonesia, components of the LQ45 index, are major actors in the economy of Indonesia, Southeast Asia, and the world. With a short presentation of each company, its sector, and logo, this following list provides useful information and links to the company's website and its stock quote.

With a mix of historic sites from diverse architectural traditions and a bountiful yet tumultuous nature, Indonesia hosts eight World Heritage Sites classified by the UNESCO. Famous Buddhist and Hindu temples, rich natural parks with unique endemic ecosystems and volcanoes are but a few highlights of Indonesia's natural and cultural wealth.