Indonesia has the largest population in Southeast Asia and one of the fastest growing economies. As financial technologies – FinTech – are becoming some of the hottest business opportunities in Indonesia, many startups and companies engage in the competition to conquer big and promising markets.
Indonesia's economy represents about 40% of the Southeast Asian economy; it is the only member of the G20 in ASEAN. Yet, as Indonesia is still in an early phase of its development, many industries are under-developed, creating numerous opportunities for startups and newcomers to conquer large markets through innovative approaches.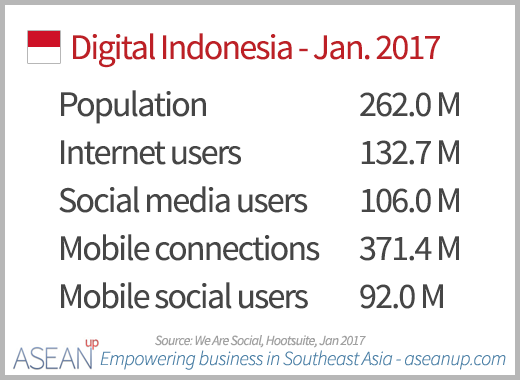 Rising Internet connectivity and use of mobile devices make many sectors even more attractive that they were previously hindered by Indonesia's infrastructure challenges. The very solvable financial services therefore become some of the most interesting opportunities for entrepreneurs to build fast growing applications like this mobile payment startup in the Philippines.
Fintech startups ready to conquer Indonesia
Some key numbers highlight the needs and interests to develop new innovative financial services in Indonesia.
A young population of more than 250 million people, that makes Indonesia the most populated country in Southeast Asia and fourth most populated in the world.
A large part of the population is living in rural or remote areas and have little access to financial services, banks and insurances.
In general, banking and financial services have a low penetration in Indonesia.
A large and fast growing population online and using mobile phones.
Eyeing these numbers and trends, Indonesia's FinTech startups are creating innovative technological applications to develop or disrupt the following financial markets:
personal finance and investment
payment
point of sale systems
lending
accounting
comparison
crowdfunding
cryptocurrency
With some key characteristics about the country, the following slide deck presents the main startups of FinTech in Indonesia.
Introduction
Global index – slide 4
Indonesia country overview – slide 5
Indonesia population structure by age – slide 6
Indonesia Internet users – slide 7
Online activities in Indonesia – slide 8
Media: Fintech News in Indonesia – slide 9
Startups
Overview – slide 12
Personal finance and investment – slide 14
Personal finance
Investment
Payment – slide 18
Point of sale systems – slide 34
Lending – slide 40
Accounting – slide 48
Comparison – slide 52
Crowdfunding – slide 61
Cryptocurrency – slide 66
Slidedeck from October 2016 by Christian Konig