Though one of the smallest countries in Southeast Asia, Singapore has the most advanced and sophisticated economy in the region. It is consistently ranked as one of the world's best places to do business and drains companies and professionals from the whole world eager to work and do business in Singapore.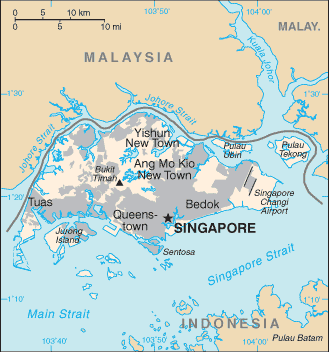 Official country name: Republic of Singapore
Capital: Singapore
Total Area: 719.1 km²
Government: Unitary parliamentary constitutional republic
Currency: Singapore dollar - SGD
Drives on the: left
Calling Code: +65
Internet TLD: .sg
Demographics
Population: 5,610,000 (2015 Estimate)

Population Density: 7,797/km²
Official Languages: English, Malay, Mandarin, Tamil
HDI: 0.912 (very high)
Ethnic Groups:

Chinese 74.1%
Malays 13.4%
Indians 9.2%
Others 3.3%
The Singaporean business environment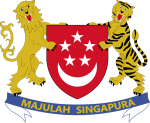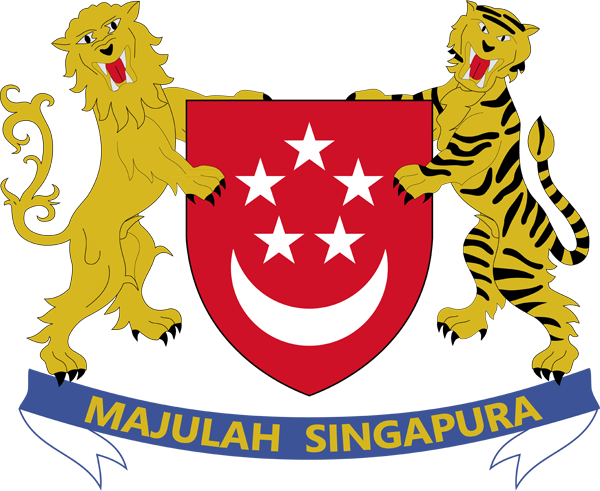 Singapore has one of least corrupt business environment in Asia thanks to the definition of clear business rules and their consistent enforcement. Singapore attracts global companies and entrepreneurs eager to start a company there to cater to the high-income Singaporean population or serve as a regional and global business platform.
The secure, peaceful and dynamic living environment carefully designed by the Singaporean authorities ensures professionals and their families enjoy their life in the country while pro-business policies ensure Singapore's economic attractiveness. Companies and professionals in Singapore notably benefit from its simple and globally competitive tax system.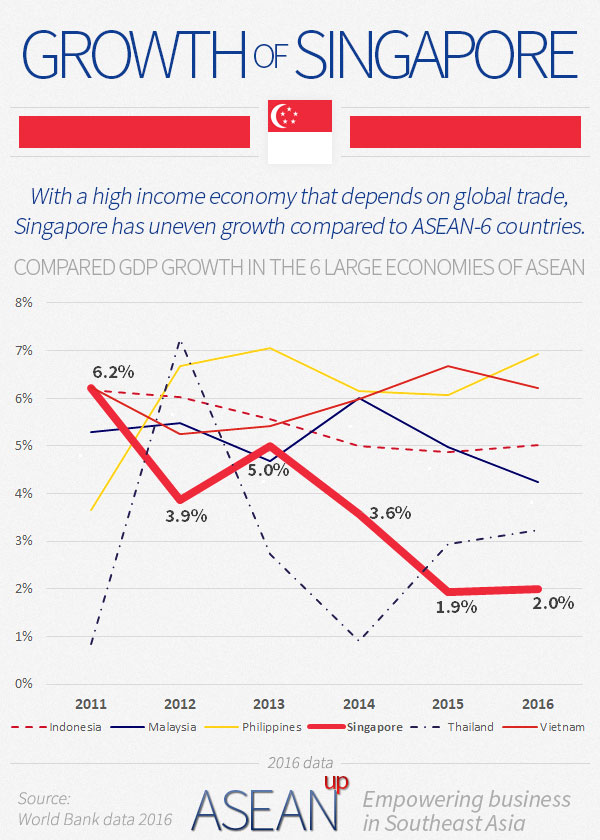 Key economic data of Singapore
GDP (PPP): USD 486.910 Billion (2016 Estimate)
GDP per Capita (PPP): USD 87,082
GDP (Nominal): USD 296.642 Billion (2016 Estimate)
GDP per Capita (Nominal): USD 53,053
GDP Growth: 2.0% (2016)
GDP by sector: (2011 Estimate)

agriculture: 0%
industry: 25%
services: 75%

Labor force: 3.6275 Million (June 2015)
Labor force by occupation: (2014)

agriculture 1.3%
industry 14.8%
services 83.9%

Unemployment: 2% (2015 Estimate)
Inflation: 1% (2014 Estimate)
Ease of doing business rank: 2nd (2017)
Key sectors of Singapore
Singapore is one of the world's leading financial center, especially serving as a financial hub for Southeast Asia and the larger Asia-Pacific region. Its pivotal location between the Pacific and Indian oceans, at the tip of the Malaysian peninsula, makes it one the largest knot in trade and sea transportation, with one the world's busiest ports.
Banking and finance, international trade, real estate and telecommunications are some of the most important sectors in Singapore, in which operate many of the country's largest companies, which are also often among the giants of Southeast Asia.
Main industries of Singapore
financial services
electronics
chemicals
oil drilling equipment
petroleum refining
rubber processing and rubber products
processed food and beverages
ship repair
offshore platform construction
life sciences
entrepot trade
tourism
manufacturing
A regional center for innovation
The country's success stems from its constant push for innovation in all levels: government, company and individual. Thanks to this innovating spirit, Singapore is at the forefront of technology in Asia, especially a leader in electronics, oil refining, biotechnology, energy and the largest hub in Southeast Asia for startups.
Singapore notably has the most active population on Internet in Southeast Asia, serving as a base for many foreign startups in Southeast Asia and an advanced country for all aspects of digital business. It is home to a vibrant community of bloggers, with some of Singapore's top blogs recognized globally.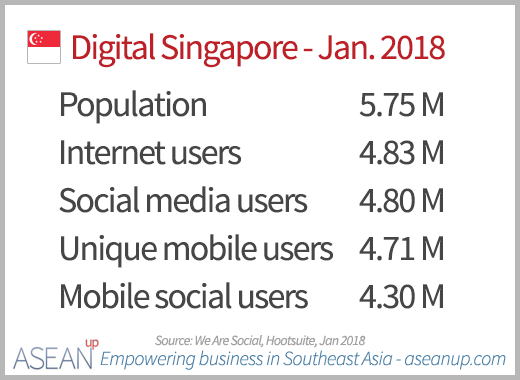 Singapore for professionals and work
As the country's authorities are constantly struggling to make Singapore a perfect place for business, they always keep in mind the quality of life of individuals and families. Both local and foreign professionals therefore enjoy the benefits of its modern environment: a high-standard of living, the best universities in Southeast Asia, a sound healthcare system and a profusion of day and night attractions for all.
Often considered a luxury shopping paradise, Singapore is now growing the local regional art scene as it aims at becoming a touristic center in Southeast Asia. These characteristics make living in Singapore a modern and expensive lifestyle, which added with the high value-added economy of Singapore naturally push salaries in Singapore among the world's highest.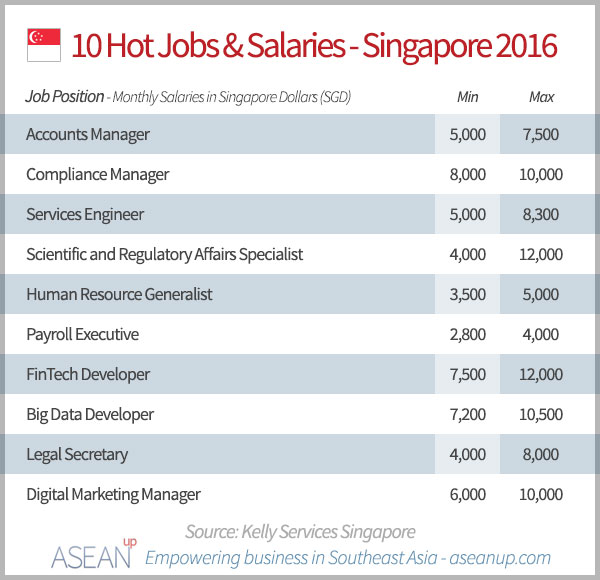 Being a convenient place to do business and a high income country, Singapore is naturally a global hotspot for expats. This presence of a large population of foreigners enhance Singapore's position as a global trade hub.
Singapore trade
With very high numbers for its size, resources and population, Singapore is a regional heavyweight both for imports and exports.
Exports: USD 518.922 Billion (2014)
Export Goods:
Machinery and Equipment
Electronics and Telecommunications
Pharmaceuticals and Other Chemicals
Refined Petroleum Products
Main Export Partners: (2013)
Malaysia 12.2%
China 11.8%
Hong Kong 11.2%
Indonesia 9.9%
United States 5.8%
Japan 4.3%
South Korea 4.1%
Canada 3.7%
Imports: USD 463.779 Billion (2014)
Import Goods:
Machinery and Equipment
Mineral Fuels
Chemicals
Foodstuffs
Consumer Goods
Main Import Partners: (2013)
China 11.7%
Malaysia 10.9%
United States 10.4%
South Korea 6.4%
Japan 5.5%
Indonesia 5.2%
United Arab Emirates 4.4%
Recent Resources
With well-developed infrastructures and a high income, digitally-savvy population, Singapore is a very mature market for e-commerce. Several global and regional websites are fighting tooth and nail for market share, with some local players using their weight in Singapore as a foothold to expand abroad.

Having successfully diversified its economy, Singapore has become a regional and global hub for technology and startups. It is now home to one of the most developed startup eco-system in Asia, with an ever-growing number of companies using the country as a base to manage their operations in the region and beyond.

Using great pictures is imperative for any marketing activity to display a professional and appealing message to potential customers. These 40 free, high-definition stock pictures of Singapore will be a great help for you to design websites and brochures, especially for businesses in tourism and travel, real estate, food, luxury…

Quality maps of Singapore can be useful to illustrate ideas or projects for your website or blog, or to create your own maps. Here is a collection of copyright or royalty free, labelled, blank and subway maps of Singapore to be used directly as is, or to be elaborated upon to create beautiful modern maps …

Though it experienced high economic growth rates a few years ago, Singapore, the most advanced economy of Southeast Asia shows uneven year-on-year expansion. This series of infographics presents key demographic and economic data on Singapore, together with comparisons with other ASEAN and world-leading countries.

As an advanced city-state, Singapore has a unique opportunity to push forward in technologies and new practices of urban planning, transport, energy and utilities. Explaining the implementation of various methods in daily life of Singaporeans, this video shows how the Red Dot is becoming a global leading "Smart City".

Singapore is a famous touristic center for its high end hospitality venues, luxury shopping and delightful entertainment. With recent new developments, Singaporean luxury businesses are defining new standards to remain a global leader as the competition for luxury travel stiffens in Asia and the rest of the world.

A world renown location for business, Singapore is also a growing hub for tourism. Not surprisingly it is therefore a famous destination for business trips of companies and teams from all over Southeast Asia and beyond. Here are some ideas to organize interesting business trips that go out of the ordinary in the Lion City.

Singapore is a center of modernity and luxury tourism in Asia, it also is home to a site listed as a World Heritage Site of the UNESCO. Originating from the city-state's former British rule and its needs for botanic acclimating, as well as leisure, the Singapore Botanic Garden has been classified by UNESCO in 2015.