Singapore has grown into a major hub for technology start-ups in Southeast Asia. For the aspiring entrepreneurs, the presence of a new dynamic and multicultural generation as well as supportive business and financial structures make Singapore a great place to think about for starting a business and making a global impact.
The success of Google, Facebook or Instagram has created a global enthusiasm towards tech entrepreneurship in the younger generation. And Southeast Asia is not out of this movement: several ASEAN countries are gearing up to attract entrepreneurs, stimulate and accompany the creation and growth of startups.
However, the burgeoning startup ecosystem in the Philippines, in Malaysia, Thailand or Indonesia, even Vietnam with its new support for Vietnamese tech startups, is no match to the maturating industry of Singapore.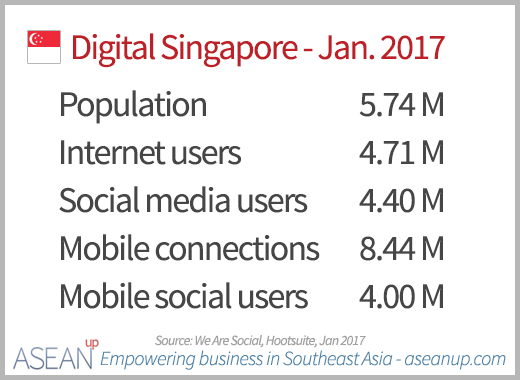 Even though the population of Singapore is much smaller than many other Southeast Asian countries, the use of Internet, social media and smartphones is also much more advanced, making the Singaporean digital market a very mature one at the regional level, on par with the global leaders.
Such developed market and general habit of using digital technologies have undoubtedly helped Singapore into developing its startup ecosystem, and becoming a home for many local and global digital companies. Here is an overview this ecosystem, and some advice from its different actors.
Overview of the different actors in the startup ecosystem in Singapore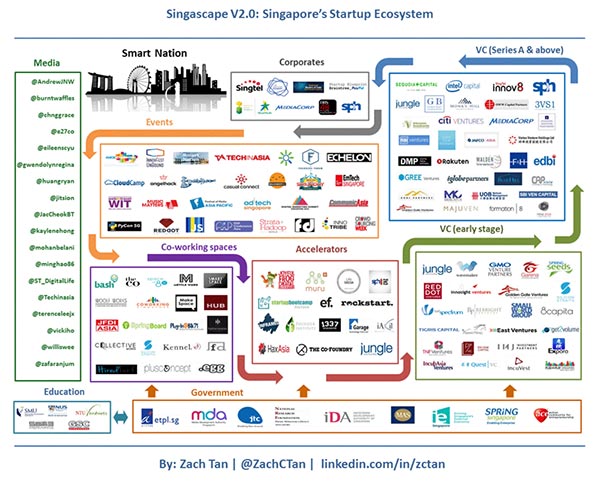 This first image published on Zach Tan's Singascape summarizes the startup landscape of Singapore in a broad overview. The image enables to grasp the main actors of the industry with an emphasis on the Singaporean entrepreneur's journey through events, co-working spaces, and the various funding rounds.
Going into finer details, the following slide deck gives an extensive, though not exhaustive, list of each type of the different actors and supporting infrastructures for startups of Singapore with their precise activities and specialties.
With government agencies, successful startups, incubators, accelerators, VCs, etc. it presents most of the actors ready to help aspiring entrepreneurs and teams to work, get funded and develop their businesses in Singapore.
Singapore startup ecosystem – summary
Startup ecosystem – slide 5
Dynamics and trends – slide 15
Government – slide 22
Startups in Singapore – slide 25
100 People You Should Know – slide 36
Networking – slide 51
Hackathons & Startups Competitions – slide 56
Incubators & Accelerators – slide 59
Fund Raising – slide 65
Coworking Spaces & Offices – slide 70
Talents & Recruitment – slide 73
Visa – slide 80
Outsourcing – slide 82
Thank you – slide 84
Bonus – slide 85
We don't have the Paypal mafia, but… – slide 88
Startups and entrepreneurs' stories from Singapore
Sharing their experience to others, entrepreneurs and team-members from various backgrounds involved in the startups of Singapore share their stories about their companies as well as their daily work involvement in the following video.
Through these valuable insights, would-be entrepreneurs can "feel" what it could be like to be involved in a startup in Singapore, and better prepare their projects.
In this first video, young workers provide some inspiring visions and ideas about their company and what it is to work in a startup in Sinapore, especially:
Daily work and motivation required to work in a startup
Ideas and maturation of a valuable business model
The maximal utilization of resources and reaching business objectives
The particularities of the tech startups ecosystem and communities in Singapore
Relation to money, investors, profit an financial success
Advice from mentors and investors in startups of Singapore
Other people working in the supporting structures of Singaporean startups also comment on their insights to the aspiring entrepreneurs. With views from mentors, investors, accelerators' founders and successful entrepreneurs, it's the other side of the startup game that here enlightens us about starting up a technology company in Singapore.
Even though all entrepreneurs should avoid these frequent mistakes to get funded, the interviewees give us more insights on working and getting funded as a startup, with a more specific eye on doing that in Singapore, in particular:
Working in a startup is a lot of work, and it is not charity
Tech startup funding in Singapore is still developing, as people are not so eager to take risks in some areas that they do not know so well
Startups should build unique and different products
Company culture should be built and enforced from the start
The startup community in Singapore is a movement against a quite conservative and risk-averse local culture
Entrepreneurs should be persistent and tenacious
Teams in Singapore (and all of Asia) should push a little more against their perceived boundaries and comfort zone
For detailed and very useful information on how to evaluate a startup's needs for financing, check how to raise funds for a startup a Singapore, and this resource for more specific information on FinTech in Singapore.
Direct links to the startup ecosystem of Singapore
Here are some links to various actors of the Singapore startup ecosystem. This list is not exhaustive, so do not hesitate to tell us what to add in the comments.
Communities & Events
Incubators
Venture Capital
Here is the Map of Active VCs in Southeast Asia, a Google Spreadsheet gathering all information on Venture Capital in the region: VC and their management teams, type of investments, capital available, etc. Note that you have to be logged in to your Google Account to check this resource, and can get updates by registering in MAVA.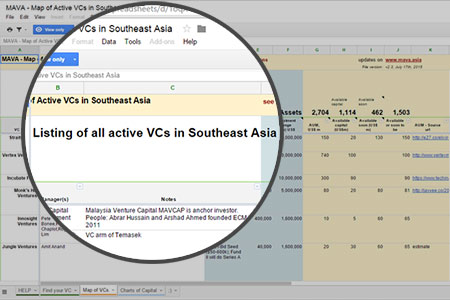 Check this resource for more information Venture Capital in Southeast Asia and why it is currently a very hot industry.
Government
Associations
Presentation from August 2015 by Arnaud Bonzom and videos from Astro Awani 2013