With well-developed infrastructures and a high income, digitally-savvy population, Singapore is a very mature market for e-commerce. Several global and regional websites are fighting tooth and nail for market share, with some local players using their weight in Singapore as a foothold to expand abroad.
The most sophisticated digital economy of Southeast Asia, Singapore already has a well-developed e-commerce market with several international companies competing for its limited but affluent population. Local startups are trying to grab their share through innovation and international actors are coming in the country by acquiring local players.
Top 10 e-commerce websites in Singapore
The Singaporean e-commerce market is already saturated as many big and small companies, including many brick-and-mortars retailers that created their online shops. Though it is not growing as fast as other countries, the most sophisticated market of e-commerce in Southeast Asia remains interesting for its solvable population.
Note that this post is part of a series on top e-commerce sites in Southeast Asia:
To give you more perspective on the current players of e-commerce in Singapore, here is the top 10 e-commerce websites in 2017 and their estimated monthly traffic from SimilarWeb.
Qoo10 Singapore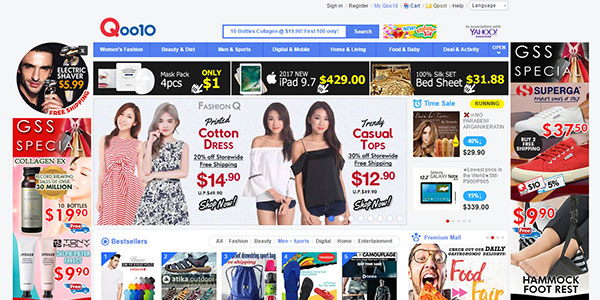 Monthly Traffic Estimate (May 2017): 8,700,000
Qoo10 is an online marketplace especially present in the categories of women and fashion and famous for its Korean products. After its acquisition of the South Korean site Gmarket, Giosis, a joint venture with eBay, rebranded it Qoo10 in 2012. Having expanded beyond South Korea, Qoo10 has succeded in becoming the e-commerce leader in Singapore. It also aims at expanding its foothold in Japan and grow in other Asian countries.
Lazada Singapore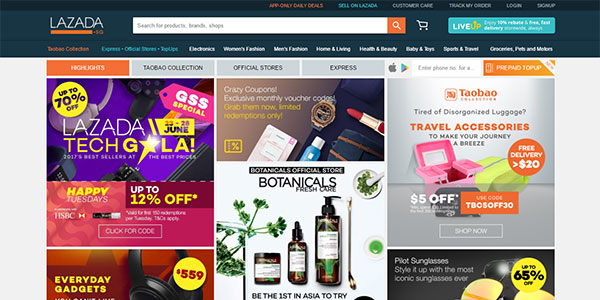 Monthly Traffic Estimate (May 2017): 4,100,000
Second in Singapore, Lazada is nonetheless the leader of e-commerce in Southeast Asia, present in Malaysia, Indonesia, the Philippines, Thailand and Vietnam. It is a general online department store and marketplace allowing retailers to sell their own products. Founded in 2011 by Rocket Internet, the Chinese e-commerce giant Alibaba, acquired a controlling stake in Lazada and its Southeast Asian operations in 2016.
EZbuy Singapore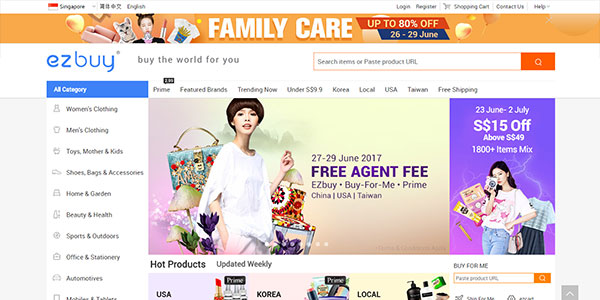 Monthly Traffic Estimate (May 2017): 2,250,000
EZbuy is an online shopping platform primarily involved in clothing, family, home, beauty, sports, automotive and electronics. It is especially focused on Korean, Taiwanese and American products and promotes affordable products throughout the site. EZbuy is also present in Malaysia, Thailand and Indonesia.
Ebay Singapore
Monthly Traffic Estimate (May 2017): 1,600,000
The Singaporean local site from the American e-commerce giant, eBay was originally created for consumer-to-consumer sales. Having expanded since into business-to-consumer products and special deals, eBay Singapore caters to all general products categories.
Carousell Singapore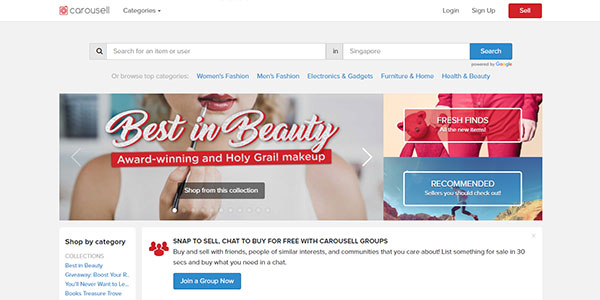 Monthly Traffic Estimate (May 2017): 1,550,000
Originally a mobile platform, Carousell has developed a web shopping site to cater to computer users too. It allows anyone, brands or individuals, to take pictures of their products with a phone, sell easily through the Carousell platform and chat with the sellers to buy directly. Carousell is also present in Malaysia, the Philippines, Indonesia, Taiwan, Australia and Hong Kong.
Zalora Singapore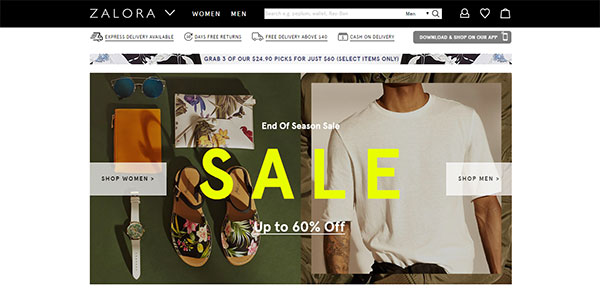 Monthly Traffic Estimate (May 2017): 1,200,000
The largest e-commerce site in Southeast Asia specialized in fashion, Zalora enables fashion brands to sell their products to the site's visitors. Founded in 2012 by Rocket Internet, Zalora is present in Singapore, Indonesia, Malaysia and Brunei, the Philippines, Thailand, Vietnam, Hong Kong and has recently launched in Taiwan.
RedMart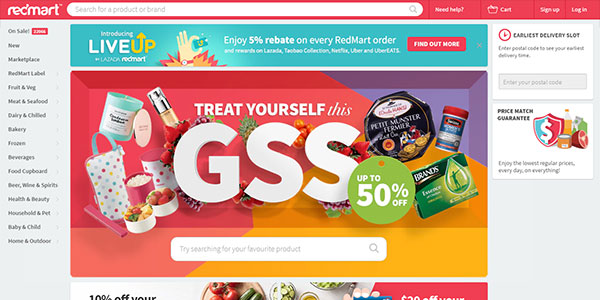 Monthly Traffic Estimate (May 2017): 660,000
RedMart is the Singaporean leader in online groceries shopping with products ranging through all food and beverages, hosting a marketplace for companies to sell their products directly. RedMart is notably involved in the online retail of fresh food (fruits, vegetables, meat, seafood…) which require a particular expertise. Acquired by Alibaba's Lazada in 2016, RedMart is a strategic business for its expansion.
Shopee Singapore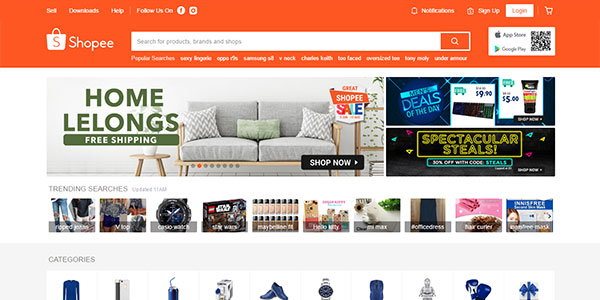 Monthly Traffic Estimate (May 2017): 630,000
An important player in the region, especially in "mobile-first" countries, Shopee is a primarily mobile, diversified online shop also providing a regular web shopping experience. A leading platform throughout Southeast Asia, Shopee is also present in Malaysia, the Philippines, Thailand, Indonesia, Vietnam, as well as in Taiwan.
Shopback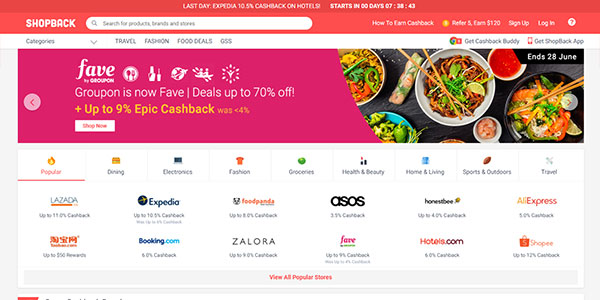 Monthly Traffic Estimate (May 2017): 610,000
ShopBack is an e-commerce startup from Singapore that proposes its users to receive a portion of their payments back through a cashback reward program. ShopBack provides discount coupons and voucher codes for online shopping with some of the leaders in e-commerce in Singapore and the region, as it is also present in Malaysia, the Philippines, Indonesia, Taiwan and India.
Sephora Singapore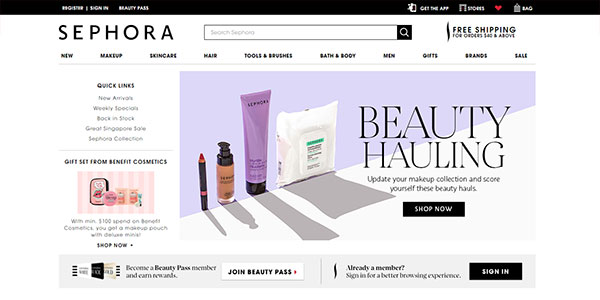 Monthly Traffic Estimate (May 2017): 570,000
The leading make-up and beauty shopping website in Singapore after its acquisition of Luxola, Sephora is a French perfume and cosmetics retailing company that has expanded to become a global leader of e-commerce in the beauty segment. Owned by the world-leading company in luxury goods LVMH, Sephora is very actively engaged towards its development in Asia.
Top e-commerce mobile applications in Singapore
In addition to their web versions, most of the top 10 e-commerce websites presented above also have mobile applications available on the various platforms to enable e-commerce through mobile devices.
Carousell and Shopee, in particular, are mobile-first marketplaces, strong leaders of mobile commerce in Singapore. Besides, other websites that are not in this Top 10 have a powerful presence on mobile, such as TaoBao and Zaful.
Singapore's top e-commerce websites compared by estimated traffic
The estimated monthly traffic from the top 10 e-commerce websites shows the strong lead of Qoo10 over the Singaporean market with more than 8 million visitors per month. However, Lazada, EZbuy and several other players come not too far after, showing that many competitors can still shuffle the top.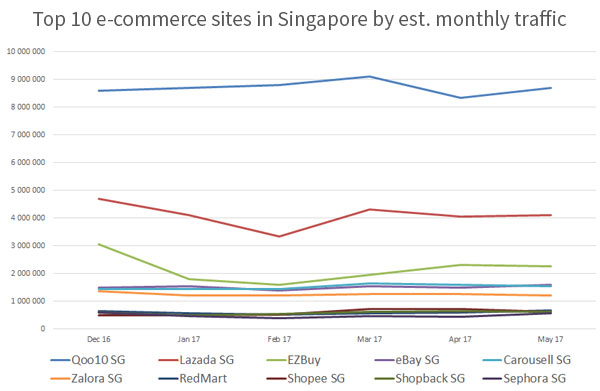 Though generalist or industry-specific websites make up for the bulk of Singaporean e-commerce, some specific brands are also picking up some traction. Furthermore, the leader of peer-to-peer classifieds in Singapore with more than 10 million visitors per month, GumTree also stands for its potential in the digital commerce scene.