The second largest economy of Southeast Asia with one of the most engaged population online, Thailand is already a well-developed market for e-commerce. Many brick-and-mortar brands and pure e-commerce players are competing for market share, with regional and national players fighting for digital consumers.
Well-connected to technological infrastructures, Thailand's population of almost 70 millions is for a large majority already online and well-versed in the used of digital technologies, mobile and e-commerce. Though there is still some room for growth, the Thai e-commerce market is entering its phase of maturity.
Top 10 e-commerce websites in Thailand
In Thailand, many historic, general or specialized, brands and pure digital actors are already in place, but they all compete a strong leader. Both existing and new-coming local or foreign companies face a hard time to challenge Lazada, the hegemonic leader of Thailand e-commerce and leader of e-commerce in Southeast Asia.
Note that this post is part of a series on top e-commerce sites in Southeast Asia:
Providing you more perspective on Lazada's lead and its top followers in Thai e-commerce, here are the current top 10 leaders of e-commerce websites in 2017 and their estimated monthly traffic from SimilarWeb.
Lazada Thailand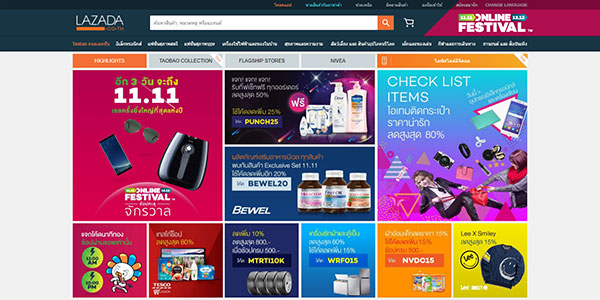 Monthly Traffic Estimate (Oct 2017): 70,600,000
The leader, by far, of e-commerce in Thailand, also present in Indonesia, the Philippines, Singapore, Malaysia and Vietnam, Lazada is an online department store and marketplace for retailers to sell their own products. Founded in 2011 by Rocket Internet, the Chinese e-commerce giant Alibaba acquired a controlling stake in Lazada and its operations in Southeast Asia in 2016.
11street Thailand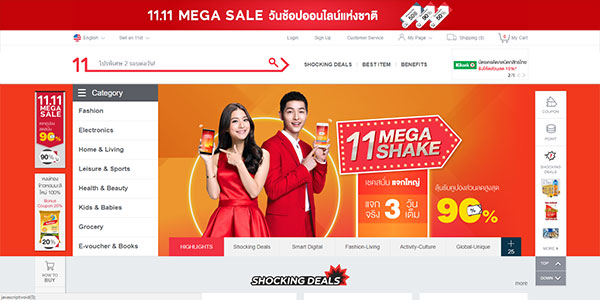 Monthly Traffic Estimate (Oct 2017): 10,600,000
One of the main challengers of Lazada, 11street is also an online department store providing a marketplace for retailers to sell their products online. Launched in 2016, 11street Thailand was launched by SK Planet, owner of the original 11street site from South Korea.
Shopee Thailand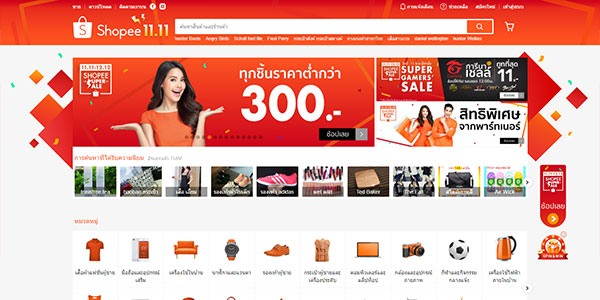 Monthly Traffic Estimate (Oct 2017): 9,300,000
An important player in the region, especially in "mobile-first" countries, Shopee is a primarily mobile, diversified online shop also providing a regular web shopping experience. A major platform throughout Southeast Asia, Shopee is also present in Singapore, the Philippines, Malaysia, Indonesia, Vietnam, as well as in Taiwan.
Tarad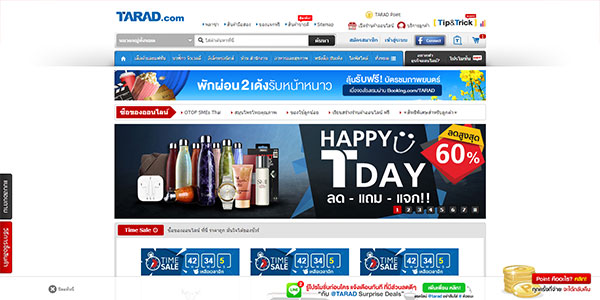 Monthly Traffic Estimate (Oct 2017): 3,900,000
Founded in 1999 by Pawoot (Pom) Pongvitayapanu, Thailand's first e-commerce website, Tarad is an online C2C and B2C e-commerce marketplace. A majority stake was bought by Rakuten in 2009 before being sold to the Thai company, Porar Web Application in 2016. Following this acquisition, Tarad now aims at becoming "one-stop service solution for SMEs and large businesses in Thailand".
JIB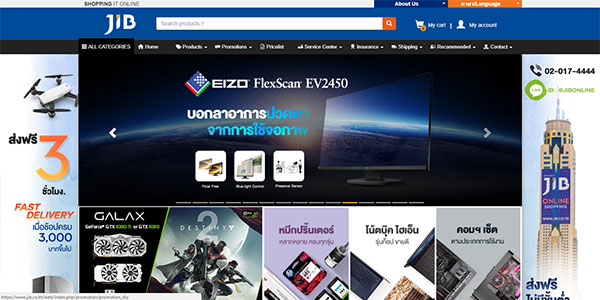 Monthly Traffic Estimate (Oct 2017): 3,200,000
JIB computer group is a specialized computer and IT products department store from Thailand. JIB has developed its own e-commerce website and become a leading specialized shop for technology products and gadgets online.
Se-ed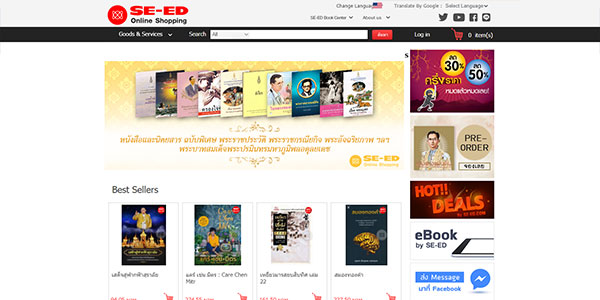 Monthly Traffic Estimate (Oct 2017): 2,550,000
Originally a books and magazines publishing company, Se-ed has created its own e-commerce website and become an online leader in the sales of books in Thailand, together with other related items and more diverse categories.
Central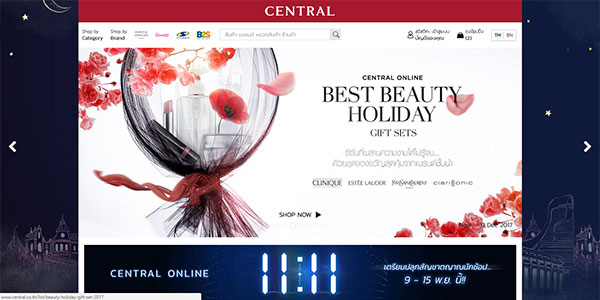 Monthly Traffic Estimate (Oct 2017): 2,450,000
A leading chain of department stores in Thailand, Central has launched its own online e-commerce website to compete against online platforms, with products ranging from beauty and fashion to home and decoration.
HomePro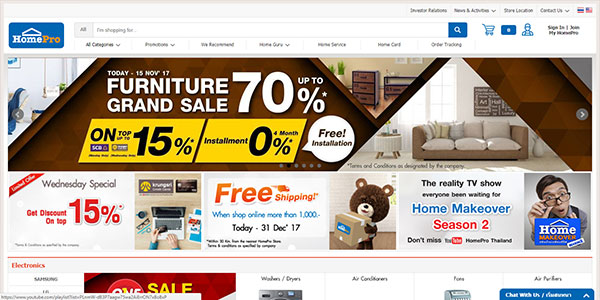 Monthly Traffic Estimate (Oct 2017): 2,400,000
Founded in 1995, HomePro is a leading home improvement retail chain from Thailand. Having developed its website into an e-commerce platform, HomePro sells diverse home and family equipment, tools and accessories.
Advice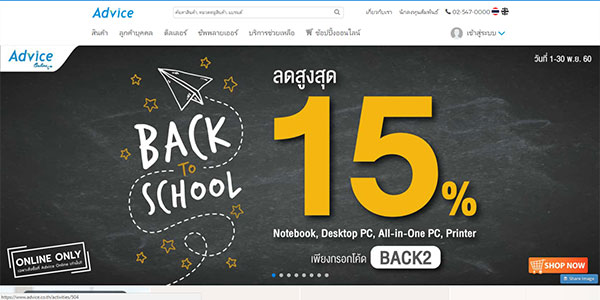 Monthly Traffic Estimate (Oct 2017): 1,875,000
Advice is a retail and wholesale distributor of smart phones and IT goods with 350 branches in Thailand and Laos. A leading distributor of IT products online, Advice also has one of the most popular e-commerce websites of Thailand.
Munkong Gadget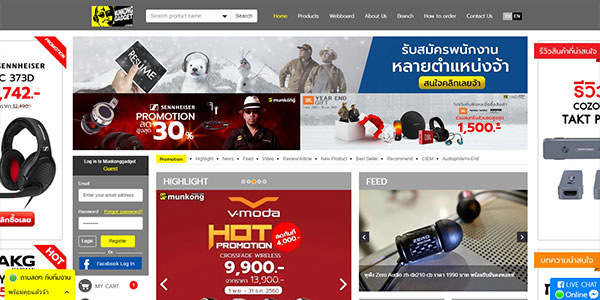 Monthly Traffic Estimate (Oct 2017): 1,800,000
Munkong Gadget is a specialized audio gadgets and accessories products chain of stores in Thailand. With its own e-commerce platform, Munkong Gadget has also become a leader in the sales of audio equipment online.
Top e-commerce mobile applications in Thailand
Next to their websites, most of the top 10 e-commerce site previously presented also have mobile applications available on the various platforms to deliver their e-commerce products on mobile devices.
However, aside players like Shopee who weigh heavily on mobile commerce, several other strong mobile commerce players in Thailand include Wish, Chilindo, eBay and AliExpress.
Thailand's top e-commerce websites compared by estimated traffic
The estimated monthly traffic from the top 10 e-commerce websites listed above demonstrates the overwhelming domination of Lazada over the Thai market with more than 70 million visitors per month.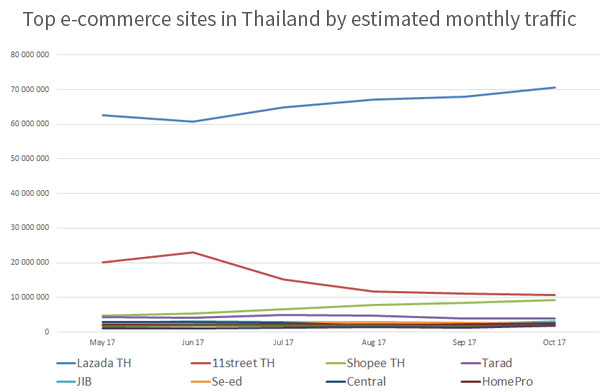 Though generalist or category-specific websites make up for the largest part of Thai e-commerce, some specific brands are also very active to sell their products online. In Thailand, Tesco Lotus and Big C are notably leading the national groceries market online just like they do for brick-and-mortar supermarkets.
Leading the peer-to-peer classifieds market in Thailand, with more than 20 million visitors per month, Kaidee can also be highlighted for its size and potential. There are several other classifieds players, general or specialized in cars and/or houses and apartments, but few really make a difference besides PantipMarket.