The spread of the digital disruption to more and more sectors does not spare banking and finance. In Thailand, the emergence of a new generation of financial technology – FinTech – startups spurs the development of a complete ecosystem of supporting structures, from funding and regulation to accelerators and events.
Just like in the Philippines, where providing financial services to the "unbanked" is a rapidly growing market, the difference of connectivity between urban and rural areas of Thailand creates an opportunity to reach large populations that are well connected to digital technologies but under-connected to major banking and financial services.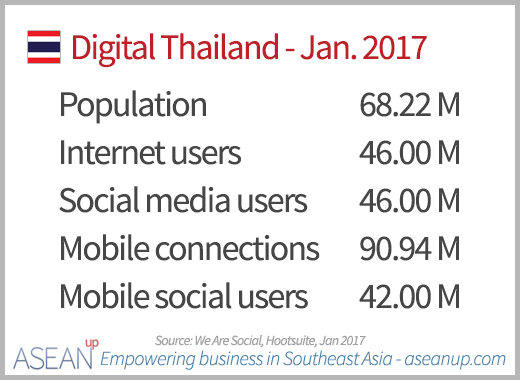 This untapped market together with many other opportunities to enhance financial services through new technologies has given birth to this new wave of FinTech startups in Thailand. Emulating the well-developed FinTech ecosystem of Singapore, Thai startups are also facing challenges from other countries, such as the FinTech startups of Vietnam, Indonesia and the Philippines.
Rushing to new financial frontiers
Sensing the enormous potential of new technologies to reach more people and to enhance old business models, both banking and financial corporations and startups are trying to develop as fast as possible. They aim at new segments that could generate billions of dollars in a few years, such as:
mobile payments
credit and lending
personal finance
insurance technology – InsureTech
Several other new developments such as crypto-currencies (like Bitcoin) and the Blockchain money transfer technology, crowdfunding, investments and financial monitoring and many more also attract lots of interest from techies and venture capitalists.
The following slide deck gives a broad presentation of the global and regional FinTech environment before entering into details of the Thai supporting structures for FinTech startups in Thailand and highlighting the activities of some leaders in the Thai FinTech scene.
FinTech ecosystem of Thailand – summary
What is FinTech? – slide 9
Global FinTech unicorns – slide 10
FinTech in Asia – slide 14
More mature FinTech ecosystems in Asia – slide 14
Banking and FinTech startups programs – slide 17
Selected regional updates – slide 11
FinTech in Thailand – slide 20
Funding rounds by categories – slide 21
Regulators – slide 22
Thai FinTech Association – slide 24
Thai Banking and FinTech – slide 25
Accelerator – slide 27
Mobile Operators – slide 33
Global FinTech ecosystem – slide 35
Thailand FinTech ecosystem – slide 36
Thailand FinTech case study – slide 38
Presentation from Q1 2017 by Techsauce