The new Southeast Asian tiger economy, Vietnam has shown a robust growth in the last years. With a large and dynamic population, the country has emerged to come at the forefront of international trade and become a very attractive target for international investments.
Official country name: Socialist Republic of Vietnam
Capital: Hanoi
Total Area: 332,698 km²
Government: Marxist–Leninist single-party state
Currency: đồng, đ – VND
Drives on the: right
Calling Code: +84
Internet TLD: .vn
Demographics
Population: 92,700,000 (2016 Estimate)
Population Density: 276.03/km²
Official Languages: Vietnamese
HDI: 0.683 (medium)
Ethnic Groups:

Kinh (Viet) 86.2%
Tay 1.9%
Tai Ethnic 1.7%
Mường 1.5%
Khmer Krom (Khơ Me Crộm) 1.4%
Hoa 1.1%
Nùng 1.1%
Hmong 1%
others 4.1%
The Vietnamese business environment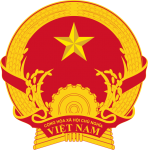 Vietnam has only been open to business with the rest of the world for a couple decades, but its people cultural inclination for work and entrepreneurship have quickly revived its economy. Moving from a traditional and agricultural economy, the Vietnamese government has been slowly but steadily opening the economy to foreign investments and expatriate workers.
An attractive tax system has also been implemented to help the growth of local businesses and ensure the attractiveness of the country to foreign investors.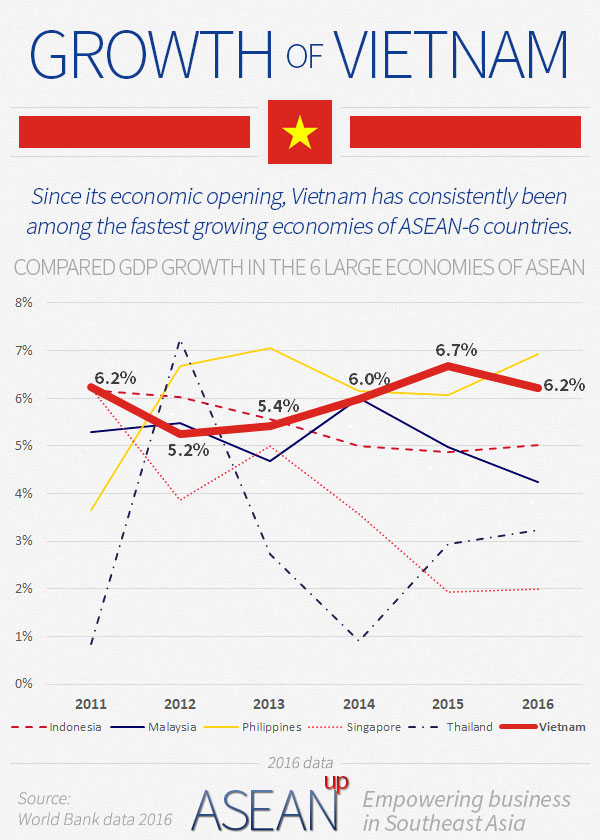 Key economic data of Vietnam
GDP (PPP): USD 590.077 Billion (2016 Estimate)
GDP per Capita (PPP): USD 6,377
GDP (Nominal): USD 219.379 Billion (2016 Estimate)
GDP per Capita (Nominal): USD 2,371
GDP Growth: 6.2% (2016)
GDP by sector: (2016 Estimate)

agriculture: 17%
industry: 39%
services: 44%

Labor force: 54.93 million (2016 Estimate)
Labor force by occupation: (2015 Estimate)

agriculture: 44.3%
industry: 22.9%
services: 32.8%

Unemployment: 3.7% (2016)
Inflation: 2.8% (2016)
Key sectors of Vietnam
Heavily reliant upon agriculture, Vietnam has grown to become a leader in the production and export of several commodities, especially rice, coffee, rubber and sea products.
The large population of Vietnam and important foreign investments have also made it an important production center for the textile industry, as well as for electronics.
Main industries of Vietnam
paddy rice
coffee
rubber
cotton
tea
pepper
soybeans
cashews
sugar cane
peanuts
bananas
poultry
fish
seafood
Vietnam digital
Its large population has made Vietnam one of the most active countries in the digital space. Pushed by the government which aims at developing new industries, the Vietnamese digital economy is also one of the active in Southeast Asia, with a developing startup landscape which is now also a hotbed for FinTech startups.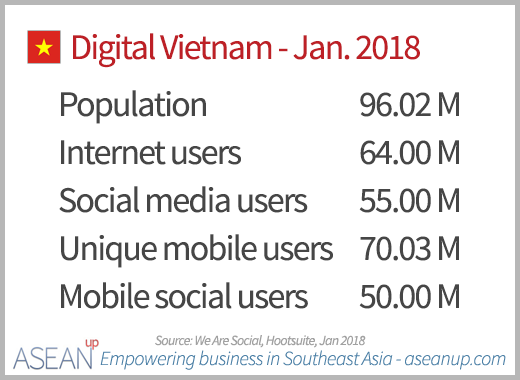 Vietnam for professionals and work
With its growing economy, Vietnam is becoming every day more attractive for foreign business and employees. Even though salaries tend to be lower than in other countries of the region, certain dynamic industries, such as IT, provide great compensations to live in Vietnam.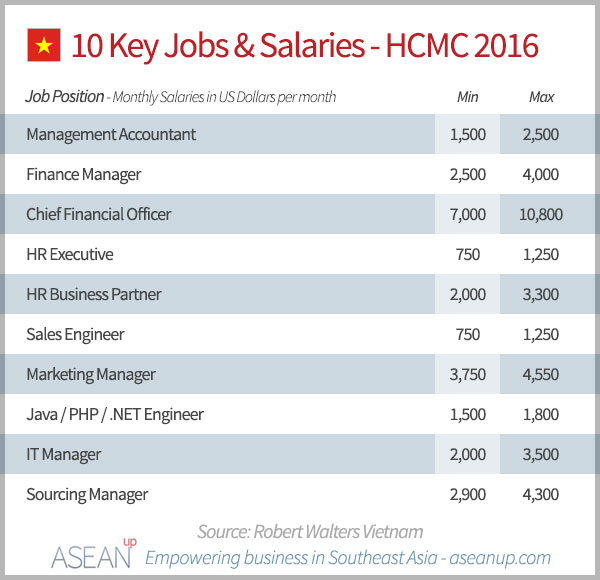 Vietnam trade data
Having become a top exporters of several agricultural commodities, Vietnam is also a leader in export for the global textile industry and electronics.
Exports: USD 169.2 Billion (2016)
Export Goods:
clothes
shoes
marine products
crude oil
electronics
wooden products
rice
coffee
machinery
Main Export Partners: (2015 Estimate)
United States 21.2%
China 13.3%
Japan 8.4%
South Korea 5.5%
Germany 4.1%
Imports: USD 161 Billion (2016)
Import Goods:
machinery and equipment
petroleum products
steel products
raw materials for the clothing and shoe industries
electronics
plastics
automobiles
Main Import Partners: (2015 Estimate)
China 34.1%
South Korea 14.3%
Singapore 6.5%
Japan 6.4%
Hong Kong 5.1%
Thailand 4.5%
Recent Resources
A series of quality maps of Vietnam can come in handy to illustrate ideas or projects for your website or blog, or to create your own maps. Here is a collection of copyright or royalty free, labelled and blank maps of Vietnam to be used directly as is, or to be elaborated upon to create …

Experiencing a rapid growth in the tourism industry, Vietnam could become a regional leader in the coming years. Yet, Vietnam and its tourism businesses need to combat an important cultural setback if they want to reap the benefits of the country's entrepreneurial spirit and grow tourism in quality as well as in quantity.

Since its economic opening at the turn of the century, Vietnam has come a long way to become an emerging market with one of the fastest growth of the world. This series of infographics shows key demographic and economic data on Vietnam, as well as some perspectives with other ASEAN and world-leading countries.

The booming activity of Vietnam creates new opportunities in several economic sectors, including retail. Like other big cities of Vietnam, Ho Chi Minh City sees chains of convenience stores rapidly expanding throughout its districts, providing new services for the population to buy products locally.

With rich historic sites and unique natural marvels, Vietnam is home to eight World Heritage Sites classified by the UNESCO. Remains of former capital cities, the entire ancient town of Hoi An, the world famous landscape of Ha Long Bay are a few jewel that attract an ever-growing number of tourists.

The opening of the Vietnamese economy and society has a deep impact on its people's uses and habits. In the entertainment industry, the diversification of movies on offer is changing tastes and interests. Here are some insights on cinema in Vietnam, from frequency to movie preferences and origins of movies.

Vietnam has a dynamic startup environment with many entrepreneurs and companies engaged in the most promising sectors. And financial technologies – FinTech – have a lot promising applications in Vietnam as the country's large population can profit from mobile technologies to access a growing number of innovative financial services.

Taxes in Vietnam are rather on the low side globally: a low corporate income tax, a progressive income tax and a low VAT make the country generally interesting for business. Some other taxes, special rates and methods of calculations also need to be taken into account in order to properly assess fiscal expenses.

For companies looking for staff or professionals planning their next career move, being well informed on the salaries compensating a particular skill set and experience is critical. To this end, here are details on salaries rewarding several jobs positions in various sectors of the Vietnamese jobs market.