For companies looking for staff or professionals planning their next career move, being well informed on the salaries compensating a particular skill set and experience is critical. To this end, here are details on salaries rewarding several jobs positions in various sectors of the Vietnamese jobs market.
Recruitment and temporary works companies usually compile their data to provide information on the jobs markets they operate in. Helping both companies and jobs applicants, the information they provide is very useful for companies' staffing needs and professionals assessing their worth on the market.
The recruitment consultancy Robert Walters gives us a free comprehensive review on the jobs market of Ho Chi Minh City through several industries, experience and positions. This overview for jobs in Ho Chi Minh City can also be helpful to evaluate salaries in the rest of Vietnam.
As for this guide on Vietnam, salary guides and resources are published for various ASEAN countries:
Assessing Human Resources costs in Ho Chi Minh City and Vietnam
Crossing the global economic downturn without much troubles, Vietnam is currently experiencing a booming cycle. The political stability of the country, relatively low prices levels and a young and hard-working population have helped maintain the country's economy growing fast while several other countries in the region have somewhat faltered.
These strong economic fundamentals make the Vietnamese jobs market very dynamic. Jobs are abundant in Vietnam, especially in the large urban centers of Ho Chi Minh City, Hanoi and Da Nang, and professionals changing jobs expect important salaries increase of 15 to 25% in 2016, according to Robert Walters Vietnam.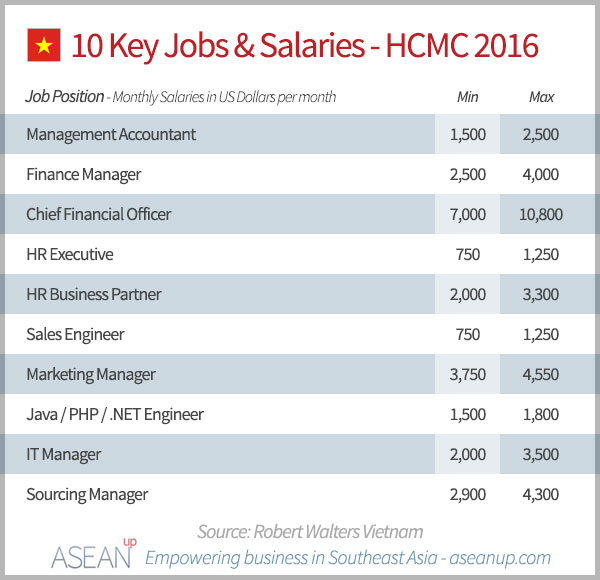 The skills shortage is however also very important, and several companies are focusing on recruiting international talent for middle and senior positions: Vietnamese with international education and high profile foreigners. This helps companies succeed in the Vietnamese market, but also create an upward pressure on the corresponding salaries.
Therefore as the Robert Walters report illustrates, the most senior positions in the largest and most dynamic companies require high levels of salaries. These costs stress the important investment required in human resources to ensure business success in Vietnam.
Including various trends and evolution since 2015, the report goes in details in the following business areas/sectors from entry positions to the most advanced direction: Accounting & Finance, Banking & Financial Services, Engineering, Human Resources, Information Technology, Sales & Marketing, Supply Chain, Procurement & Logistics.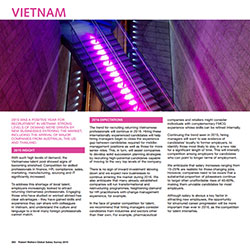 Ho Chi Minh City Salary Guide 2016 – report summary
2015 insights and 2016 expectations – page 363
Key Findings – page 364
Vietnam overview – page 365
Accounting & Finance – page 367
Banking & Financial Services – page 368
Engineering – page 369
Human Resources – page 370
Information Technology – page 371
Sales & Marketing – page 372
Supply Chain, Procurement & Logistics – page 373
Note that other companies do also produce salary reports on Vietnam, but their information is reserved to existing customers or they require to submit personal information to access, like Adecco Vietnam.