Vietnam has a dynamic startup environment with many entrepreneurs and companies engaged in the most promising sectors. And financial technologies – FinTech – have a lot promising applications in Vietnam as the country's large population can profit from mobile technologies to access a growing number of innovative financial services.
The booming economy and enthusiasm for technology of the youth have helped the Vietnamese startup ecosystem to thrive beyond many countries in the region. Next to the traditional successful digital verticals, such as e-commerce and travel, new technologies and the omnipresence of smartphones are now spurring a revolution in the financial technology vertical, FinTech.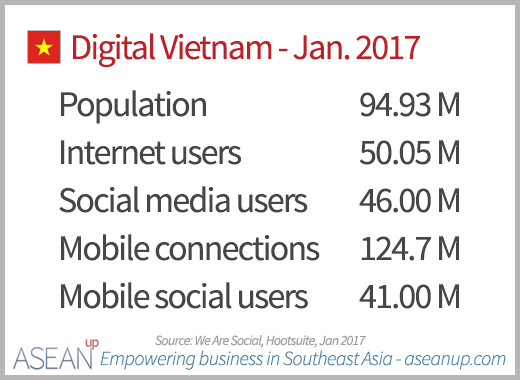 Vietnam: a promising land for Fintech
Just like in the Philippines, where mobile payment startups are rapidly expanding, Vietnam presents certain characteristics that make it especially interesting for FinTech startups:
large and young population of more than 90 million people
large part of the population living in rural / remote areas that have little access to banks or financial services
generally low penetration of banking and financial services
high penetration of mobile phones and relatively good Internet access
The following presentation dives into some details about the characteristics of Vietnam and presents the principal actors of FinTech in Vietnam.
Fintech Vietnam startup report – summary
Introduction
Global index – slide 3
Vietnam digital marketing overview – slide 4
Vietnam population structure by age – slide 5
Vietnam Internet users – slide 6
Mobile online activities – slide 7
Media: Fintech News in Vietnam – slide 8
Startups
Overview – slide 10
Mobile payment – slide 12
Lending – slide 36
Bitcoin / Blockchain – slide 38
PS Management & Facilitators – slide 42
Crowdfunding – slide 45
Personal Finance – slide 50
Data Management – slide 54
Comparison Sites – slide 57
Slidedeck by Christian Konig updated in June 2016