Recently opened after decades of isolation, Myanmar is a new target for growth in Southeast Asia. With a large population and vast areas of the economy that largely underdeveloped, Myanmar is almost a blank canvas for rapid expansion of its economy and companies involved in the country.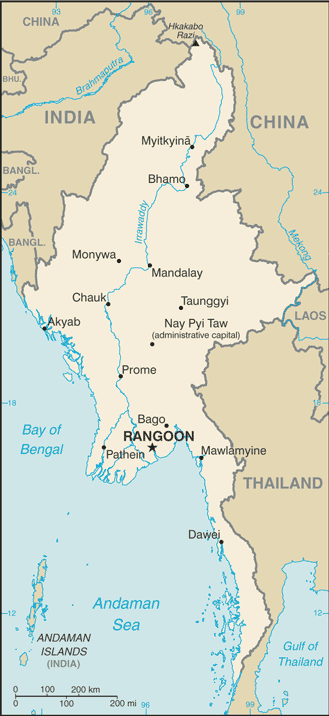 Official country name: Republic of the Union of Myanmar (Burma)
Capital: Naypyidaw
Total Area: 676,578 km²
Government: Unitary parliamentary constitutional republic
Currency: Kyat, K – MMK
Drives on the: right
Calling Code: +95
Internet TLD: .mm
Demographics
Population: 51,486,253 (2014 census)
Population Density: 76/km²
Official Languages: Burmese
HDI: 0.498 (low)
Ethnic Groups:

68% Bamar
9% Shan
7% Karen
4% Rakhine
3% Chinese
2% Indian
2% Mon
5% other
The Burmese business environment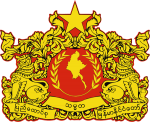 To ensure the successful transition of the economy from state-controlled industries to freer markets, the government wants to attract investors to develop infrastructures and supply products and services to its population. After a historic opening of the country, the Myanmar government has cleverly maintained the country's low taxes.
This new opening has generated a real estate boom, fueled by the increased arrival of tourists, expats and businessmen eager to doing business in Myanmar.
Key economic data of Myanmar
GDP (PPP): USD 311.074 Billion (2016 Estimate)
GDP per Capita (PPP): USD 5,953
GDP (Nominal): USD 68.277 Billion (2016 Estimate)
GDP per Capita (Nominal): USD 1,306
GDP Growth: 8.5% (2014 Estimate)
GDP by sector: (2014 Estimate)

agriculture: 37.1%
industry: 21.3%
services: 41.6%

Labor force: 32.53 Million (2011 Estimate)
Labor force by occupation: (2001)

agriculture 70%
industry 7%
services 23%

Unemployment: 37% (2012)
Inflation: 5.9% (2014 Estimate)
Main industries of Myanmar
agricultural processing
wood and wood products
copper, tin, tungsten, iron
cement, construction materials
pharmaceuticals
fertilizer
petroleum and natural gas
garments
jade and gems
Myanmar digital
Myanmar's digital population is rapidly expanding as more and more people now have access to mobile and expanding telecommunications infrastructures.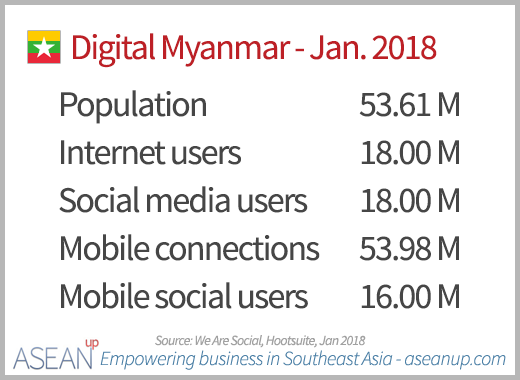 Myanmar trade data
With low trade volumes currently, Myanmar's economic opening now sets the country's towards important growth in the coming years.
Note: official export and import figures are underestimated and do not account for smuggling with neighboring countries.
Exports: USD 10.49 Billion (2016 Estimate)
Export Goods:
natural gas
wood products
pulses
beans
fish
rice
clothing
jade and gems
Main Export Partners: (2015 Estimate)
China 37.7%
Thailand 25.6%
India 7.7%
Japan 6.2%
Imports: USD 13.96 Billion (2016 Estimate)
Import Goods:
fabric
petroleum products
plastics
fertiliser
machinery
transport equipment
cement
construction materials
crude oil
food products
edible oil
Main Import Partners: (2015 Estimate)
China 42.2%
Thailand 18.5%
Singapore 11%
Japan 4.8%
Recent Resources
Some maps of Myanmar can come in handy to detail ideas or projects for your website or blog, or to create your own maps. Here is a collection of copyright or royalty free, labelled and blank maps of Myanmar to be used directly as is, or to be elaborated upon to create beautiful modern maps …

Recently opened to foreign business, Myanmar is emerging from decades of isolation to develop its economy and provide a better life to its relatively large population. This series of infographics presents key demographic and economic data of Myanmar, together with comparisons with other ASEAN and world-leading countries.

Though Myanmar is home to several exceptional natural and cultural touristic sites, it currently has only one site listed as a World Heritage Site of the UNESCO. However, this single site is formed of three ancient cities, which remains exhibit the ancient Buddhist tradition of Myanmar and its originality.

With a strong appetite for development, Myanmar has adopted a very accommodating fiscal regime. A low corporate income tax, a progressive but low personal income tax, no VAT but a light "commercial tax" and strong incentives, aim at attracting and helping companies to spur the development of Myanmar's newly opened economy.

The opening of Myanmar enables businesses, NGOs and social enterprises to venture further in the country and tackle challenges of rural areas as well as of cities. In the countryside, a social enterprise is applying cutting-edge design principles to alleviate difficulties of farmers and rural inhabitants.

With the opening of Myanmar's economy, the healthcare sector has important difficulties to tackle to provide access to more and better services for a larger part of the population. In this transition, the country also presents very interesting opportunities for healthcare businesses and professionals.

Myanmar is the new frontier for business in Southeast Asia. A large and populated country just opening its doors to foreign companies and investors, Myanmar is rich with opportunities in many sectors. However, Myanmar also presents several technical and legal challenges to be managed and overcome by new comers.

With its political opening, Myanmar is also experiencing an economic boom in various business sectors. Though companies face many challenges in areas of workforce skills and infrastructures, the general outlook for business in Myanmar remains quite positive for the coming years, as elections should create further opportunities.

The mobile and Internet markets are very new in Myanmar and very few studies have been conducted to assess them. Through this presentation, On Device Research detail their findings about the opportunities, challenges and trends, leading brands and services in this fast-evolving interconnected technologies and industries.