Myanmar is the new frontier for business in Southeast Asia. A large and populated country just opening its doors to foreign companies and investors, Myanmar is rich with opportunities in many sectors. However, Myanmar also presents several technical and legal challenges to be managed and overcome by new comers.
Business administration and compliance in Myanmar
Put together by PricewaterhouseCoopers Myanmar, the following guide covers many aspects of Myanmar's business landscape, from regulation and taxes to sectors overviews and incentives for investment. It will come in handy for companies, investors and professionals willing to benefit from the promising business perspectives of Myanmar.
Though some official information can be found in the website of the Directorate of Investment and Company Information of Myanmar, the PwC report presents extra details and statistical data together with more economic and legal background.
Highlights for business in Myanmar
The report starts by reviewing how foreigners have been primarily investing in infrastructure for the Power and Oil & Gas sectors, as the development of the energy sector of Myanmar is key to fuel the growth, from its current state of under-equipment.
Investment have also been strong in the sectors of Transport & Communications and Mining, together with Real Estate and Hotel & Tourism, two sectors that are strongly influenced by the boom in real estate prices spurred by the arrival of tourists and expats.
The PwC report goes on to cover key aspects of the Burmese economy and its special economic zones, together with the various administrative information: company types and formation, accounting and taxes practices, employment and human resources…
Myanmar Business Guide – summary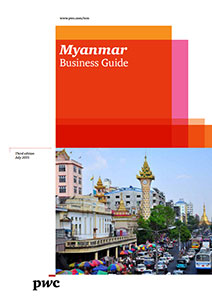 1. Foreword – page 4
2. The economy – page 8
Economic prospects – page 9
Regulatory environment surrounding foreign investment – page 11
Major foreign investors in Myanmar – page 12
Key sectors for foreign investment – page 13
Domestic investments – page 14
Major deals in Myanmar – page 16
Special Economic Zones – page 18
For more information on investment in Myanmar, check this 2015 report from the US Department of State
3. Conducting business in Myanmar – page 19
Form of business – page 19
Foreign investment restrictions – page 22
Investment incentives – page 23
Investment guarantee and protection – page 26
New laws in pipeline – page 26
4. Accounting and audit regulations in Myanmar – page 27
Statutory requirements – page 27
Myanmar financial reporting standards – page 28
Books and records – page 29
5. Taxation in Myanmar – page 30
Corporate income tax – page 30
Personal income tax – page 36
Commercial tax – page 38
Other taxes – page 40
6. Human resources and employment law – page 41
Employment of foreigners – page 41
Work permit processing and requirements (Managerial, supervisor, expertise) – page 42
Labour Laws in Myanmar – page 42
Permanent residency in Myanmar – page 42
7. Other considerations – page 43
Commercial registration and licensing requirements – page 43
Exchange control – page 44
Foreign exchange – page 44
Foreign ownership of land and property – page 45
Arbitration law – page 45
Economic and trade – page 46
8. Banking in Myanmar – page 48
Financial structure of Myanmar – page 48
Capital markets – page 55
Foreign exchange rates – page 57
9. Country overview – page 58
Country snapshot – page 58
Brief history – page 60
Demographics – page 61
Political system and governance structure – page 62
List of Acronyms
AEC ASEAN Economic Community
CA Myanmar Companies Act
CBM Central Bank of Myanmar
CCTO Company Circle Tax Office
CEPT Common Effective Preferential Tariff
CRO Companies Registration Office
DICA Directorate of Investment and Company Administration
FEMB Foreign Exchange Management Board
FEML Foreign Exchange Management Law
FERA Foreign Exchange Regulation Act 1947
IFRS International Financial Reporting Standards
ILO International Labour Organisation
IRD Inland Revenue Department
ITL Income Tax Law
LTO Large Taxpayers' Office
MAC Myanmar Accounting Council
MEB Myanmar Economic Bank
MFIL Myanmar Foreign Investment Law
MFRS Myanmar Financial Reporting Standards
MFTB Myanmar Foreign Trade Bank
MIC Myanmar Investment Commission
MIL Myanmar Investment Law
MMK Myanmar Kyat
SCB State Commercial Bank
SEE State-Owned Economic Enterprise
SEZ Special Economic Zone
YSX Yangon Stock Exchange
Cultural tips for the Myanmar business environment
A former investment banker, Thura Ko Ko is a financial advisor, managing director of YGA Capital. He presents some of his experiences and insights for doing business and entrepreneurship in Maynmar, as part of the TEDxInyaLake event that featured talks on developing Myanmar.
The economy and society is changing fast in Myanmar, especially through technology and the use of Internet and mobile. Therefore, lots of business models, especially in banking and retail, need to adapt to this new environment.
Politics is very heavily involved in business in Myanmar, and businesses need to manage political and regulatory lack of transparency.
Myanmar entrepreneurs are very resourceful and solution-oriented. They will adapt to changing and often difficult conditions to do business.
Myanmar's culture can also sometimes cause inefficiencies and miscommunication due to its people's unwillingness to communicate negative or awkward aspects. Businessmen must therefore understand what is not said to properly manage their operations and go beyond "Ya Bar Dare".
People management is of primary importance in Myanmar: businesses need to manage daily interpersonal exchanges and build long-term relations.
Video published by TEDx Talks in April 2016