Since 31 December 2015, the ten ASEAN member countries have officially launched the long awaited ASEAN Economic Community. With this important milestone, Southeast Asia sets its eyes towards new heights of development and a more integrated region that will gain in global competitiveness.
A new breath for Southeast Asia
The begining of the ASEAN Economic Community – AEC – brings new hope for Southeast Asia in this New Year 2016. Through the advantages of the AEC, ASEAN countries are expected to see a surge in trade between ASEAN countries, as most tariffs and barriers have been eliminated.
Trade and business with other global economic forces taking advantage of easier cross-border business in Southeast Asia should also be boosted. More open policies will enable businesses and investors to seize a share of ASEAN's attractive market of more than 600 million people.
The region as a whole could also profit from this new economic power to improve its negotiating positions in international affairs. Overall, the ASEAN Economic Community provides a relieving benefit to Southeast Asia in this beginning of 2016, compensating for a few strains that have somewhat hindered the region in 2015.
Challenges remain for ASEAN
Though most ASEAN countries still present a very strong economic outlook for the coming years, 2015 has not been an easy year for all:
The global economic recovery has been uneven: some developing countries did not profit from the renewed dynamism in America and some other developed countries.
Though ASEAN has shown strong signs of unity throughout the year, the Southeast Asian union has failed to take a common stand in the South China Sea tensions with China.
Within ASEAN, some major countries are facing challenges: corruption scandal in Malaysia, political uncertainty weighing on the Thai economy, economic cooling in Indonesia, Chinese pressure in the South China Sea on the Philippines and Vietnam, faltering price of oil weighing on the economy of Malaysia and other oil producing and exporting countries…
Review the major events in Southeast Asia in the news this past year:
The dawn of an integrated ASEAN
In this still positive but tensed climate, the implementation of the 4 pillars of ASEAN should be completed in the coming years. Together they will allow for freer movements of people, goods and capital and enhance cooperation, economic development and tourism in the region.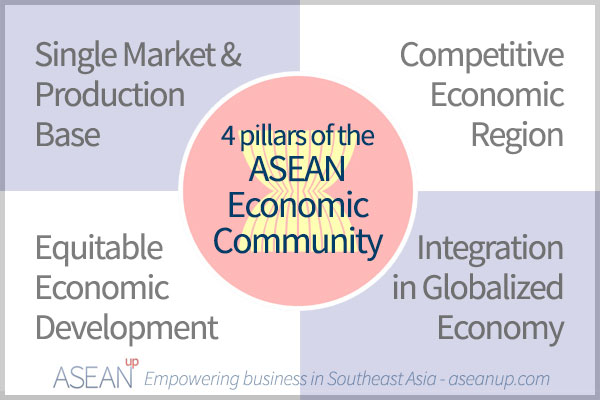 An obvious gain for businesses, especially larger ones, the AEC will allow them to profit from the extended economic collaborations and regulations between ASEAN countries. The AEC will also create a new common ground to integrate the region further and allow for more joint economic and political advances to be implemented ahead.
Ambitious projects are already evoked: a single currency for ASEAN in the model of the Euro, a single passport for ASEAN…  But such ideas remain distant dreams for now. One thing is certain though: if ASEAN wants to become a real success it will need to communicate more on the benefits it aims at providing, extend these benefits to smaller businesses and, even more importantly, to the ASEAN citizen themselves.
Regional sovereignty
ASEAN will have to provide clear benefits to individuals in all ten countries and create a desire for all people not only to be citizen of their own countries but also to be "ASEANites". ASEAN and national governments will have to ensure that each country works in favor of this supranational desire:
building infrastructures and means of economic, cultural and political exchanges between ASEAN countries,
allowing for foreigners to come and play a part in the national cultural and economic landscape,
promoting this foreign involvement as a positive impact on national development.
At a time when many ASEAN governments are tempted to pull back on themselves and reinforce national identities, it will be a major challenge for ASEAN and its members to limit nationalistic passions and promote the desire of a larger, more open and friendlier society. A society that wants to learn, share and expand with its neighbors.
ASEAN UP's mission
With this new milestone of ASEAN integration, ASEAN UP will keep on working towards providing more and better information, tools and activities for the business community of Southeast Asia. The ASEAN Economic Community creates a new dynamism for ASEAN UP to accomplish its mission: Empowering business in Southeast Asia.
Adding new useful resources, updating, completing and refining resources available, providing a better experience on the ASEAN UP website, developing the community online and offline and extending links with local and global actors interested in business in Southeast Asia will remain the top priority for ASEAN UP.
With more tools implemented, notably a recent improvement of the website design and the launch of the newsletter, ASEAN UP will be also exploring new ways to better accomplish its mission:  develop and involve the community, provide new tools for business in ASEAN, consolidate significant partnerships… 2016 will keep ASEAN UP busy on all fronts!
If you have any suggestion for ASEAN UP to improve existing resources or add new ones, to broadcast them better and increase its reach to the business community of Southeast Asia or if you want to share any other idea, do not hesitate to leave your comments!
2016 is yours: have a great, productive and prosperous year!