One of the most successful countries in Southeast Asia, Malaysia is a middle income country that consistently shows a robust growth. Though the country's development has been guided by the government, Malaysia's economy is steadily opening and advancing fast towards technology and innovation.
Capital: Kuala Lumpur
Total Area: 330,803 km²
Government: Federal parliamentary elective constitutional monarchy
Currency: Ringgit, RM – MYR
Drives on the: left
Calling Code: +60
Internet TLD: .my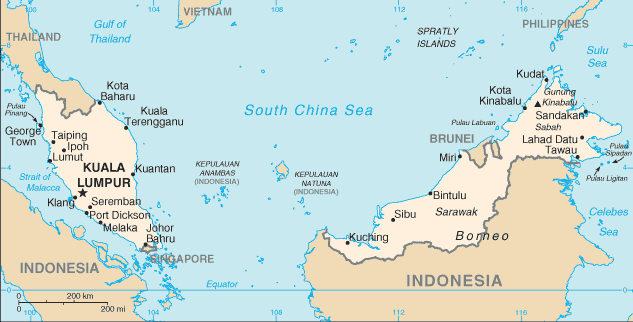 Demographics
Population: 31,417,000 (2017 Estimate)
Population Density: 92/km²
Official Languages: Malaysian (Bahasa Malaysia), English is a recognised language.
HDI: 0.779 (high)
Ethnic Groups: (2010)

50.1% Malay
22.6% Chinese
11.8% Indigenous
6.7% Indian
8.8% other
The Malaysian business environment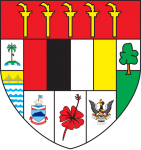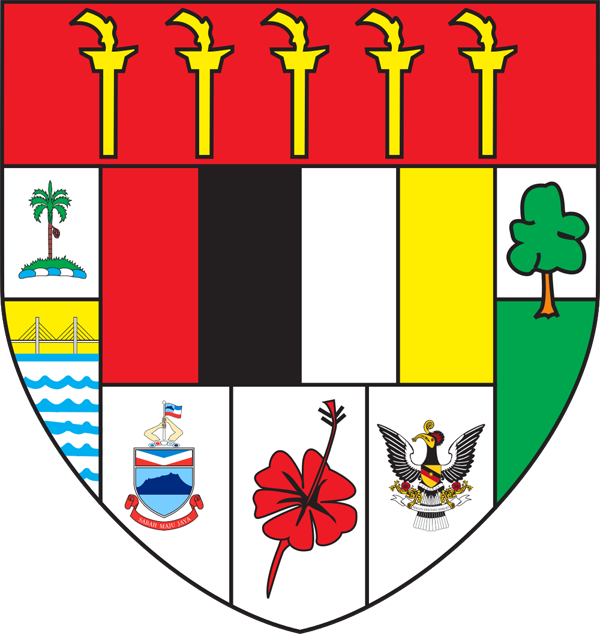 Guided by the government which aims at making Malaysia a high income country by 2020 through an ambitious economic plan, the country's economy is destined for modernization. The economy is pushed towards higher value-added industries and services, away from the country's reliance upon natural resources, and target an increased well-being for its people.
Provided they are successfully implemented, these objectives will enhance business in Malaysia and consolidate its place as a pillar of Southeast Asia by expanding upon the country's other key advantages: a population that is highly proficient in English and many large companies that are already leaders in Southeast Asia. Furthermore, the regulatory and fiscal environment have been designed to foster the attractiveness of Malaysia with relatively low taxes in the global competition.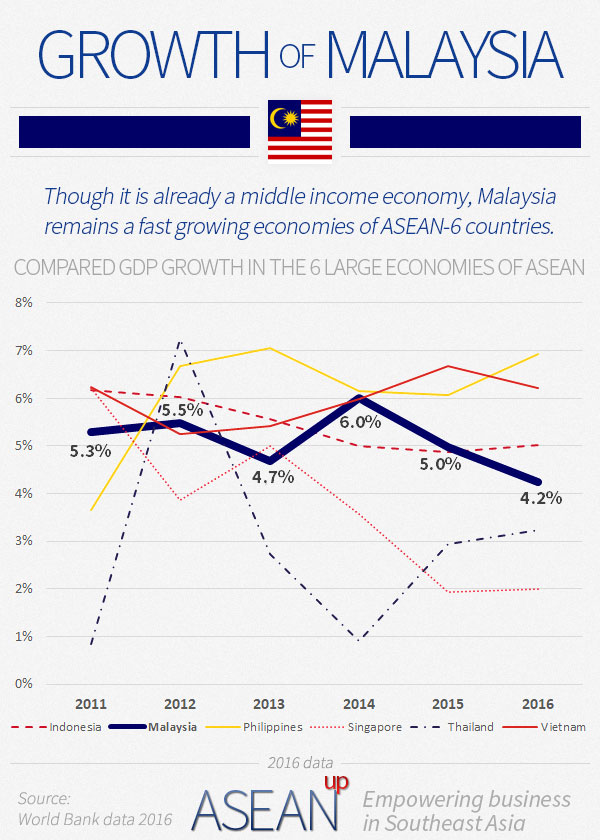 In the end, a relatively large population with a middle income set to become high soon make a very attractive customer base for business. Local and foreign companies enjoy its open environment to grab a part of a solvable and sizable Malaysian market.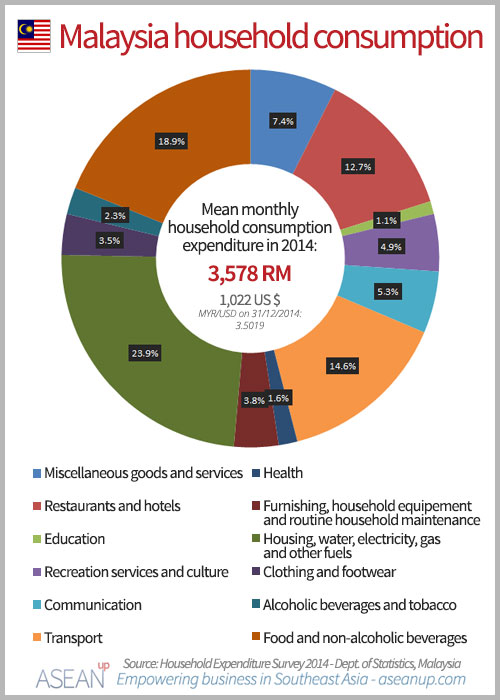 Key economic data of Malaysia
GDP (PPP): USD 859.881 Billion (2016 Estimate)
GDP per Capita (PPP): USD 27,278
GDP (Nominal): USD 375.633 Billion (2015 Estimate)
GDP per Capita (Nominal): USD 12,127
GDP Growth: 4.2% (2016)
GDP by sector: (2014)

Agriculture: 7.1%
Industry: 36.8%
Services: 56.2%

Labor force: 14.04 Million (2014)
Labor force by occupation: (2012)

Agriculture: 11.1%
Industry: 36%
Services: 53.5%

Unemployment: 3.1% (2014)
Inflation: 3.0% (November 2015)
Ease of doing business rank: 23rd (2017)
Key sectors of Malaysia
Rich in natural resources such as timber and oil, Malaysia has developed a leading position in the production and refining of palm oil. Its large industrial production leading in electronics, pharmaceuticals and medical technologies, also make Malaysia a strong industrial country.
Services however have also developed exponentially in Malaysia: a notable leader in the region for digital technologies, e-commerce and mobile applications, Malaysia is also an important financial center, and more specifically in Islamic finance, where Malaysia has become a global leader.
Malaysia is also a leader for tourism in Southeast Asia in terms of numbers of foreign tourists arrivals. With its diverse landscapes, modern and traditional cities, wide range of activities, famous UNESCO world heritage sites, Malaysia also displays witty ways to recycle its cultural heritage.
Main Industries of Malaysia
Electronics
Rubber and Palm oil processing
Pharmaceuticals
Medical technology
Smelting
Logging
Timber processing
Petroleum production
Petroleum refining
Ahead of Southeast Asia for digital
The second highest connectivity in Southeast Asia behind Singapore, Malaysia has a much larger population which makes it one of the most interesting digital markets in the region. These characteristics help the rapid development of online business and the maturing of online behaviors, as shown by the trends of e-commerce in Malaysia.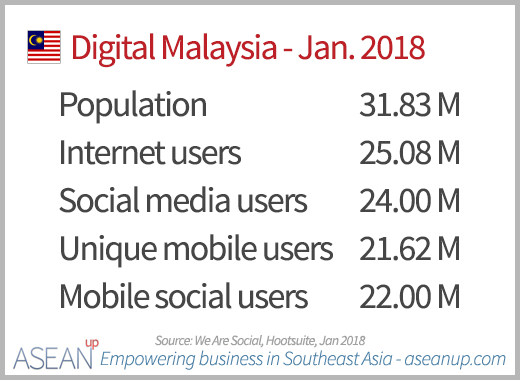 Malaysia for professionals and work
On its way to become a high income country, Malaysia provides its workforce and expats with relatively high salaries compared to other countries of the region. Furthermore, to provide a more livable environment, the local authorities engage a movement towards a more sustainable development to foster greener cities with more public transports, such as in Kuala Lumpur.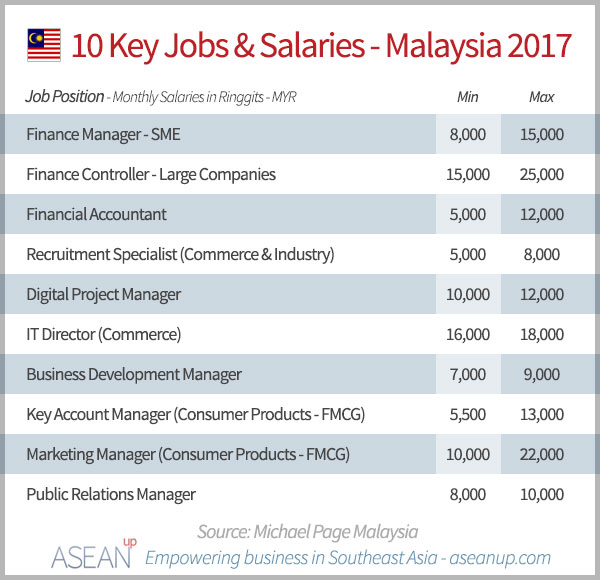 Malaysia trade data
Heavily reliant on commodities such as hydrocarbons and palm oil, Malaysia is also a top exporter of electrical and electronic products.
Exports: USD 175.7 Billion (2015 Estimate)
Export Goods:
electrical & electronic products
palm oil
liquefied natural gas
petroleum
chemicals
machinery
vehicles
optical & scientific equipment
manufactures of metal
rubber
wood and wood products
Main Export Partners: (2012 Estimate)
Singapore 13.6%
China 12.6%
Japan 11.8%
United States 8.7%
Thailand 5.4%
Hong Kong 4.3%
India 4.2%
Australia 4.1%
Imports: USD 207.5 Billion (2014 Estimate)
Import Goods:
electrical & electronic products
machinery
chemicals
petroleum
plastics
vehicles
manufactures of metal
iron and steel products
Main Import Partners: (2012 Estimate)
China 15.1%
Singapore 13.3%
Japan 10.3%
United States 8.1%
Thailand 6.0%
Indonesia 5.1%
South Korea 4.1%
Recent Resources
With its dynamic economy and developed infrastructures for digital technologies, Malaysia is a very attractive market for e-commerce in Southeast Asia. Several websites and digital applications are already present in the Malaysian e-commerce landscape, with some global, regional and national players grabbing their shares.

Using great pictures is a key point for any marketing activity to present a professional and appealing message to potential customers. These 40 free, high-definition stock pictures of Malaysia will come in handy to help you design websites and brochures, especially for businesses in tourism and travel, real estate, food, luxury…

Some quality maps of Malaysia can be useful to illustrate ideas or projects for your website or blog, or to create your own maps. Here is a collection of copyright or royalty free, labelled and blank maps of Malaysia to be used directly as is, or to be elaborated upon to create beautiful modern maps …

For a human resources specialist in search of staff to hire or a professional in transition to a new job, knowing about the Malaysian job market and what salaries to expect for certain levels of qualification and diplomas will come in handy. Here are some details about what compensation correspond to a large range of jobs in Malaysia.

Malaysia is one of the most dynamic digital market in Southeast Asia with a profusion of famous blogs. The following Top 50 blogs from Malaysia was created to gather the most prominent blogs of the Malaysian online community and help everyone find and learn from digital thought-leaders and trendsetters of the region.

One of the most dynamic countries online in Southeast Asia, Malaysia is a very attractive market for e-commerce. A middle-income country with a digital population of more than 20 million people, Malaysia attracts appetites both from local and global companies interested in grabbing a share of its e-commerce market.

Malaysia gathers lush natural parks and historic sites classified in the UNESCO World Heritage Sites. With the architectural heritage of the cities of Malacca and Georgetown, two exceptional natural sites and a site of prehistoric remains, Malaysia counts four sites that have been recognized for their value for all mankind.

Malaysia is an attractive country for many investors thanks to its modern society, habits and tastes, fairly high income and consumption. With accurate numbers on its demography, geography, revenues and household expenditures, this overview of the Malaysian market will provide useful marketing insights.