Internet has brought a revolution, enabling virtually anyone to create an online business and reach a large consumer population easily. Thanks to the shift towards online shopping, businesses of all sizes can now compete against bigger traditional companies and quickly grab a large market share on Internet.
The possility to shop online fosters a change in consumer behavior, opening new areas of business and services. This trend pushes traditional stores to move online and new startups to think of selling online first, if not online exclusively to reach the Malaysian online shoppers.
In certain traditional industries, Internet has brought new competitors and a larger offer to consumers, causing several companies which could not adapt to struggle or close down. Yet, for those that take the turn online, entrepreneurs and startups who wish tackle these new online markets, some structures can provide help.
Support for online business in Malaysia
The Internet enables the continuous development of newer and cheaper technologies to reach customers online and analatics systems to properly study business and marketing trends, sales processes and consumer behaviors. However, one shouldn't underestimate the costs of doing business online and the difficulty to effeciently reach a potential market.
That is why, as for the Singapore tech startup eco-system, angel investors and venture capital funds, co-working spaces or accelerators, such as MaGIC, are working towards the creation of a proper environment to help startups mature in Malaysia. They provide help, capital, contacts, education and exposure for new online businesses to reach the critical mass and speed needed to succeed on Internet in the longer term.
The case of Foodpanda: food delivery service
Some services have found a way to succeed by transforming the market they aim to grab. Foodpanda is a company that grows fast thanks to its innovative model brought from Western countries: an online platform for food delivery gathering menus from mulitple restaurants. Reaching customers via their website and mobile application, Foodpanda allows restaurants to reach a bigger online market.
The perfect time to do business online in Malaysia
Foodpanda has succeeded because of its innovative model, but also because of its great timing to develop this business in Southeast Asia. Right now, it is the perfect time to create new digital businesses, especially based on e-commerce in Southeast Asia and Malaysia: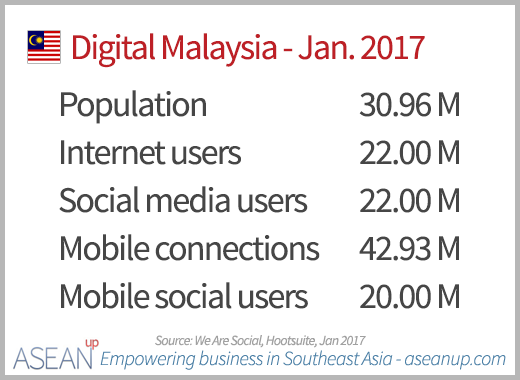 very few competitors are ready online,
the trust of the general public for Internet services and the use online payments to buy goods and services is growing,
it is easy and relatively cheap to create an online business: all one needs is a website with a proper design and online payment gateway (though one should not underestimate the means and/or efforts required to actually reach the customers online, once the website is ready).
These various trends currently generate a lot of opportunities for online businesses to enter markets, or create new ones, and thrive in Malaysia and further, in the whole of Southeast Asia.
Video from March 2015 by ETP Roadmap