Malaysia is one of the leading countries for tourism in Southeast Asia, with tens of millions of foreign visitors coming in the country every year. Through their spending, they bring billions of dollars into the economy and allow many businesses to prosper. These infographics illustrate some habits of international tourists.
Origin and behaviors of foreign tourists in Malaysia
Malaysia has received 27.437 million tourists in 2014. They came primarily from East Asia and the Pacific, with large number of tourists also coming from Europe and South Asia.
Tourists primarily entered the country through land (about 68%) as the country shares two busy border bridges with Singapore and frontiers with Thailand, Brunei and Indonesia. They also came from the air through the country's airports (about 28%) and, for a smaller part, from the sea (about 3%).
Tourists spent a total of 21.026 billion US$ in the country in 2013 on their travel, and they stayed in the country for an average of 6.60 nights in 2014.
This data recently published by the World Tourism Organization – UNWTO – is gathered with more details in the following infographic. It illustrates various aspects of tourism in Malaysia to help you quickly grasp the most important facts and figures.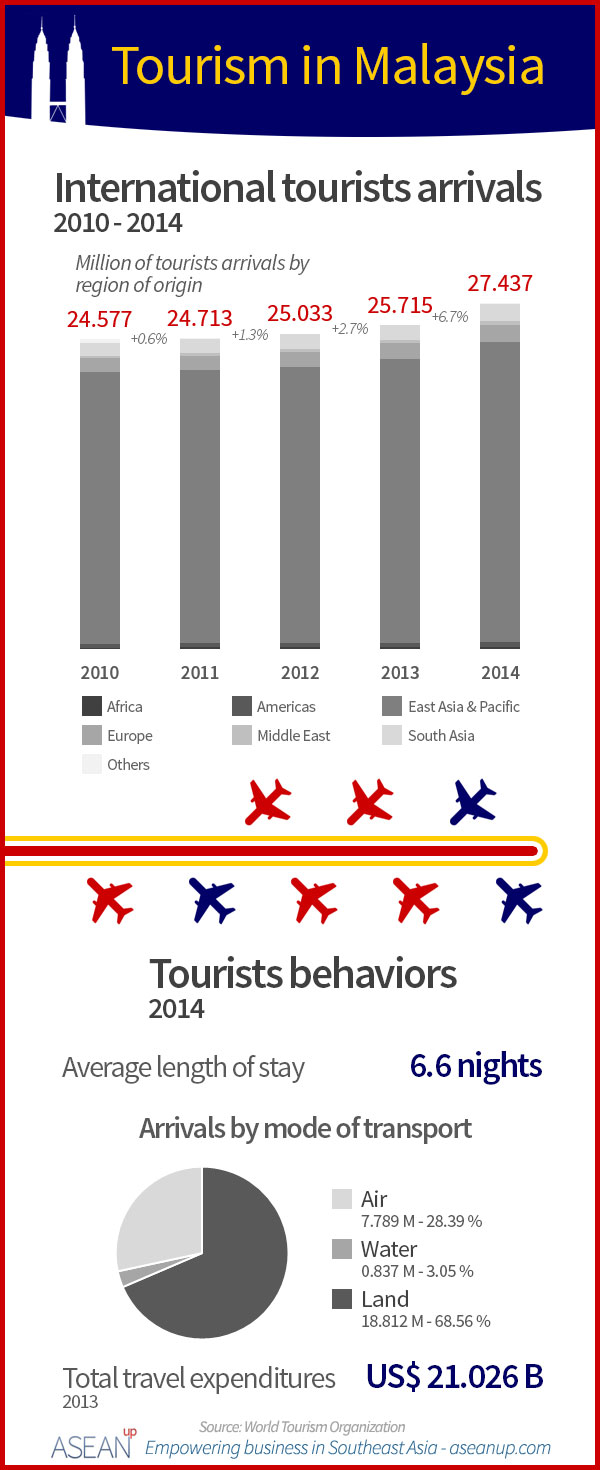 For those of you who would like to use this infographic in your websites, blogs or presentations, it has also been divided in its different parts to help you integrate the data you need. Thank you for creating a link back to ASEAN UP if you insert one of these infographics in your website or blog!
International tourists arrivals
This infographic presents the data on tourists arrivals in Malaysia for the years 2010 to 2014. It illustrates absolute numbers of tourists for each year, year on year evolution and distribution of tourists by region of origin:
Africa
Americas
East Asia & Pacific
Europe
Middle East
South Asia
Others (including Malaysian nationals residing abroad)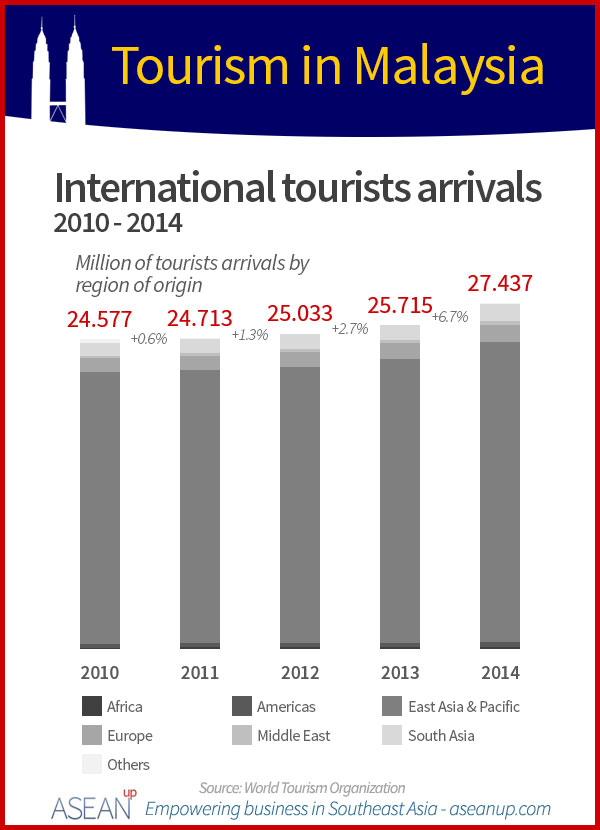 Tourists behaviors
This infographic presents the habits and behaviors of tourists in Indonesia:
Average length of stay
Mode of transport
Total travel expenditures