The geographic position of the Philippines exposes it to numerous natural hazards which often result in terrible human losses and economic damages. In response to the recent catastrophes, the Philippines' Department of Science and Technology has created Project NOAH to inform populations, prevent and protect them from natural disasters.
Monitoring the Philippines' climate and environment
Project NOAH stands for Nationwide Operational Assessment of Hazards. It has been launched in 2012, to help people in the Philippines prevent and escape potential natural hazards through the use of advanced science and technologies. Project NOAH is a very broad initiative to plan for the readiness of the Philippines to prevent and face disasters, developing a nationwide network of sensors and reporting tools.
For the general public, a very useful and well designed website of Project NOAH has been implemented so that anyone can monitor in real-time the climate and environment changes throughout the Philippines. Thanks to various tools that are aggregated for real-time display over a Google map of the Philippines, anyone can view the current and expected upcoming rains, humidity, pressure and temperature.
This website is a very effective tool for the prevention of risks for people and properties, and an important step toward relieving the Philippines from its exposure to natural disasters.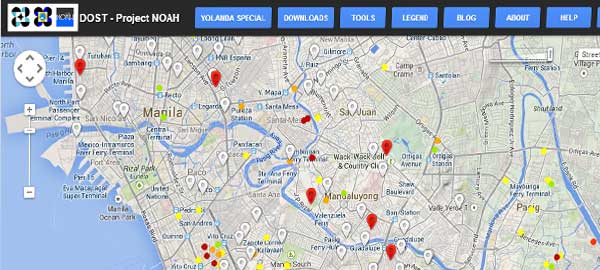 Natural hazards information and prevention
Through the judicious integration of various meteorological satellites and stations, any climate change, precipitations, and more seriously, typhoons can be anticipated several hours in advance. Thanks to these tools, people and businesses can plan for their safety and minimize eventual damages to their properties.
Project NOAH also allows to browse the databases of floods that occurred in the Philippines, in the past century so as to evaluate risks in their region and be prepared of impeding danger in case of heavy rains.
Project NOAH also helps to monitor exposure to the dengue disease by presenting a map of mosquito population throughout the Philippines as well as advice to avoid being contaminated.