In a recent report, the World Bank presents an overview of the economy of the Philippines: from macro-economy and finance to human welfare and development indicators. With analysis of current economic policies, disaster recovery as well as future perspectives, this document will provide valuable information to business leaders, economic analysts, investors and policy makers.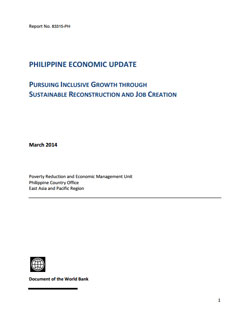 This report, entitled "Philippine Economy Update: pursuing inclusive growth through sustainable reconstruction and job creation" from the World Bank was published in March 2014; it presents the latest findings on the state and perspectives of the Philippine economy and its growth.
Prevention of disasters in the Philippines being  a major concern, this report also demonstrates how the Philippines has become resilient and prone to recover. Finally, the report also highlights improvement of social conditions and need for more and better jobs.
Philippine economy update summary
Preface – page 2
Executive summary – page 5
Recent economic and policy developments – page 5
Prospects, risks, and policies – page 6
Building back better after typhoon Yolanda – page 6
Medium-term agenda: working together to address the jobs challenge – page 8
Recent economic and policy developments – page 10
Output and demand – page 10
Poverty and employment – page 12
Typhoon Yolanda – page 13
External accounts – page 17
Financial markets – page 21
Prices and monetary policy – page 21
Fiscal policy – page 24
Prospects, risks, and policies – page 27
Output and demand – page 27
External accounts – page 31
Prices and monetary policy – page 34
Fiscal policy – page 34
Building back better after typhoon Yolanda – page 37
Reconstruction Assistance on Yolanda (RAY) – page 37
Sustainable reconstruction after typhoon Yolanda – page 38
Monitoring and evaluating for success – page 43
Disaster risk financing and insurance framework – page 45
Medium-term agenda: working together to address the jobs challenge – page 47
The jobs challenge – page 47
The philippine development story – page 49
What went wrong in the philippines? – page 51
A window of opportunity to create more and better jobs – page 52
Working together towards a jobs agenda – page 53
The reform agenda for job creation – page 57
A three-tracked implementation – page 68
Special focus 1 – page 71
Philippine tourism industry challenge – page 71
Special focus 2 – page 77
Impact evaluation of the kalahi-cidss – page 77
Data appendix – page 83