AirAsia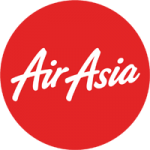 AirAsia is a leading low-cost airline based in Malaysia and flying all around Asia, that also provides other services linked to travel and tourism.
AirAsia is a famous low-cost airline serving many destinations throughout Asia and further. It has been recognized many times as the World's best low-cost airline, thanks to the innovations it implements to provide cheap tickets while also ensuring safety and quality of service.
Since 2001, AirAsia has become one of the most famous airline in Asia, through the embodiment of its philosophy "Now everyone can fly". It has greatly contributed to the empowerment of Asian travelers, especially younger ones with small budgets, to go visit other countries thanks to its continuous strive to propose the lowest fares.
With a young and dynamic brand image, AirAsia has learned to seduce and satisfy its passengers thanks to its commitment to low-price and innovation. Now at the head of a large fleet of brand new planes, AirAsia is expanding both to provide more destinations and more services along travelers' journey. For this purpose it has set up various subsidiary companies attending to specific areas of Asia or specific business operations.