"Generation Y", as opposed to the previous "Generation X" and "Baby Boomers", is the generation of people born between 1981 and 2000. Characterized by familiarity with technology and some consumption behaviors, Generation Y is a major segment in Thailand that also presents particular national specificities.
Siam Commercial Bank Economic Intelligence Center  has recently put together a very well conceived and detailed report on how to capture Thai Generation Y consumers. This report, compiling a large amount of data, especially details the characteristics of Gen Y and how to address them in order to reach business success.
Characteristics of the Thai Generation Y
Being composed of the people born between 1981 and 2000, Generation Y – Gen Y – has been exposed to various technologies from a very young age. Gen Y therefore presents the main characteristic of being very tech-savvy compared to previous generations, which is especially true when it comes to finding and consuming information.
Definition of generational typology:
Baby Boomers: born between 1946 and 1965
Gen X: born between 1966 and 1980
Gen Y: born between 1981 and 2000
Gen Z: born after 2000
Globally, Gen Y is a large consumer segment, proportionally stronger in emerging markets where the population is younger than in developed countries. In Thailand, Gen Y is the largest consumer segment, but it is also characterized by some specific and interesting national differences compared to American and European Gen Y.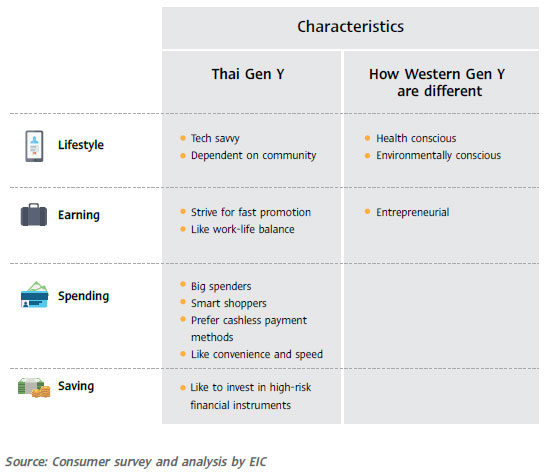 Aside from being tech-savvy, the Thai Generation Y also presents the specificities of being very social, information-driven, very selective and financially literate. From these main particularities derive a series of behaviors that businesses need to understand to succeed in marketing to this generation.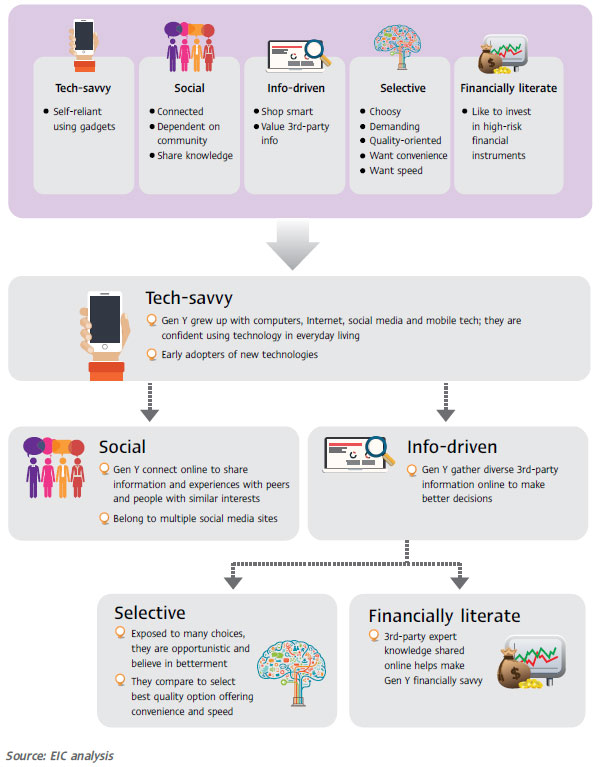 Business success with Generation Y in Thailand
Targeting the Gen Y segment in Thailand requires businesses to organize their business models and market their products and services according to their specific tastes. This mainly goes through the use of appropriate technologies, providing quality products and services on a consistent basis and using clear and advantageous financial propositions.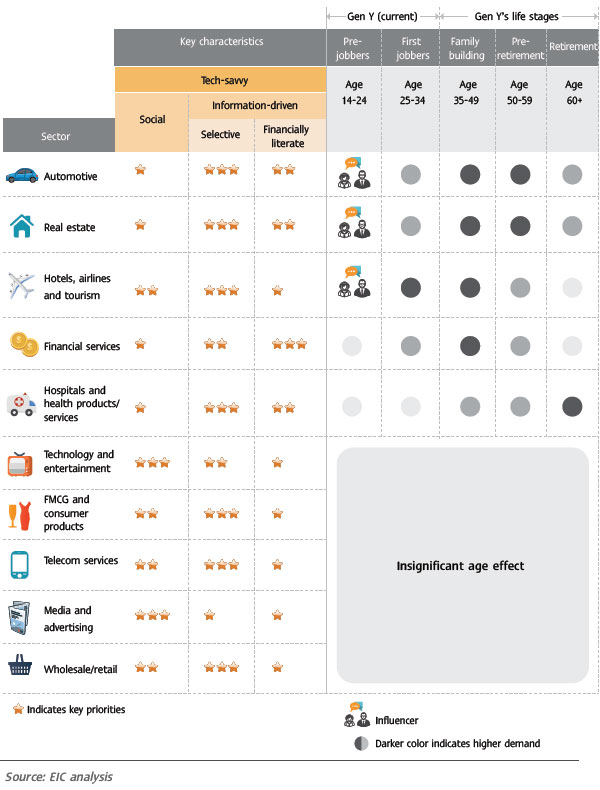 For more information on the various business models and marketing tactics used to cater to the Gen Y of Thailand, as marketing will become more and more important to drive business revenues, here are the reports and summary from SCB Economic Intelligence Center.
Capturing Thai Gen Y consumers – summary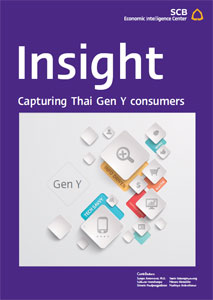 Executive Summary – page 4
Introduction: The rise of Gen Y – page 6
1. Gen Y are the world's biggest consumer segment, accounting for about a third of global population – page 6
2. Population at birth was 50% larger for Gen Y than Gen X or Baby Boomers. Gen Z is likely to be smaller. – page 7
Box: Gen Y accounts for a larger population share in emerging markets than elsewhere. – page 8
3. Gen Y share of population is higher in developing countries – page 8
4. Gen Y is the largest customer group in Thailand today. They are the biggest generation ever, and unlikely to be surpassed. – page 9
5. Thai Gen Y have substantial income despite their young age. They are at the life stage that involves high spending and low savings. – page 10
6. Thai Gen Y have lower savings rate than Gen X. Their high spending resembles that of Baby Boomers. – page 11
7. Thai Gen Y spending potential rivals that of Gen X in 2015. Their lifetime spending potential is THB 160 trillion (USD 5 trillion). – page 12
A Gen Y Biz Quiz – page 14
Chapter 1: 5 key characteristics of Gen Y in Thailand – page 16
8. Breakdown of survey respondents – page 17
9. Our survey found that Thailand's Gen Y resemble their peers in the US and EU. But there are interesting differences. – page 18
10. The 5 key characteristics of Thai Gen Y are interlinked – page 19
5 key characteristics of Thai Gen Y – page 19
1. Thai Gen Y are tech-savvy – page 20
11. Strong preference for online channels and social media shows Gen Y are tech-savvy. – page 21
2. Thai Gen Y like to socialize – page 22
12. Gen Y like the social side of work. They prefer a workplace with enthusiastic colleagues over a challenging and interesting job. They prefer learning from co-workers over formal training. – page 23
3. Thai Gen Y are information driven – page 24
13. Each generation has different criteria for online shopping, different reasons for reading reviews and different set of influencers. – page 24
4. Thai Gen Y are selective – page 26
14. Gen Y are selective about jobs and change jobs more often than their older peers. They prefer to be paid based on performance. – page 27
15. Gen Y want high pay but also work/life balance. They value colleagues highly and like learning from others at work. – page 29
5. Thai Gen Y are financially literate – page 31
16. Gen Y spend more of their income than other generations. They seek information on managing their finances and are keen to invest to get ahead. – page 32
17. Share of Gen Y choosing capital gain as the reason for investing is similar to other generations; however, they are less likely to invest for tax benefit and retirement. – page 33
Box: What Thai Gen Y are not – page 34
18. Fewer Gen Y are entrepreneurs compared to their older peers. – page 34
19. Gen Y are not as eco-friendly compared to other groups. – page 35
20. Gen Y are less health conscious than older generations. – page 36
Do you know that Gen Y… – page 37
Chapter 2: How to leverage the 5 key characteristics to target Gen Y – page 38
21. Tech-savviness is the fundamental characteristic of Gen Y. This makes them more social and information-driven. Exposure to vast information makes them highly selective and financially literate. – page 40
22. Firms can focus on a few characteristics first before becoming a full-fledged Gen Y business. Some businesses, especially hospitality, should prepare in advance for Gen Y consumers in their future stages of life. – page 43
Box: Survey: How well have Thai SMEs targeted Gen Y? – page 45
23. About a third of SMEs surveyed target Gen Y as main customers. Half have taken some action to attract Gen Y. – page 45
24. Initial investment targeting Gen Y is focused on the less difficult, less expensive approaches like marketing and distribution – page 46
25. SMEs that have already targeted Gen Y will continue. Some are willing to do more by changing product design or processes. – page 46
26. SMEs that have previously targeted Gen Y are willing to invest about 10% more funds in the effort than those that never tried. – page 47
Chapter 3: Successful Gen Y business models – page 48
Understanding the 5 characteristics of Gen Y can help firms cater to their special needs. – page 49
1. Product design – page 50
2. Branding and marketing – page 52
New media have broken the traditional "reach vs. cost" trade-off. – page 52
3. Distribution and after-sales support – page 55
How can real estate businesses cater to Gen Y – page 56
Retail space for Gen Y – Community mall – page 58
Parting thought – page 60
Report from November 2014 by SCB Eonomic Intelligence Center. Contributors: Sutapa Amornvivat, Ph.D., Tubkwan Homchampa, Srinarin Poudpongpaiboon, Teerin Ratanapinyowong, Nitnara Mintarkhin, Nutchaya Arakvichanun