The Thai tourism industry is undergoing several changes with regards to the types of tourists coming in the country, the increasing regional and global competition between countries to attract tourists and people's increasing reliance upon digital mediums, mobile devices and social media.
Facing these shifts in demand, competition and communication channels, business involved in the tourism industry must adapt to avoid being outdated and losing customers. In order to help Thai tourism businesses, the SCB Economic Intelligence Center has compiled data and tips that will provide some guidance for tourism companies and professionals to get the upper hand in these times of rapid evolution.
Trends changing the Thai tourism industry
Growing number of senior tourists in Thailand
The fastest growing segment for tourism in Thailand, senior leisure travelers and foreign retirees exhibit certain patterns to understand. With more free time available and habits of spending more, senior travelers and retirees also have more specific demands and higher expectations.
Businesses that are able to focus on this segment could benefit from important gains, especially by targeting developed countries with large numbers of senior citizens, like the United Kingdom, United States, Japan and Germany.
Increasing competition with other countries
Governments from all around the world are trying to attract tourists and the benefits they bring to the local economy. The competition is especially intense with countries from Asia-Pacific and the Middle East, which directly impact businesses of the tourism industry in Thailand.
To compete in this globalized marketplace, tourism businesses should try to develop new niches relying on value-added services rather than well-known destinations and attractions where competition is already fierce. Such niches can be activity-based travel, adventure tourism and unique local cultural or natural experiences.
The critical impact of digital marketing
The availability of online information and services has increased the tourists' sensitivity to prices and empowered them to travel on their own. Furthermore, with technology comes new issues: online reservations websites and Airbnb pressure the hotels industry, digital "influencers" now drive tourists towards attractions or tourism businesses, or away from them.
The fast-changing digital landscape is a place of stiff competition, and it makes mastering digital marketing a critical means to reaching new customers online. The effects of successful digital marketing are even more sensitive on the tourism industry, it is thus strongly advised to engage into new online channels and work towards digital success.
Remark that some resources gathered on ASEAN UP will help you promote your travel activities in Thailand with lists of the best videos from Amazing Thailand, and to plan your digital marketing by monitoring online travel trends in Thailand (and Asia Pacific).
Business strategies for tourism in Thailand
Finally, the SCB EIC suggests the implementation of three strategies for Thai tourism businesses to make these challenging trends become new opportunities:
Focus on new unique experiences for market segments with less competition.
Add value by partnering with related businesses, especially with medical tourism for senior travelers and retirees.
Reduce costs and expand reach of customers through digital technologies.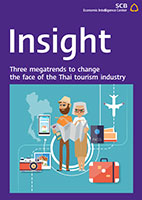 Tourism is one of the largest industry in Thailand and a driver of its economy; the trends that shape this industry for years to come are therefore a hot issue in the country, both for private actors and the Thai authorities.
To get the complete information on the trends impacting the Thai tourism industry, read the full report from March 2017 by the SCB Economic Intelligence Center.