Singapore has several advantages that make it an ideal place for media and advertising companies to settle in Asia. With a pro-business environment, good infrastructure and a very tech-savvy population, Singapore provides a great environment for businesses in content production, communication and data analysis.
Singapore has become a business hub for Asia as leading corporations from around the world come to set their regional headquarters in the Lion City. Its location in Southeast Asia, technological and infrastructure advance and the Singaporeans' uses and behaviors ideally position Singapore to lead in several different areas, especially in the media and advertising industry.
Advantages of media and advertising in Singapore
Specific characteristics that make Singapore very attractive for media and advertising companies:
Singaporeans are very proficient in their use of digital technologies. This characteristic drives an impressive trend of growth of about 10% per year in the Internet advertising industry.
Creating a business in Singapore is very easy, with a process that is completed in a few days compared to other countries where it can take weeks.
The technological infrastructure is well developed, with 4G mobile Internet available everywhere.
Singaporean workers are very skilled.
English is the primary business language, making it easy for American and European businesses to settle and do business.
A diverse environment
Singapore and Asia are very diverse compared to America and Europe. The differences between Singapore and its neighbors are much wider than between European countries and even more so than the US. Religion, economy, and business styles make Asian countries very different, and therefore very interesting to work within a cross-cultural approach.
Technical and creative talent
Talent is very needed but available in Singapore thanks to a very proactive, pro-business approach of the government that is willing to attract and partner with the world's leading technologies companies and people.
Technological and creative people are very sought after by the Singaporean government to enhance its own cultural edge in Asia. To make sure they are willing to come in Singapore, the authorities ensure Singapore remains a very safe and efficient place, which also offers a unique lifestyle and cultural environment despite its law-abiding reputation.
Singapore is a mobile-first media landscape
When it comes to technology, the penetration of the mobile market is 150% (3 phones per 2 people) with 85% of Singaporeans owning a smartphone. Together with a broadband penetration of about 95%, Singapore is a world leader in the use of information and communication technologies use.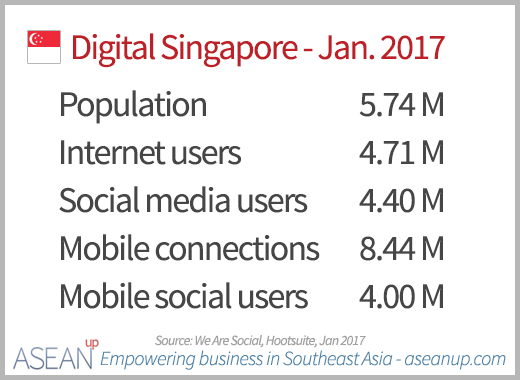 These particularities make Singapore a "mobile-first" market for media and advertising: content consumption is primarily done through smartphones at any time in the day. Thanks to the availability of 4G, Singapore consume a lot of contents all the time, even in the metri, watching movies and TV programs seamlessly.
Brands therefore need a mobile strategy to connect with consumers and ride the trend of mobile in Singapore, as consumers consume more contents on their smartphones than they communicate. Brands are however still behind: they are currently increasing their investments to come up to the mobile-first challenge.
Key trends for advertising in Singapore
New marketing strategies for connecting brands to Singaporean consumers need to be clever and well contextualized: the right content needs to be integrated in the right context. Since Singapore is a rather small market, clients are often more willing to take risks and innovate in their communications, as failure would not be as catastrophic as in a larger market.
New technologies enables media and advertising companies to collect large amount of detailed data on Singaporean consumers. Consumers' behaviors can therefore be analyzed and predicted much more precisely: this data especially opens new promising horizons for location-based advertising and individual targeting.
Interviewees
Lee Smith – CEO Platforms, Omnicom Media Group
Harry Dewhirst – President, Blismedia
Lou Dela Pena – CEO, Publicis Singapore
Cheuk Chiang – CEO APAC, Omnicom Media Group
Adam Hemming – CEO, ZenithOptimedia
Mark Heap – CEO APAC, Mediacom
Nick Seckold – Mindshare Singapore
Greg Isbiter – President, Blismedia
Ben Poole – Head of Interaction APAC, MEC
Henry Stokes – Director of Client Services APAC, Xaxis
Susana Tsui – CEO APAC, PHD
Video from February 2015 by The Drum