American companies in ASEAN are benefiting from the region's growth potential and experiencing its dynamism. With an optimistic outlook for Southeast Asia's economic and business growth, US businesses share their sentiments, perspectives and challenges in this insightful report.

Every year the American Chamber of Commerce in Singapore in association with the US Chamber of Commerce release their ASEAN business outlook report: a survey of American companies doing business in Southeast Asia, based on the responses of more than 2800 senior business executives in US companies throughout the ASEAN region.
This barometer of US business sentiment details views and opinions of business leaders in Southeast Asia. The report provides feedback from business leaders in American companies in various domains of business, sales, trade, investments, profits…
Highlights from US businesses in ASEAN for 2018
Key points that make ASEAN very attractive for business:
Economic growth of Southeast Asia
Growing middle class of ASEAN country, especially in Singapore, the Philippines and Indonesia
Sectors with most interesting growth perspectives:

wholesale / retail
software / IT / telecoms

Regional integration of ASEAN, notably through the ASEAN Economic Community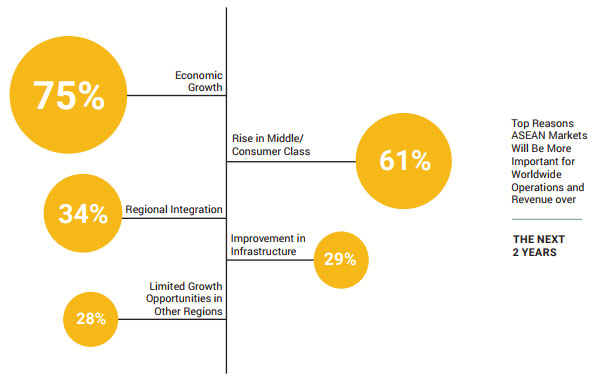 ASEAN remains a very attractive region for business, many respondents expects to grow their businesses throughout the region in 2018, primarily in the following countries:
The ASEAN Economic Community integration – AEC –  should focus on the following arreas for business:
fighting against corruption
elimination of non-tariffs to trade
increasing transparency
working towards good governance
Concerns for business in Southeast Asia:
though it remains strong, US executives see a softening sentiment for business perspectives in the region
the closer relations between ASEAN countries and China could hurt US companies if the US implemented economic sanctions against China
corruption (exccept in Singapore and Brunei) as well as laws/regulation still are considered as hindrances for US businesses
ASEAN business outlook 2018 – Summary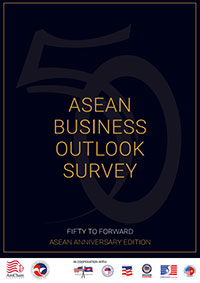 Foreword from the U.S. Chargé d'Affaires to ASEAN – page 3
Preface from AmCham Singapore and the U.S. Chamber of Commerce – page 4
ASEAN and the United States – page 5
CEO Perspectives
Riding the ASEAN Tigers – page 6
What Business Leaders on the Ground in Singapore Are Saying – page 9
ASEAN Business Outlook Survey 2018
Executive Summary – page 12
Economic Outlook – page 13
Global Relations & Trade Agreements – page 20
ASEAN Economic Integration – page 24
Business Expansion In ASEAN – page 27
Workforce Demographics – page 30
SME Outlook – page 34
Current Local Business Environment – page 37
Change in Satisfaction of Local Business Environment (2012 vs. 2017) – page 39
Country Profiles
Brunei Summary Report – page 40
Cambodia Summary Report – page 42
Indonesia Summary Report – page 44
Laos Summary Report – page 46
Malaysia Summary Report – page 48
Myanmar Summary Report – page 50
The Philippines Summary Report – page 52
Singapore Summary Report – page 54
Thailand Summary Report – page 56
Vietnam Summary Report – page 58
Special Perspectives
SMEs Making a Difference in Southeast Asia – page 61
Transforming Lives: American Corporate Citizenship in Action – page 62
Business Leaders' Perspectives – page 72
Profile of Respondents – page 74
Survey Methodology – page 76
Acknowledgments – page 77
ASEAN business outlook from previous years.
In order to compare the sentiments of US business leaders in more details from previous years, you can also find the previous reports here: