American companies in ASEAN are benefiting from the region's growth potential and experiencing its dynamism. With a rather optimistic outlook at the upcoming ASEAN Economic Community integration, US businesses share their sentiments, perspectives and challenges in this insightful report.

Every year the US Chamber of Commerce in association with the American Chamber of Commerce in Singapore release their ASEAN business outlook report: a survey of American companies doing business in Southeast Asia, based on the responses of more than 500 senior business executives in US companies
This barometer of US business sentiment details views and opinions of business leaders in Southeast Asia. The report provides feedback from the "optimistic" business leaders in American companies on various domains of business, sales, trade, investments, profits…
Highlights from US businesses in ASEAN for 2016
Key points that make ASEAN very attractive for business:
Growing middle class in most ASEAN country, with the Indonesian middle class, for example, set to reach 140 million people by 2020
Increasing level of consumption
Regional integration: official launch of the AEC on 31 December 2015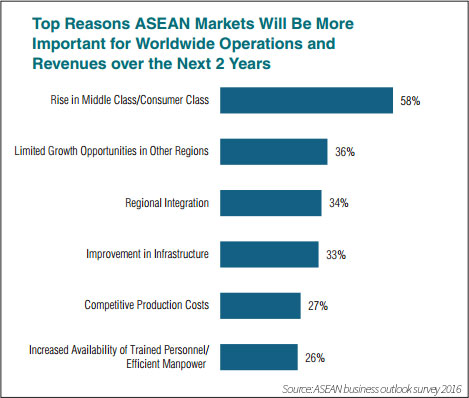 ASEAN remains a very attractive region for business, many respondents expects to see the following benefits in 2016:
increases in sales
expand investments
grow workforces
The ASEAN Economic Community integration – AEC –  will provide new benefits:
elimination of intra-regional tariffs through ASEAN FTAs
liberalization of services and investments
easing customs and procedures in the region
bring new opportunities for trade, as ASEAN develops its relations with other countries: Australia, New Zealand, China, India, Japan and Korea
Concerns for business in Southeast Asia:
Though they remain generally optimistic, recent challenges in the region have made US business leaders moderate their expectations
Corruption remains a major challenge to business
Laws and regulation and inadequate infrastructures is also frequently mentioned as a source of problems
ASEAN business outlook 2016 – Summary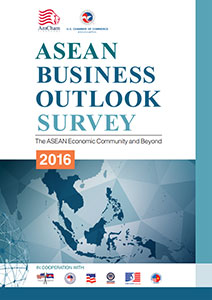 Preface – page 2
Executive Summary – page 3sales
1. Economic Outlook – page 4
2. Business Expansion in ASEAN – page 8
3. Environment for U.S. Business – page 12
4. Regional Integration & Trade Agreements – page 15
5. Corruption Risks for Long-Term Business Operations – page 21
6. Expatriate Recruitment & Retention Factors – page 24
7. Current Local Business Environment – page 28
8. Change in Satisfaction of Local Business Environment (2010 vs. 2015) – page 30
Brunei Summary Report – page 32
Cambodia Summary Report – page 34
Indonesia Summary Report – page 36
Laos Summary Report – page 38
Malaysia Summary Report – page 40
Myanmar Summary Report – page 42
Philippines Summary Report – page 44
Singapore Summary Report – page 46
Thailand Summary Report – page 48
Vietnam Summary Report – page 50
Technical Appendix: Business Expansion in ASEAN – page 52
Profile of Respondents – page 55
Survey Methodology – page 57
Acknowledgements – page 58
ASEAN business outlook 2015
In order to compare the sentiments of US business leaders in more details from the previous year, click on the cover of the 2015 report to open the ASEAN business outlook 2015 PDF.