Southeast Asia is at a turning point of economic development, and three powerful trends of demography, interconnection and technology will feed its growth in the coming years. This brilliant report analysed these forces through various comparative dimensions to provide valuable business insights.
In this detailed report, the team of the McKinsey Global Institute provides a fine examination of three major trends of Southeast Asia and why they will prove successful to business that dare to take a ride on them.
Capturing a greater share of global flows
Riding the urbanization wave
Deploying disruptive technologies
The report covers each of these trends with examples, comparisons and perspectives for the future.
Interconnectivity and ASEAN Economic Community
A long diagnosis is given to the benefits that could arise with integration of the ASEAN Economic Community, where it could be successful and areas which could be left aside. The potential upside to trade and logistics is extensively covered, as well as the general economic added value of inter-connectivity between the different ASEAN nations, and the challenges of the manufacturing sector.
The report goes on to cover several industries of Southeast Asia and how they could also benefit in the coming years, along their own trends:
Financial services
Airlines
Utilities
Automotive
Telecommunications
Consumer goods
Urbanization
Demography is studied through changes in consumption and their impact towards marketing, the needs for infrastructures investments, and an eye on efficiency in the development of the cities of tomorrow.
Technology
Economic growth and social development are and will also be heavily impacted by the spread of new technologies. Technological disruption will bring opportunities in several industries, from oil and gas exploration to education.
Southeast Asia at the crossroads: Three paths to prosperity – report summary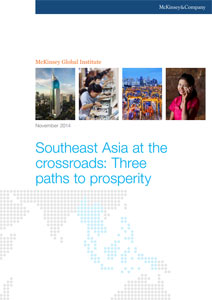 Preliminary contents: cover, presentation, in brief, etc
Executive summary – page 1
1. Harnessing global trends for regional growth – page 15
2. Global flows: Capturing growth from trade connections – page 33
3. Urbanization: New markets and new challenges – page 73
4. Disruptive technologies: Five catalysts for economic growth and social change – page 103
Appendix: Technical notes – page 143
Bibliography – page 157
Report from November 2014 by the McKinsey Global Institute