To provide a better access to official data and work towards more transparency, the Philippine government has created a website to centralize the country's official information and statistics. With this objective, the portal Data.gov.ph allows people and businesses to consult varied, accurate and well-structured data.
The Open Data Philippines website, data.gov.ph, is a portal that gathers various official sources of data that can easily be searched through an intuitive experience. With demographic, social and economic statistics the website also allows to browse through several territorial divisions and formats.
Enabling access to official Philippine data
This video, created for the launch of the Open Data Philippines portal in 2011, explains the goals of the website to empower people in the Philippines and in the whole world to access, use and analyze the official data available.
Key functions of the Open Data Philippines website
One of the main way of navigating through The Open Data Philippines website is provided through the search tool from the homepage. Also allowing the access of data by themes, the portal offers to browse the following themes:
Economy
Environment
Geospatial
Agriculture
Population
Education And Science
Infrastructure
Public
Finance
Cultural
Transport And Communication
Transport
Social Welfare
Public Administration
Law And Justice
Health
Politics
Employment
Earth Observation
Various data formats are availble, so are various levels of territorial divisions to seek relevant data:
Country
Island
Region
Province
Municipality
Barangay
Other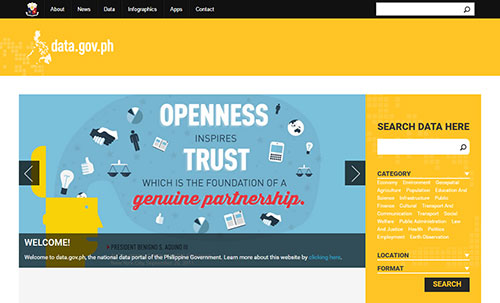 Extra functions and access for Philippines data
Aside from its reliable data sets, the Open Data Philippines website proposes a quick access to specific information that be easily understood in several well-conceived interactive infographics on the Philippine population, consumption, prices…
This list of visually organized data and tools regroups interesting statistics from several key domains to help people and businesses quickly understand and use the information. Infographics in the Open Data Philippines notably highlight school enrollment and education, traffic visualization, budget, commodities, customs, environment.