The Department of Statistics of Malaysia is dedicated to providing reliable statistics to inform social and economic actors of the country. With a useful website, it gathers and compiles up to date and historic data together with reports and other services to be freely accessed by anyone interested.
With demographic, social and economic statistics, the Department of Statistics of Malaysia website delivers the official data from Malaysia online. Aiming at helping the Malaysian people, the website's mission is to publish accurate, timely and relevant statistics to comply with the government's vision; "1Malaysia: People First, Performance Now".
The official database of Malaysia
Key data release calendar
Thanks to the Department of Statistics of Malaysia, visitors can obtain key data in the most timely manner. A calendar of the release of key official indicators and statistics on the country's economy and demography will help professionals, companies or researchers with critical timing operations to stay updated and know of the next data release.
Sectors indicators and statistics
One of the main aspects of the Department of Statistics of Malaysia website is to regroup and deliver information in specific sectors and economic indicators. The website proposes to browse the following themes:
Agriculture
Construction
Economic Indicators
Environment
External Sector
Household Income & Expenditure
Labour Force & Social Statistics
Manufacturing
Mining & Quarrying
National Accounts
Population & Demography
Prices
Services
With time evolution of key data, events, news and the publications, the Department of Statistics of Malaysia website is also a portal to obtain wider information and keep up with the latest economic and social activity in the country. The portal is also a gateway to enter in contact with the Department of Statistics of Malaysia and request more data and online services.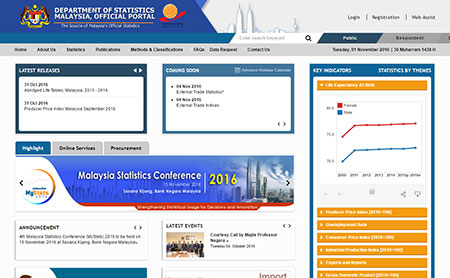 The Department produces contents highlights and infographics to sum up many of its new statistical releases. These infographics  help to spread new data sets to the online community through the Department's Facebook page and Twitter profile.
More official data on Malaysia
Furthermore, to expand the spread of its statistical works, the Department of Statistics of Malaysia has been associated in the creation of a more global portal on official data of Malaysia. Though still in Beta phase and mostly available in Malaysian language, the data.gov.my portal provides additional resources, tools and publication on the country.