With the rapid development of Indonesia, the daily life habits of the population is also evolving quite rapidly. This brief presentation gives a glimpse into the habits and entertainment of the younger populations of Indonesia, who are the most likely to adopt new trends and influence the future of the country.
Indonesia's young population
With the data gathered hereafter we can understand that according to 2014 estimates, the "Youth" (under 25) represent 43,3%  of the population, or 109,812,975 people. Apprehending their habits can be useful to many, especially to infer consuming behaviors according to costs, availability, culture or trends.
Age structure in Indonesia (CIA World Factbook 2014 est.)
0-14 years: 26.2% – male 33,854,520 / female 32,648,568
15-24 years: 17.1% – male 22,067,716 / female 21,291,548
25-54 years: 42.3% – male 54,500,650 / female 52,723,359
55-64 years: 7.9% – male 9,257,637 / female 10,780,724
65 years and over: 6.5% – male 7,176,865 / female 9,308,056
Total: 253,609,643 – male 126,857,388 (50.02%) / female 126,752,255 (49,98%)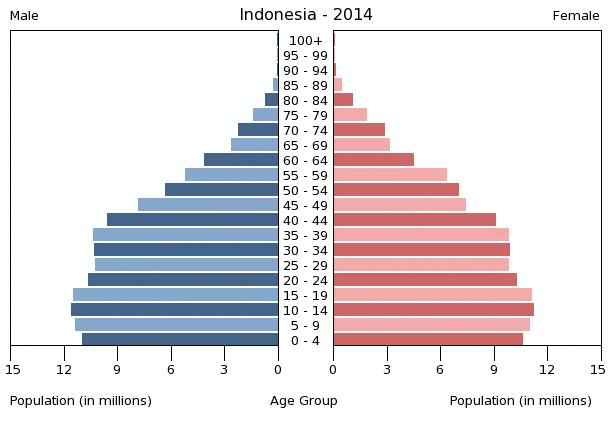 Entertainment and daily life activities and behaviors of young Indonesians
Popular media and activities for Indonesian Youth
(Large majority of "Often" or "Sometimes")
Watching television
Reading magazines
Hanging out at the coffee shop
Eating at the street merchant
Going to the mall
Hanging out at the lounge
Karaoke
Fairly popular media and activities
…maybe specific to certain demographics, males/females for example?
("Often" or "Sometimes" about the same as "Never" or "Rarely")
Less popular media and activities
(Large majority of "Never" or "Rarely")
Going to the gym
Watching concert
Car-free day
Playing music in a band
Clubbing
Presentation of April 2014 by Youth Laboratory Indonesia