Southeast Asia is an attractive region for business growth, and the coming together of the ASEAN Economic Community is yet another vector of great opportunities. To help companies forge their ASEAN strategies, this report sums up how and when global and ASEAN companies can succeed through a regional approach.
How to overcome the differences of each country? Is it possible to market to one ASEAN customer? What advantage can an ASEAN strategy yield? What obstacles remain?
Built on the testimonies of more than 170 large companies in ASEAN, the Economist Intelligence Unit has created a report entitled "Re-drawing the ASEAN map – How companies are crafting new strategies in South-east Asia" to provide actionable insights for businesses to apprehend Southeast Asia and reach business success.
Covering broad managerial questions as well as more specific, industry-centric topics, this brilliant report will provide many hints to carve a sound business strategy and capture the potential of the soaring economies of Southeast Asia.
Highlights for business strategy in ASEAN
ASEAN as a whole is a very attractive region, a global leader in several areas.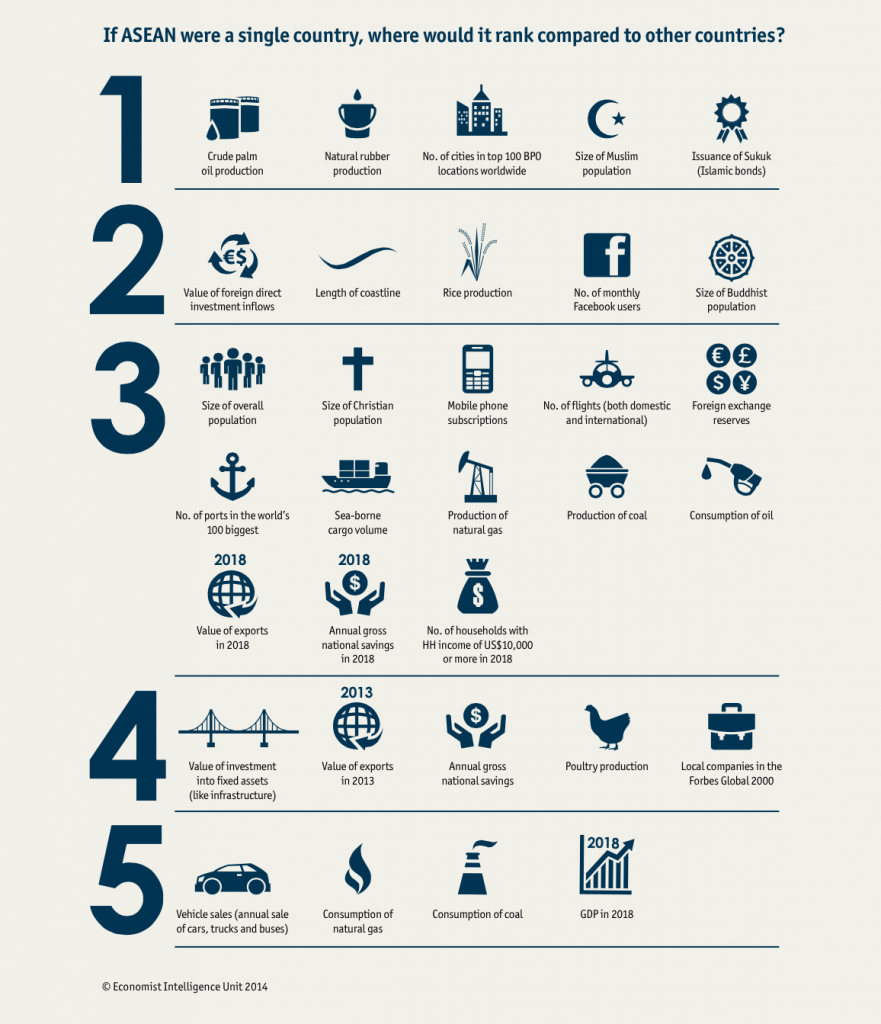 Confidence in ASEAN integration and the ASEAN Economic Community – AEC – is rising.
More and more companies are managing their business in Southeast Asia with a regional strategy.
Foreign companies tend to have an "ASEAN strategy" more frequently than companies headquartered in an ASEAN country.
Though ASEAN consumers are coming from different countries and cultures, their behaviors tend to become more uniform, helping companies to market products and services with a regional approach.
The biggest barriers to regional integration are institutional, rather than cultural or economic.
Manufacturing clearly is a sector where companies can gain from an integrated regional strategy, supply chain and multi-country structure.
Manufacturing perspectives are very high for Indonesia and Myanmar, and good for Vietnam and the Philippines too.
The upcoming AEC will enhance economies of scale and specialization for manufacturing companies. The larger scale that the AEC will permit to reach could also greatly benefit to the services sector.
HR and recruiting at the regional level could bring significant upside to businesses, but workforce movement still faces significant obstacles to overcome.
"Re-drawing the ASEAN map – How companies are crafting new strategies in South-east Asia" – summary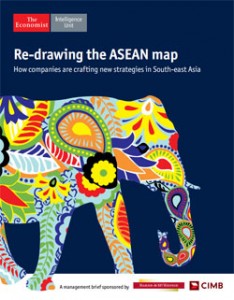 1. Introduction – page 4
2. ASEAN: Overcoming diversity? – page 6
Bottom-up integration
Top-down integration
Community spirit
Buying into the AEC
3. ASEAN as one country – page 8
People power
Building mines and mining data
4. A pan-regional ASEAN strategy – page 12
Why strategise around ASEAN?
Corporate insight: Reasons for an ASEAN strategy – page 15
To attract management talent
To match the needs of clients
To co-ordinate a high-growth approach
To reap back-office and sales support efficiencies
5. Towards a full ASEAN footprint? – page 16
Building a pan-ASEAN sales platform
Running regional hubs
6. Towards a common customer? – page 19
Diminishing diversity

B2B or B2C
Purchasing power
Categories
Brands
7. Towards a regional sales and marketing strategy? – page 21
8. Corporate insight: ASEAN and the FMCG sector – page 24
Perspective 1: Taking a pan-regional approach
Perspective 2: The importance of local insights
Perspective 3: Empowering the entrepreneurial mindset
9. Barriers to a regional sales strategy – page 27
10. Deepening the manufacturing footprint across ASEAN – page 29
Market seeking or efficiency seeking?
Indonesia and Myanmar: future stars?
11. Re-drawing the map of manufacturing in ASEAN? – page 31
Consolidation or fragmentation
12. Corporate insight: ASEAN and the manufacturing sector – page 33
Perspective 1: Pan-ASEAN consolidation
Perspective 2: Pan-ASEAN fragmentation
13. Re-drawing the ASEAN map for services? – page 35
Local vs regional approaches
Regulatory tangles
14. Re-drawing the ASEAN map for professionals? – page 38
15. Conclusion – page 39
16. Appendix – page 40
For further insights on ASEAN and business in Southeast Asia, the Economist Intelligence Unit has also created a sub-category in its website devoted to the ASEAN region. As of January 2015, most contents there echo the ones in the "Re-drawing ASEAN" report, but more contents shall be added later.
Report published in November 2014 by the Economist Intelligence Unit