ASEAN attracts a lot of attention from businesses and investors thanks to its high level of economic growth and a widening middle class. With the unfolding of the ASEAN Economic Community they will reap more and more benefits as the deepening regional integration eases business practices and creates new opportunities
ASEAN is in a pivotal moment as the long awaited "ASEAN Economic Community" has just been officially established. It promises to launch a new era of economic cooperation between the ten ASEAN member countries and will enable businesses to operate, trade and invest more and more easily across their borders.
Overview of investment and business sectors in ASEAN
In an effort to help businesses and potential investors understand key opportunities of the region, settle and do business in ASEAN, the Association of Southeast Asian Nations has realeased a new report together with several high profile businesses and associations.
This report provides a general overview on doing business in Southeast Asia with detailed perspectives on all the major and most interesting business sectors. Simply entitled "Investing in ASEAN 2015-2016", it provides insights from experts for each of the verticals covered with emphasis on interesting opportunities, as well as overviews of each ASEAN country.
Investing in ASEAN 2015-2015 – summary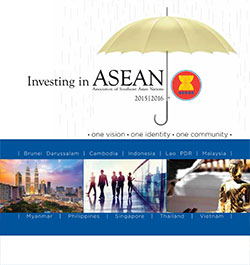 Introduction
Southeast Asia's new dawn is full of promise – page 5
Messages
H.E. Le Luong Minh: Secretary General – page 8
US-ASEAN Business Council – page 9
EU-ASEAN Business Council – page 10
UK-ASEAN Business Council – page 11
Business – Finance – Legal
Manufacturing expansion in ASEAN with HSBC – HSBC – page 12
ASEAN members forge ahead with financial integration – page 16
The Rule of Law and ASEAN growth – DFDL – page 21
Investing in ASEAN: Five top considerations – EY – page 28
Harnessing unique ASEAN talents for investment growth – TMF Group – page 33
Legal regime of ASEAN – Chandler & Thong-ek Law Offices – page 36
Interview with David D. Doran: Partner and Chairman, DFDL Legal & Tax – page 41
Energy
Gas resources boost ASEAN's energy strategy – page 46
Renewable energy helping to lessen reliance on fossil fuels – page 49
For more information, check Energy outlook for Southeast Asia.
Industry & Manufacturing
ASEAN's manufacturers have a window of opportunity – page 53
At home in ASEAN – Jebsen & Jessen (SEA) – page 59
Infrastructure
Infrastructure spending set to grow with more funding – page 62
A new railway age begins in Southeast Asia – page 66
Focus on ports development will strengthen ASEAN's global reach – page 70
Aviation
ASEAN aims high in aerospace manufacturing – page 75
ASEAN aviation support industries are global players – page 78
ASEAN airlines are flying high again – page 80
IT & Telecommunications
Southeast Asia sees huge expansion in broadband access – page 85
Mining
The region's mining sector has bright future – page 90
Agriculture
Economic integration will improve food security – page 93
Healthcare
Focus on healthcare yields impressive results – page 96
Education
Educational development is key to economic progress – page 99
Tourism
Southeast Asia's tourism potential is immense – page 103
Country Reference
Member country profiles – page 109
Useful contacts – page 130
Why and how to invest and do business in ASEAN
Gathering a lot of data, case studies and interviews from multinational corporations involved in ASEAN as well as some comparisons of the local advantages of ASEAN member countries and larger reflexions on ASEAN as a whole, this report from 2013 entitled "Riding the ASEAN elephant – How business is responding to an unusual animal" is a must-read for all people and businesses wishing to invest, expand or develop a business in South-East Asia.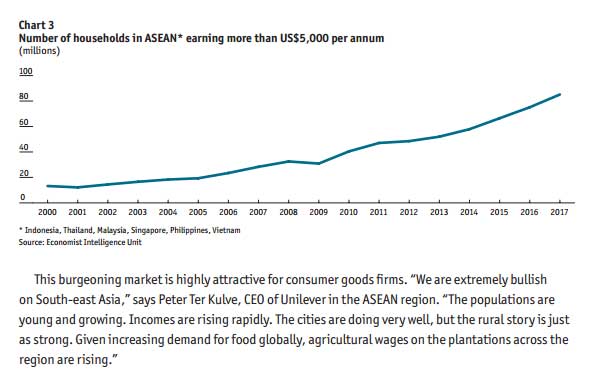 This report from the Economist Corporate Network presents a lot of insightful findings about the opportunities and challenges of investing and developing a business in ASEAN. It notably answers the following questions:
Why ASEAN is particularly interesting now?
What strategies to adopt in order to invest and successfully develop a business in ASEAN?
What dangers to be wary of?
Riding the ASEAN elephant: How business is responding to an unusual animal – summary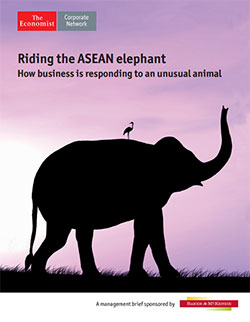 Preface – page 2
Executive summary – page 3
1. Introduction – page 5
Understanding corporate strategy in South-east Asia
2. Why ASEAN? Why now? – page 7
The forces propelling South-east Asia up the corporate agenda
Super consumers – page 7
Factory firepower – page 8
Investment fuels the furnace – page 9
Integration nations – page 9
3. ASEAN integration: A work in progress – page 10
ASEAN policies take time, but companies have faith
ASEAN's expanding ambition – page 10
Daring but demanding – page 10
Slow progress, but moving forward – page 11
4. ASEAN integration becomes meaningful – page 12
Integration policies are feeding into corporate strategy
5. Companies are doing it for themselves – page 14
Bottom-up integration drives top-down policy
Global MNCs, but local MNCs too
6. ASEAN strategy: What and where? – page 16
Picking markets and where to run them
Running regional hubs – page 18
7. ASEAN strategy: Markets and operations – page 19
Tailoring corporate strategy to the ASEAN landscape
Going multi-local – page 19
Scale and efficiency – page 19
Diversity equals complementarity? – page 21
For more information, check How to define a strategy for business in ASEAN.
8. Conclusion – page 23
Amidst the euphoria, ASEAN has many challenges
The dangers of being thrown – page 23