The global enthusiasm for entrepreneurship is well represented in Thailand. Benefiting from several intrinsic advantages, the land of smile is now home to a booming ecosystem supporting and revolving around startups and entrepreneurs in the tech sector as well as in several other industries.
Though the startup ecosystem of Singapore has clearly taken the lead in the region, many other Southeast Asian countries gear up to attract entrepreneurs and funding, especially Malaysia, Vietnam, Indonesia and the Philippines.
Thailand is also well advanced in this competition for talent. The country has several advantages that make it particularly attractive to entrepreneurs and talents, notably a rather cheap cost of life and office space, a rich, unique and welcoming culture, great food and vibrant nightlife. Thailand is home to a large number of savvy digital users that are especially active on social media.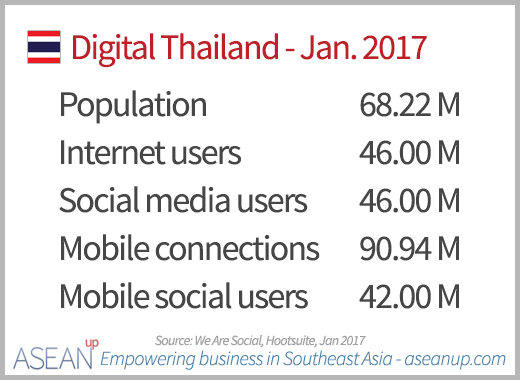 Located in Phuket, Chiang Mai or more importantly in Bangkok, the startups of Thailand enjoy all these benefits and are well supporting by an rapidly growing ecosystem. With co-working spaces, networking events and incubators periodically popping up and new investors setting up shop next to established onnes, the thai startup ecosystem is maturing.
Overview of the different actors of the startup ecosystem in Thailand
The following image compiled by Techsauce in August 2015 gathers an broad overview of the Thai startup ecosystem: notable startups, events, education programs, incubators and accelerators, government agencies and supporting structures, media, co-working spaces, associations, venture capitalists and business angels, venture builders and companies.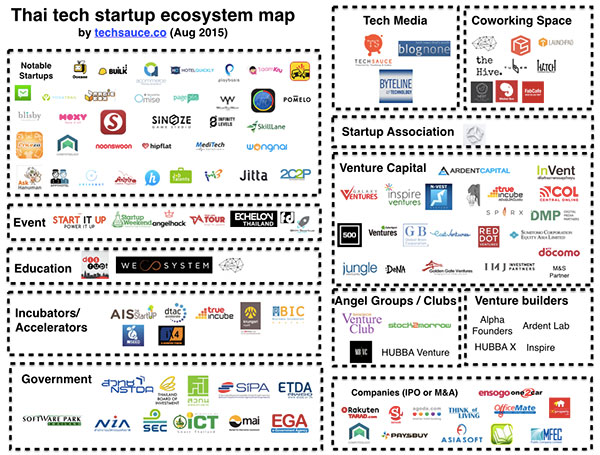 With more details on various startups and actors of the ecosystem, the following slide deck details precise activities and specialties of the major actors and supporting structures, with a particular focus on values and funds invested.
Thailand startup ecosystem – summary
Introduction – slide 6
Thailand in Numbers  – slide 7
Thai and Foreign Startups – slide 10
Mergers & Acquisitions – slide 12
Series C – slide 17
Series B – slide 19
Series A – slide 22
Seed Funding – slide 28
MoreThai Startups – slide 36
Foreign Startups – slide 39
Finance & Funding – slide 43
Resources and Organizations – slide 48
Support for Thai startups and digital economy
Information and networking possibilities can easily be found on particular focus groups on social networks such as the Startup Thailand group on Facebook. In Thailand, there is also a quite developed network of structures to help companies and entrepreneurs work, network and grow.
Conscious of the critical impact that digital technologies increasingly weigh in modern economies, the Thai authorities are implementing a set of measures to support the Thai digital economy and technologies startups in Thailand. They intend to focus on 4 aspects to successfully create a digital economy:
digital commerce
digital entrepreneur
digital innovation
digital content
The Thailand Board of Investment North America recently published a document reviewing these various policies that can come as a precious help in certain cases. This document also gives its own view on the Thai digital economy and startup ecosystem.
Digital economy, startups and support in Thailand – summary
Introduction – Thailand: land of digital smiles – page 2
5 strategies to ensure the success of the digital economy – page 3
Hard Infrastructure

National fiber optic broadband network – Gigabit bandwidth fiber coverage nationwide in 3 years
National wireless 3G and 4G broadband networks
Expansion of Wi-Fi coverage nationwide
Public and private sector data center and cloud infrastructure development

Soft Infrastructure

E-payment and E-transaction standards
Data privacy protection and cyber-security laws
Facilitation and promotion of e-commerce activities
Computer emergency response team readiness

Service Infrastructure

Rules and regulations for implementation of digitization of government and public services
The application of E-logistics to facilitate trade and supply chain management
Data service innovation

Digital Economy Promotion and Innovation

Low cost enabler technology for e-commerce for SMEs
Encourage and facilitate ICT HR development
Establishing a data bank of useful digital content for use by local developers
Encourage and promote fail-safe data centers and large scale cloud computing facilities for both public and private sectors

Digital Society

Digital ICT technology to improve life quality of disabled individuals
Implementation of smart cities in Thailand
Enhanced medical services in Thailand, especially technologies to reach remote areas
Data centers – page 4
Fertile startup ecosystem – page 5
Top startup supporting structures
Support from global technology companies – page 8
Innovative workforce – page 9
Access to markets – page 10
Developed network of supporting organizations – page 11
Incubators
Coworking Spaces

Guru's Box – Chiang Mai
The Sync
Makerspace – Chiang Mai

Government agencies and bodies
BOI investment incentives – page 14
For further information:
Profiles of Thai startups and founders
This slide deck provides additional information on the background, motivations and relations of founders, the types of companies and sectors of their startups and their presence in Thailand, Asia and the rest of the world.
Thai Startup Founders Survey 2016 – summary
Founders' profiles – slide 3
Gender – slide 3
Age – slide 4
Education – slide 5
Prior entrepreneurial experience – slide 6
Company profile – slide 7
Incorporation – slide 7
Funding – slide 8
Sector – slide 9
Market presence – slide 10
Survey – slide 11
Previous occupation – slide 11
Number of founders – slide 12
Founders remaining – slide 13
Company's CEO background – slide 14
Reason to start the company – slide 15
Preferences in types of investors – slide 16
Technical specialist at company foundation – slide 17
Participation in government support programs – slide 18
First investor encounter – slide 19
Current biggest challenge – slide 20
Presentations from September 2016 by Bangkok Entrepreneurs, December 2015 by the Thailand Board of Investment North America and