To enhance the development of strategic industries in Thailand's different regions, the Thai authorities have launched a series of policies to attract target businesses. With clusters for several sectors and throughout the country, incentives have been planned to promote industries in areas that present specific advantages.
Clusters are concentrations of related businesses in a same geographic area. Vertically and horizontally regrouped, such businesses benefit from sharing experience and locally developing altogether a skilled and knowledgeable workforce.
These clusters profit to the development of Thailand's attractiveness for investments and competitiveness so the Thai government has launched a scheme of incentives to target industries. These policies reinforce the interest of regions which already present a significant interest for the country.
Industries clusters of Thailand
Incentives are therefore planned to boost the development of super clusters and targeted clusters through Thailand:
Automotive and parts
Electrical appliances, electronics and telecommunication equipment
Eco-friendly petrochemicals and chemicals
Digital economy
Food industry
Medical sector
Agro-processing products
Textiles and garment
With corporate tax, import duties and personal income tax exemptions from the Board of Investment and the Ministry of Finance, incentives are proposed to business that satisfy the criteria. Additional considerations could also allow for permanent residence and owning land for certain businesses.
For more information on some of these industries, check the following resources:
Investment incentives for cluster-based special economic zones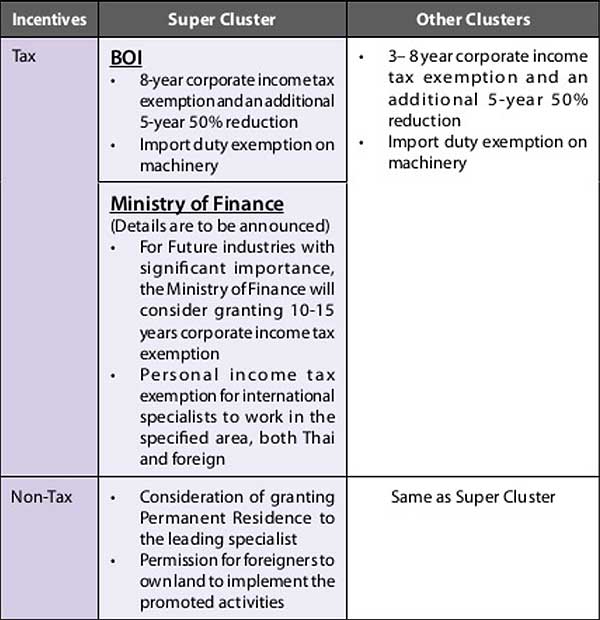 For a more comfortable reading, it is quite suggested to open the report in full screen!
Thailand business clusters incentives – summary
What is the cluster policy? – page 2
How the cluster policy support the investor? – page 2
Targeted clusters in the initial stage – page 2

Super cluster – page 2
Other targeted clusters – page 3

Investment incentives for cluster-based SEZs – page 3
Approval criteria for BOI cluster incentives package – page 3
Areas and targeted activities in each cluster – page 4

Automotive and parts cluster – page 4
Electrical appliances, electronics and telecommunication cluster – page 4
Digital Economy cluster – page 5
Eco-friendly petrochemicals and chemicals products cluster – page 5
Agro-processing industrial cluster – page 5
Textiles and garment cluster – page 6

Infrastructures to support cluster development cluster – page 6
Presentation from December 2015 by the Thailand Board of Investment North America