The automotive sector is a major driver of the Thai economy with strong infrastructures and a vast network of small and large, local and foreign companies all along the car-production supply chain. A large hub in ASEAN and Asia, the Thai automotive industry is gearing towards a green automotive production base.
A key sector accounting for approximately 12% of the Thai GDP, the automotive sector employed more than 550,000 people in 2013 with most of the world's vehicles and auto-parts brands and manufacturers present in the country.
In 2015, the production of cars in Thailand was 1.9 million cars with 800,000 cars sold domestically and 1.2 cars exported. There were also 1.8 motorcycles produced, with domestic sales of 1.6 million and exports of 350,000 units.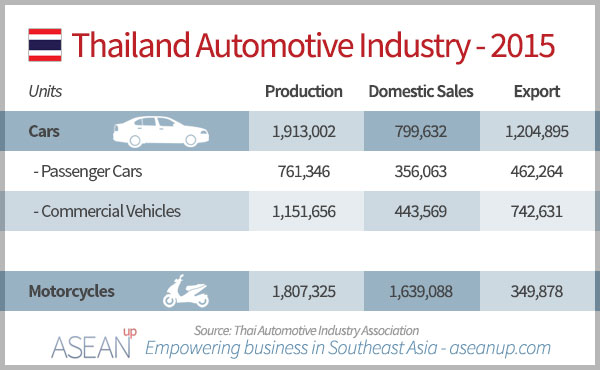 Thailand automotive industry: moving up the value chain
Presenting the Thai automotive industry from a governmental perspective to attract potential investors, the Thailand Board of Investment – BOI – produced a report to highlight structures, outputs and new developments planned for the upcoming years.
The Thai government is eager to assist the private sectors and drive the entire automotive supply chain towards more value creation. Their goal is to make Thailand a global production base for green automotive, enhancing value creation and environment preservation both for the export and domestic markets.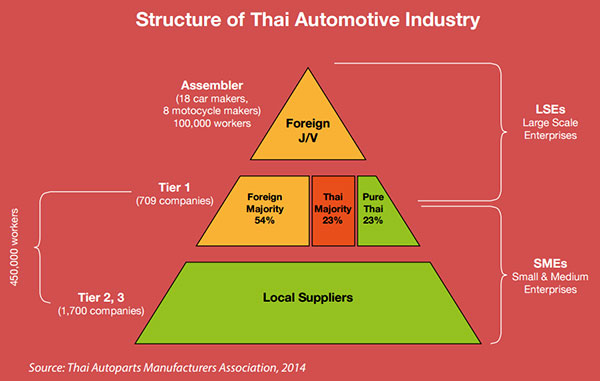 In this first report from 2015, the BOI presents the automotive industry and developments of recent years before diving in details: automotive numbers and sub-industries of auto-parts and automotive electronics. The report highlights particularly interesting opportunities in Thailand and the advantages of the country for investors of the sector.
Making Thailand a global green automotive production base – summary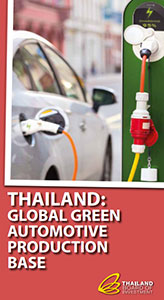 Thailand: global green automotive production base – page 2
Structure of the Thai automotive industry
Big industry drivers – page 3
Automotive industry overview – page 4
Global automotive production 2013
Thailand's motor vehicle production by unit 2010-2014
Thailand's automotive industry growth 2010-2014
Top 10 Thailand's vehicle export destinations in 2014
Thailand's auto parts industry – page 5
Thailand's auto parts exports 2014
50 of the top 100 global OEM parts suppliers in Thailand 2014
Automotive electronics – page 5
Opportunities – page 6
Automotive excise taxes (until 2015)
Automotive excise taxes 2016
Why Thailand – page 6
Promising investment destination – page 7
Abundant skilled labor supply – page 7
Auto parts clusters – page 7
Excellent infrastructure – page 7
Thailand's trade liberalization – page 8
Excellent government support – page 8
Attractive investment incentives – page 8
Thailand automotive actors and ecosystem
This second document, published by Uli Kaiser in October 2014, presents a summary of the Thai automotive actors and ecosystem. From foreign manufacturers to Thai companies in the automotive clusters, this presentation details the activities of the major companies involved the Thai automotive industry.
For a more comfortable reading, it is quite suggested to open the report in full screen!
Thailand Automotive Cluster 2015 – summary
Chapter 1 – Introduction – slide 4
Introduction – slide 5
The Eco-Car – slide 11
Chapter 2 – Statistics – slide 14
Global Ranking – slide 15
Production – slide 17
Domestic Sales & Exports – slide 18
OEM capacity – slide 19
Segmentation – slide 20
Chapter 3 – Original Equipment Manufacturers – OEMs – slide 21
Introduction – slide 22
Auto Alliance – slide 24
Ford – slide 28
For more information on the company, check Ford's automotive outlook in ASEAN and Thailand.
BMW – slide 31
General Motors / Chevrolet – slide 32
Honda – slide 35
Isuzu – slide 39
Mitsubishi – slide 42
Nissan – slide 45
Suzuki – slide 49
Toyota – slide 52
RMA – slide 56
Mercedes-Benz – slide 57
MG (SAIC-CP) – slide 60
Volkswagen – slide 63
Chapter 4 – Thai Automotive Cluster – slide 65
Introduction – slide 66
AAPICO Hitech Public Company Ltd. – slide 68
Art Serina Piston – slide 70
Asia Precision – slide 72
Bangkok Eagle Wings – slide 74
Bangkok Metal – slide 76
BTKK – slide 78
CH Automotive – slide 80
E&H Precision – slide 82
Global Thaixon – slide 84
Korat Matsushita – slide 86
Kulton Kirby Foundry – slide 87
Lenso Wheels – slide 88
P Quality Machine Parts – slide 89
PCS Machine Group Holding – slide 90
Sammitr – slide 93
Somboon Advance Technology – slide 95
Summit Corporation – slide 97
Thai Steel Cable – slide 99
Thai Summit Autoparts (Thailand) Ltd. – slide 101
Unity Autoparts – slide 103
Yarnapund – slide 105
VEM – slide 108
Chapter 5 – Japanese Tier 1 – slide 109
Chapter 6 – North American Tier 1 – slide 111
Chapter 7 – European Tier 1 – slide 113
Chapter 8 – Asian Tier 1 – slide 117
Chapter 9 – Organizations – slide 119
Chapter 10 – Industrial Estates – slide 123
Introduction – slide 125
Hemaraj Land and Development – slide 127
Chapter 11 – World Class Manufacturing Equipment – slide 130
Chapter 12 – Supporting Industry – slide 136
Further information