The labor market of Southeast Asia is evolving towards more mobility for skilled professionals in the region. Even though some obstacles remain in the ASEAN job market integration, certain professions can already benefit from special arrangements in certain countries, waiting for better hopes to be realized.
Mutual Recognition Agreements for skilled labor in ASEAN
Some professionals are already benefiting from skilled labor agreements between individual ASEAN countries to work abroad. Yet to do so, they have to take exams in the desired host countries to have their skills and experience recognized so that they can practice their profession.
A Mutual Recognition Arrangement – MRA, expected to be created with the launch of the integration on 31 December 2015, should allow certain professionals to work in other ASEAN countries more easily. Skilled workers would just need to pass one exam to have their skilled recognized for all ten ASEAN member countries and work freely within the region.
With the freer movement of goods and services, investment and capital, skilled labor mobility is one of the most awaited benefits of the ASEAN Economic Community – AEC. MRA would allow for a common ground of recognition for education and working experience of certain professions.
Existing ASEAN Mutual Recognition Agreements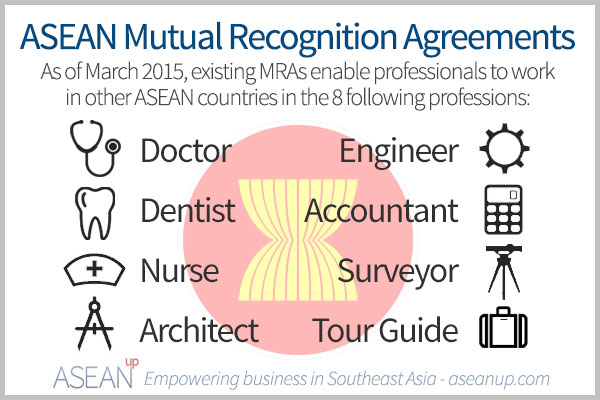 As of March 2015, there are already eight MRAs allowing for skilled labor to move around in ASEAN in the following professions:
medical doctors
dentists
nurses
architects
engineers
accountants
surveyors
tourism professionals
However, these eight professions only account for 1.5% of the total ASEAN workforce. These MRAs also do not enable eligible professionals to move perfectly freely around ASEAN, as many country have instituted a priority for their own citizens.
To provide more information on the different mutual recognition agreements for specific professions, ASEAN has prepared some handbooks to guide people through the processes and guidelines of MRAs.
Challenges of labor mobility in ASEAN
Depending on the countries, certain regulations limit the hiring of foreign skilled labor. In Malaysia for example, employers will be required to prove that local citizens are not available in order to hire a foreign worker. In Singapore, they will need to advertise the job vacancy for at least 14 days on a government portal.
This kind of regulation seem to direct the ASEAN job market towards a "locals fist, ASEAN second" preferential policy, tapping into the regional talent pool beyond the national market. Such a regulation would already be a good step forward to an integrated ASEAN jobs market.
Further on, certain countries at a comparable stage of economic development could establish bilateral MRAs to enable more mobility of professionals from selected countries. This idea could be more feasible as the differential of development and skills level is still very high between the different ASEAN countries.
Labor mobility dangers to avoid
Even though the movement of skilled labor is desirable, it should be controlled so as to prevent too rapid migrations that may created negative sentiments between the different ASEAN countries and peoples. The benefits and potential downfalls of people movements should be monitored carefully to avoid a wide array of issues.
ASEAN countries should also not prevent non-ASEAN countries skilled workers to come in the region as they could restrict themselves in a global competition for talent. The very positive period which the region is currently experiencing, enhanced by the ASEAN integration, should enable the creation of 14 million in ASEAN jobs by 2025. Limiting the ASEAN jobs market to Southeast Asian people would cause severe tensions.
The right job for the right person
These new jobs will need to be handled by the proper workers to lead the region to new heights, and companies will need to attract and keep the right talents. Employee retention is often a key issue, as many companies prefer to retain and promote their existing employees rather than going through the hiring process of new employees.
With different compensations and advantages available, enabling international mobility is one lever for companies to retain their employees. For some countries, such as Myanmar, international mobility will be critical as it is lagging in terms of education and skills which will be required in the coming years, if the country wants to seize its opportunity of rapid expansion.
In the end, ASEAN and its member countries will have to manage their jobs market and move towards a freer labor mobility with integrity but also with caution. Countries will have to balance their desired pace of economic development against the protection of their citizens' interests while opening themselves to other peoples, experiences and ideas.
Key points to enhance the ASEAN skilled labor market
In this video by Channel NewsAsia, 4 experts share their visions on talent in ASEAN:
Stephen Groff, Vice President of the Asian Development Bank
Prof Arnoud de Meyer, President of the Singapore Management University
Pri Notowidigdo, CEO & Chairman of Amrop Indonesia
Dr Veerinderjeet Singh, Executive Chairman of Axcelasia Inc.
They provide insights on how to maximize the utilization and spreading of skills so that everyone can profit from the integration of the ASEAN job and talent market, insisting on the following key aspects.
Mobility and training
To realize the potential of ASEAN as an economic grouping, skilled professionals need to be able to move from one ASEAN country to another. Furthermore, they need to be able to train other people to share their knowledge and experience as skills and education disparities are important between ASEAN countries.
Understanding others
To properly work with others, individuals, especially managers, need to be able to listen, understand and adjust to other people, cultures and regulatory frameworks. By being able to grasp the emotional triggers that motivate others in their life and work, different people will be able to manage their interests together.
Through the finding common ideas and goals, integrating their thoughts, ASEAN people will be able to bypass their differences, to seize opportunities and embrace the challenges of ASEAN.
Video from April 2015 and March 2016 by ChannelNews Asia