Many Southeast Asian countries produce fossil fuels. While gas production grows, some oil exporting countries now become importers to meet a rising internal demand. With useful data, maps and graphs, here are some clues on the production, distribution, consumption and trade of oil and gas in the region.
On the side of an exhaustive report on Energy Supply Security in 2014, the International Energy Agency – IEA – presents an overview on the situation of Oil and Gas in ASEAN countries, some of its partner countries. This analysis provides interesting considerations to understand the geopolitical implications of the sector on business in Southeast Asia.
Production, demand and imports of Oil and Gas in ASEAN
As a means of introduction on oil and gas in ASEAN, the IEA summarizes the energetic outlook in ASEAN in a set of key data that aggregates production, demand and net imports of oil and gas in order to help assess the dependency of the region.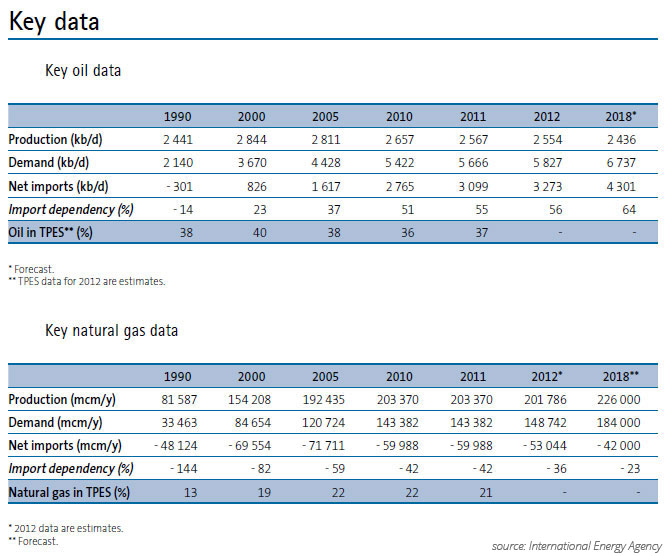 These figures illustrate two major trends for oil and gas:
The widening gap between oil production and demand: as production remains steady the demand for oil keeps on growing, increasing the need for oil imports.
The rising demand for natural gas remains below production: even though demand of natural gas rises fast, production also grows, allowing for ASEAN countries to remain net exporters of natural gas.
This next graph also illustrates the broadening of the energy mix in ASEAN countries. The cumulative representation of primary energy sources consumed highlights the rapid growth of coal and natural gas consumption, as ASEAN countries try to diverge from their previous reliance upon oil.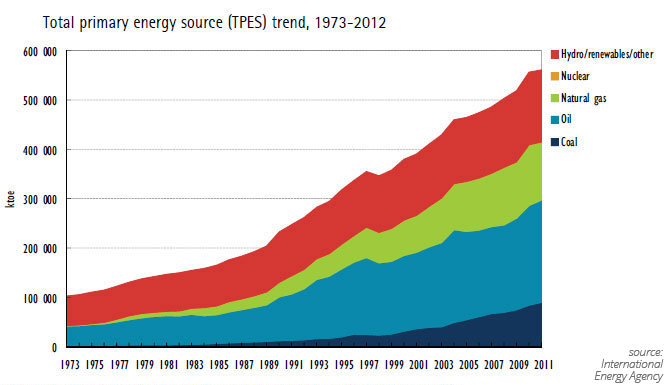 Oil and gas infrastructure in ASEAN
Aside from these summarizing reports on the production and consumption of energy in the ten ASEAN member counties, the IEA integrates interesting maps that detail the geographic situation of oil and gas resources and their distribution channels in the region.
With major oil and gas fields, pipelines, refineries, Liquid Natural Gas – LNG – terminals upcoming projects and exporting ports, the IEA regroups useful data in two exhaustive maps. They present an educative objective for all, but even more so for actors and businesses of the oil and gas sector of Southeast Asia.
Oil infrastructure of ASEAN
The oil infrastructure of ASEAN map shows an especially strong production in Indonesia and Malaysia. However, this map hides the declining capacities and reserves available in these countries. The recent decrease in oil prices, rising demand and changing landscape in Indonesia also heavily weigh on their production and trade balances.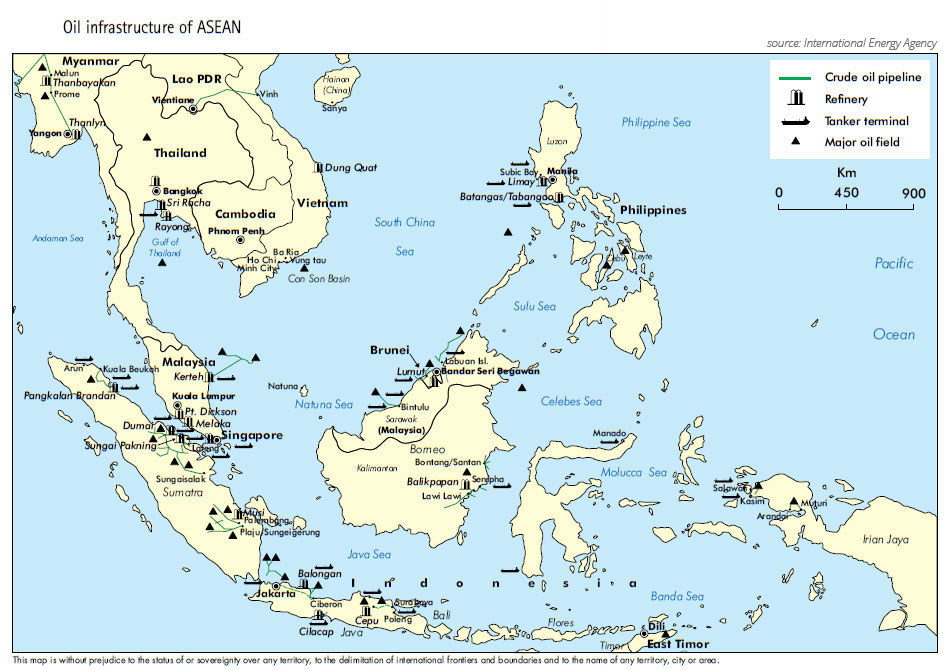 Gas infrastructure of ASEAN
The gas infrastructure in ASEAN map also suggest the strong involvement of Thailand, in addition to Malaysia and Indonesia. This map also hides that the region still holds large reserves of natural gas, and that such important resources exacerbate tensions between rival countries, especially in South China Sea area.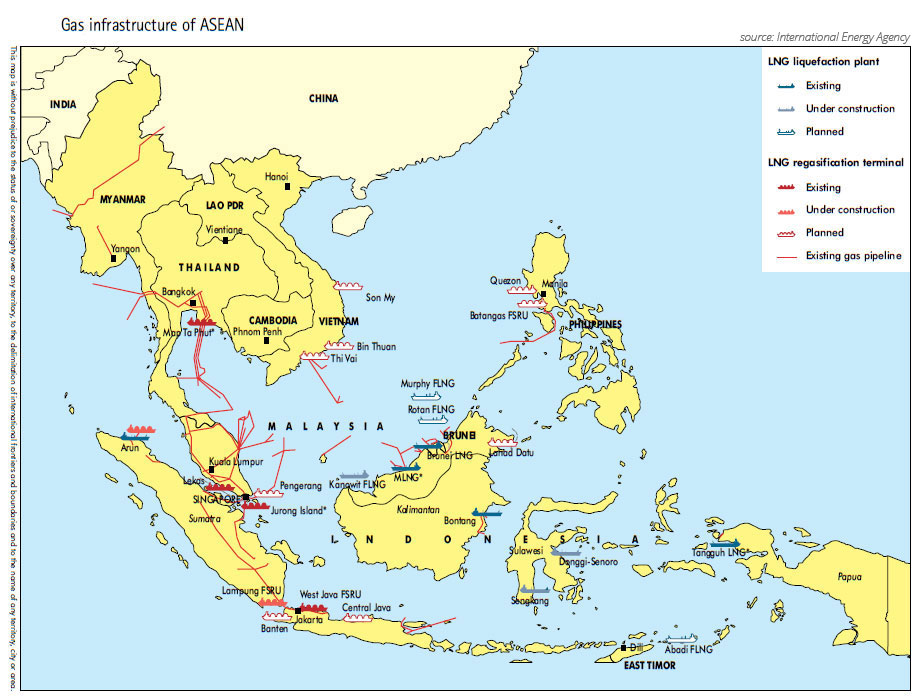 "Energy Supply Security 2014" report
For those who want to go deeper in the understanding of issues, opportunities and security implications of oil and gas in ASEAN, have a look at the the report from the IEA that does present more analysis on both fuels, with regards to production, consumption, imports and energetic security.
Even though this long report primarily covers the interests of IEA countries, it also sumarizes the situation in partner countries and regions, such as ASEAN. Here is a quick summary that will help you browse through the ASEAN part.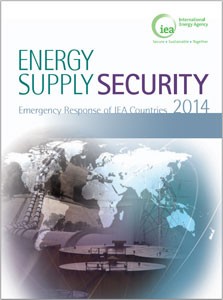 "Energy Supply Security 2014" – summary for ASEAN issues
Table of contents – page 7
Executive Summary – page 11
Chapter 1: Overview – page 13
Chapter 2: Emergency oil response systems in IEA countries – page 29
Chapter 3: Natural gas security in IEA countries – page 49
Chapter 4: Emergency response systems of individual IEA countries – page 65
Chapter 5: Emergency response of IEA partner countries – page 501
Association of Southeast Asian Nations (ASEAN) – page 502
Regional overview – page 505
Oil – page 506
Market features and key issues – page 506

Oil production – page 506
Oil demand – page 506
Refining – page 506
Imports/exports and import dependency – page 508

Emergency response and policy measures – page 508

Regional oil security policy developments – page 508
Status of strategic oil stockholding in ASEAN countries – page 508
Brunei Darussalam – page 509
Cambodia – page 509
Indonesia – page 509
Lao PDR – page 509
Malaysia – page 509
Myanmar – page 510
Philippines – page 510
Singapore – page 510
Thailand – page 510
Viet Nam – page 510
Gas – page 511
Market features and key issues – page 511

Gas production – page 511
Gas demand – page 511
Gas import dependency – page 512
LNG terminals – page 512

Emergency policy – page 513
Graphs and maps from the International Energy Agency report "Energy Supply Security 2014"