Southeast Asia is a critical market for the global energy sector with an important production of fossil fuels and a rapidly growing consumption of fossil fuels and electricity. At a challenging time for energy and global growth, the integration of power in ASEAN could also bring new opportunities for the region.
The International Energy Agency – IEA – regularly published its World Energy Outlook report. Part of this report, the IEA has prepared an specific report for the Southeast Asian region detailing current production and consumption trends and perspectives for the ASEAN energy sector until the year 2040.
Highlights of the energy sector in Southeast Asia
This slide deck from the IEA sums up illustrates the following key points from the full report below.
The context for energy in Southeast Asia – slide 2
Fossil fuels remain dominant in Southeast Asia's energy mix – slide 3
Electricity demand triples, with shift towards coal set to continue – slide 4
A moral challenging environment for oil, gas & coal production – slide 5
Growing import needs raise economic and security concerns – slide 6
IEA strategy to raise climate ambition – slide 7
Greater integration of the power network can deliver strong benefits – slide 8
Attracting sufficient investment is vital for securing energy needs – slide 9
Significant progress has been made towards phasing out fossil-fuel subsidies – slide 10
Looking forward – slide 11
For more on fossil fuels, don't miss the details and maps of oil and gas in Southeast Asia.
Detailed outlook on energy in Southeast Asia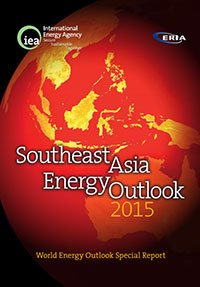 The full report from the IEA notably details trends of supply and demand for energy in Southeast Asia to 2040, the power sector and its key issues in the coming years, the role of the region in the global energy trade and expenditures, and a special focus on the energy perspectives in Malaysia.
Southeast Asia Energy Outlook 2015 – Summary
Foreword – page 3
Acknowledgements – page 5
Executive summary – page 9
1. Understanding the scenarios – page 13
Introduction – page 14
Modelling approach – page 15
Policy framework – page 16
Main non-policy assumptions – page 21
Economic growth – page 21
Demographic trends – page 23
Energy supply costs and prices – page 24
2. Energy demand prospects – page 27
Overview – page 28
Energy demand to 2040 – page 30
Outlook by fuel – page 30
Per-capita energy demand and energy intensity – page 33
Energy-related CO2 emissions – page 35
Outlook by end-use sectors – page 35
Power sector – page 38
Electricity generation – page 38
Generation capacity – page 41
Generation costs – page 44
Energy and climate change in Southeast Asia – page 46
Identifying near-term opportunities to reduce energy demand and emissions – page 47
3. Prospects for fossil-fuel supply in Southeast Asia – page 51
Supply – page 52
Overview – page 52
Outlook for energy supply – page 53
Oil – page 53
Natural gas – page 60
Coal – page 66
International energy trade – page 70
Oil products and crude trade – page 72
Natural gas trade – page 74
Coal trade – page 79
4. Focus on Malaysia – page 83
Introduction – page 84
Energy policy and market overview – page 85
Energy demand to 2040 – page 90
Primary energy demand – page 90
Power sector – page 95
Energy-related CO2 emissions – page 96
Energy supply to 2040 – page 97
Oil supply – page 97
Natural gas supply – page 100
5. Priorities for energy policy-makers – page 103
Overview – page 104
Power grid interconnection – page 104
Current status and future prospects – page 104
Potential benefits and challenges – page 106
Energy investment – page 111
Energy investment in the New Policies Scenario – page 112
Energy investment in the Bridge Scenario – page 116
Energy access – page 119
Extent and magnitude – page 119
Progress in achieving universal access – page 120
Fossil-fuel subsidies – page 121
Extent and magnitude – page 121
Progress in reforming subsidies – page 123
Going forward – page 125
Annexes – page 127
Annex A. Southeast Asia projections – page 127
Annex B. Units and conversion factors – page 131
Annex C. References – page 133
Challenges and opportunities for energy in Southeast Asia
With a discussion of a panel of three energy experts in Southeast Asia, a Bloomberg report detailed the problems of ASEAN, challenges and developments of its supply and distribution of fossil fuels, renewable and nuclear energies.
Concluding the "Power of ASEAN" series that presented the energy industry in Myanmar and Laos, and the perspectives on energy in Thailand, the Philippines and Indonesia, Bloomberg host Haslinda Amin animates a discussion on the production, distribution and regulation of energy in ASEAN with 3 experts:
Piyasawath Amranand: former Thai energy minister, chairman of energy for environment foundation and chairman of Thai energy company PTT
Ron Kapavic: vice-president and leader of APAC power, gas, coal and renewables team at IHS
Joseph Jacobelli: Bloomberg senior analyst for Asia utilities
Energy challenges in Southeast Asia
People without access to electricity
The main issue for Southeast Asia is that 20% of its population -134 million people – do not have access to electricity. The lack of energy in less developed countries, Myanmar, Laos and Cambodia, account for many of them, but the remoteness of certain islands in Indonesia and the Philippines also make them very difficult and costly to connect.
Connecting urban areas is not difficult, but governments should provide subsidies to help companies link more rural areas to the power grid. The decreasing cost of renewable energies could also enable the local production and ease the distribution of energy in some remote areas.
Increased reliance on coal
In order to produce more affordable energy for the masses ASEAN countries will rely more on coal, like China which produces 80% of its energy from coal plants. Coal is a reliable energy source and more affordable than other fossil fuels; it is also very abundant in Indonesia, making it all the more interesting there.
Coal currently provides about a third of ASEAN's energy, but it will rise in the energy mix and could make up to 50% of ASEAN power by 2035. The main issue of coal is that it is dirty and that local population are not eager to have a coal plant built next to their home.
Financing of energy projects
International development institutions such as the World Bank or the Asian Development Bank are also not eager to lend for polluting energy projects. But when it comes to financing, local banks or large state-owned companies can now replace them and fully take charge of the large investments required for energy plants and distribution networks.
Financing can become a problem for projects based on renewable energy though. These often are smaller and not as cost-effective in the long run, so renewable energy project often are not so interesting to develop for large utilities companies, which prefer sizable returns.
Attractive policies for energy in less developed ASEAN countries
Thailand has attracted many manufacturing companies thanks to an abundant supply of energy. However, some ASEAN countries, such as Myanmar and Laos, are not that well equipped. There, many people still rely on traditional and hazardous means for their need of energy.
Following its recent political and economic opening, Myanmar now looks very attractive to foreign energy producers and distributors. The government provides incentives for licensing and exploration to foreign companies interested in exploiting offshore hydrocarbons or developing infrastructures and energy transmission networks.
Be it in Myanmar, Cambodia or Laos, governments wanting to attract foreign companies should implement clear rules and regulations, taxes and royalties: foreign investors want to know their costs and what returns to expect. Too many regulations may not help: governments just need a legal base to comfort investors and lenders, and avoid obscure case by case negotiations.
Renewables and nuclear in the energy mix of ASEAN
Solar energy will become more important. It is growing less expensive but it remains unreliable, so solar needs to be associated  to other energy sources. The perfect mix would gather fossil fuels with growing renewable sources, in order to limit the exposure to their variable costs and reduce pollution, and add nuclear energy.
Though ASEAN still has many untapped hydrocarbon resources, nuclear energy is going to make a big difference in the next 30 years. Nuclear power plants are already being built in Vietnam, but laws, regulations and safety standards will need to be very carefully implemented and monitored to avoid potential nuclear catastrophes.
The role of China in ASEAN's energy
Signs of extraordinary natural gas and resources in the South China Sea are attracting a lot of attention from ASEAN countries and China. But Chineses companies are already very active in ASEAN, building coal and hydro plants in Indonesia, operating distribution networks in Philippines, and China provides a large market for ASEAN energy producers.
Video from Bloomberg initially aired in September 2014