Bandar Seri Begawan, capital of Brunei, is expecting to see its population of about 200,000 people in 2014 triple by 2035. Integrated in a vision to develop and diversify the Bruneian economy, Bandar Seri Begawan's development master plan defines objectives that will enable businesses to anticipate its expansion.
At the core of the sultan of Brunei's vision to develop the country and diversify its economy by 2035 (Wawasan Brunei 2035) and National Land Use plan to 2025, Bandar Seri Begawan is set to become an economic and touristic hub on the island of Borneo through a 25 years development plan.
This urban plan launched in 2010 will provide useful information on the future development of Bandar Seri Begawan. It will allow businesses to anticipate the city's growth and prepare for potential upside in many location-dependent sectors such as real estate, construction, retail, entertainment, transport, etc.
Highlights of Bandar Seri Begawan's development master plan
Envisioned as a "city in a garden", the development plan of Bandar Seri Begawan relies on three guidelines:
livable city celebrating ecology and heritage
uniquely Bruneian identity anchored in Malay Islamic monarchy
sustainable and diversified economy
The development plan of Bandar Seri Begawan aims at redeveloping and expanding it along a river eco-corridor that will form the backbone of the city's development. Sparing much of Bandar Seri Bagawan's natural beauty, this riverfront center will link five key areas of growth with specific purposes:
Kampong Ayer on the Brunei River: develop tourism and infrastructure
Central business district: enhance financial hub and create new office buildings
Gadong Kiulap: mixed use district with educational and cultural facilities
Stately capital district in the government administrative center
Expanded international airport hub to cater for international investors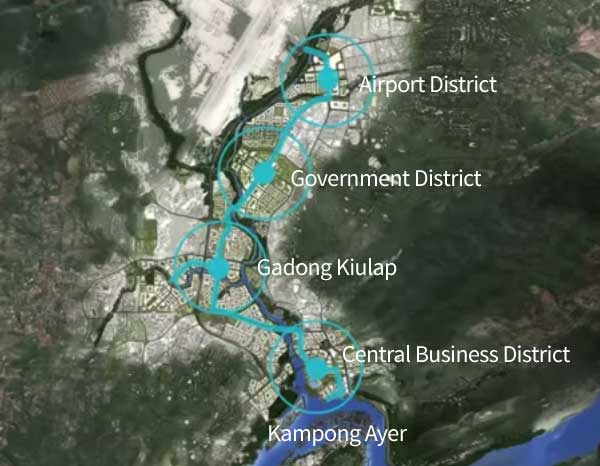 The development of these five areas will go along the creation of several new buildings, villages, infrastructures such as a light rail transit system, activity for the community and property ownership policies. It particularly focuses on developing:
an Islamic financial center
an Islamic educational hub
an hospital complex
a national library
a national theater
an international airport
an energy innovation hub
an international exhibition hall
Further information: