ASEAN UP has recently grown beyond its first 1000 followers on Twitter. Though we do not take pride in the number itself, we try today to consolidate our community by giving back some exposure to those we deem most helpful and influential for business in ASEAN. We hope it can contribute to their influence and help other Twitter users to find relevant accounts to follow.
There are many people, businesses and non-profits out there exerting an influence on business in ASEAN and each of its 10 member countries. Because the voice of a few people can be changing the lives of the many, this post is also the occasion to open a new section dedicated to Southeast Asia influencers. Its aim is to help the ASEAN business community identify and learn from its most prominent thought-leaders: people, companies or not-for-profits.
Favorite ASEAN influencers from our first 1000 followers on Twitter
When its comes to influence on Internet, the list of all prominent people in the real world is already narrowed down to those who have mastered the use of digital technologies and social media. This list grows even thinner when only accounting for those who are influential on Twitter, and even much further to those first 1000 followers that have given a try to @ASEANUP!
So please do not take this list as the ultimate guide of influence in ASEAN business. We only present here some Twitter accounts that have followed ASEAN UP and that seemed to stand out and be related to ASEAN or one of its member countries… within our first 1000 Twitter followers.
We thank all of our followers for your Twitter love! Though, we hope we can build deeper relations with all of you soon,  we will start by bringing forward some of those we are very proud to count in our followers. Some new followers since then are also very influential: hopefully, we can put some light on them later… with many others to come!
Favorite 10 influencers for ASEAN business
Here are the 10 accounts that have shown the most interesting tweets, communities and interaction for business in ASEAN or one (or more) of its member countries. Some other accounts might be more influential in particular topics (business or not) or farther into other Asian countries, but these are the ones that were explicitly from ASEAN countries, related to business and having a sizable community on Twitter (and sometimes through other channels: facebook, blogs, website, media…).
The official Twitter account of the Association of South-East Asian Nations.
There is no order in our favorite 10 influencers, but if there was, everybody would understand that ASEAN would be our number one! Courage with the upcoming ASEAN Economic Community next year guys!
Social media expert from the Philippines, speaker and blogger at the Huffington Post.
Malaysian prominent in the digital space with more then 300 000 followers on Twitter.
English designer, photographer and creative thinker living in Bangkok.
Swiss entrepreneur and angel investor in Singapore.
Digital enthousiast and co-founder of ThumbsUp, a leading tech blog in Thailand.
The Nation newspaper in Thailand.
Political journalist turned digital entrepreneur in Singapore.
Nathan Allen, travel blogger in the Philippines with more than 50 000 Facebook fans.
Senior Reporter & News Presenter at PT Net Mediatama Indonesia.
Top influencers for business in ASEAN
We have reviewed all our first 1000 Twitter followers' profiles, and our favorite 10 were actually sorted out of 32 top influencers for business in ASEAN. They are composed of people and companies, associations, NGOs and public agencies centered on ASEAN and Asia. Here is the full list of our favorite Twitter influencers from our first 1000 followers, many of them are also worth a look for more particular verticals or countries.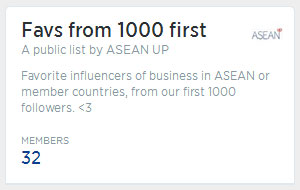 Good luck to you all and keep up with your digital influence. We'll be following you with great interest. We are looking forward to meet many new interesting people, if you know of some interesting people, businesses or not-for-profit, do let know in the comments!